History
Since 1997, the Tineola Theater has presented eight puppet plays, in which large wooden puppets have been played. Puppets have always been unique works of art. Since 2012, these have been performances in which various genres meet: puppets, shadow play, music, dance, and digital drawing on stage. Michaela Bartoňová is the author of all shows and puppets. The director was often Mark Pitman, a mime and puppet actor from Norwich, England. The music and technical solution was created by a moving team of various artists. The puppet carver was Antonín Müller for the first 10 years, later various carvers. Tineola has also performed theater puppets in Europe, such as the Kobaltfigurentheater, Berlin, Salz und Pfeffer, Nuremberg, garlic Theater, Norwich, England and many others. Michaela Bartoňová and Ralf Lücke (puppet actor, mime, dancer and musician from Berlin) performed most often in the plays of the Tineola Theater. They also collaborated with musicians who played live on stage or, exceptionally, with a multi-member team of actors.
2020
Talk: Networks in the forest
Independent interactive lectures and discussions connected with visual presentation in the Czech Republic and Germany are developed by the performance Wood Wide Web. We live in relationships, in symbiosis, just like trees and mushrooms. And we create networks of those who are interested in nature. In our discussions and workshops, we try to leave an emotional footprint, acquaint the public with surprising scientific findings and encourage them to take action.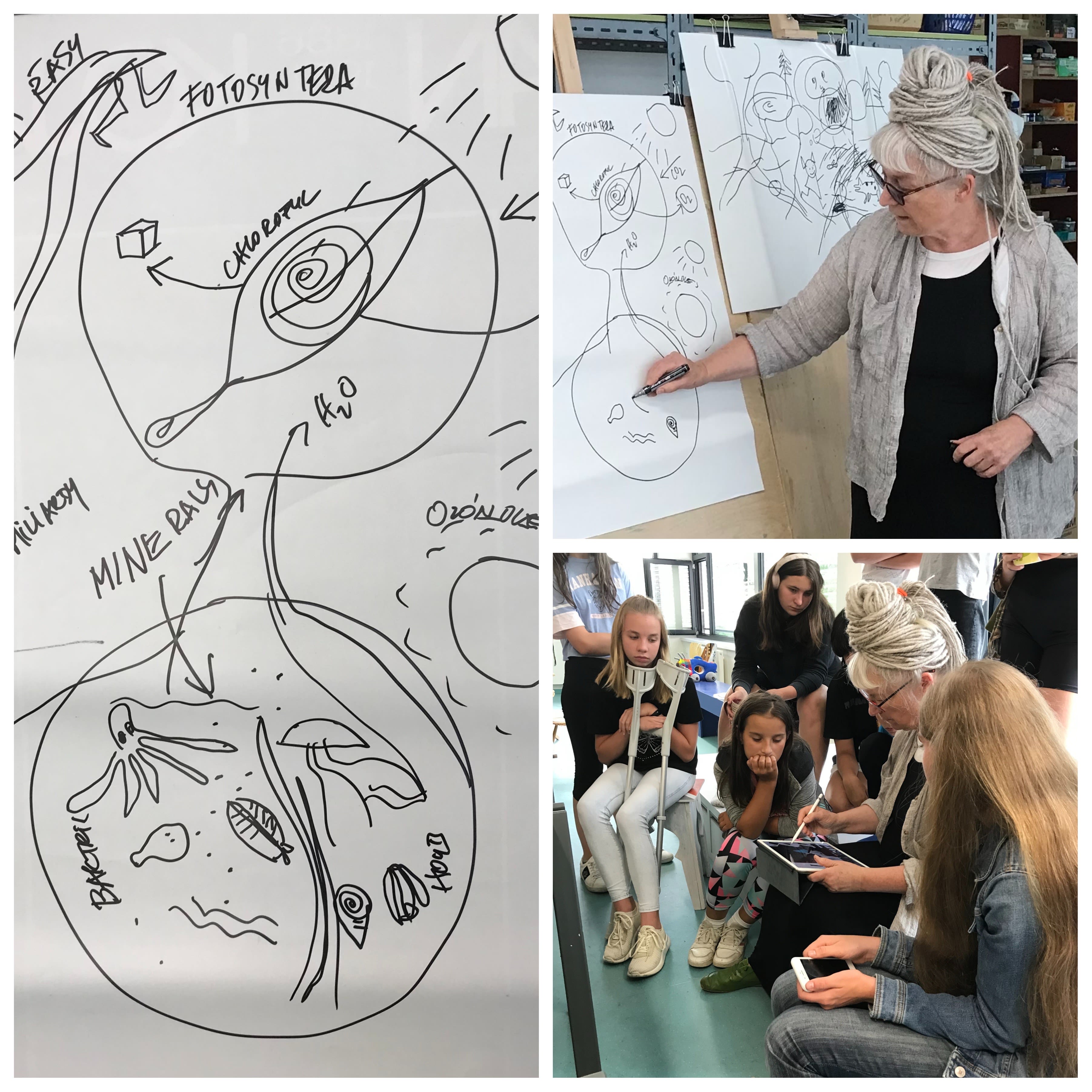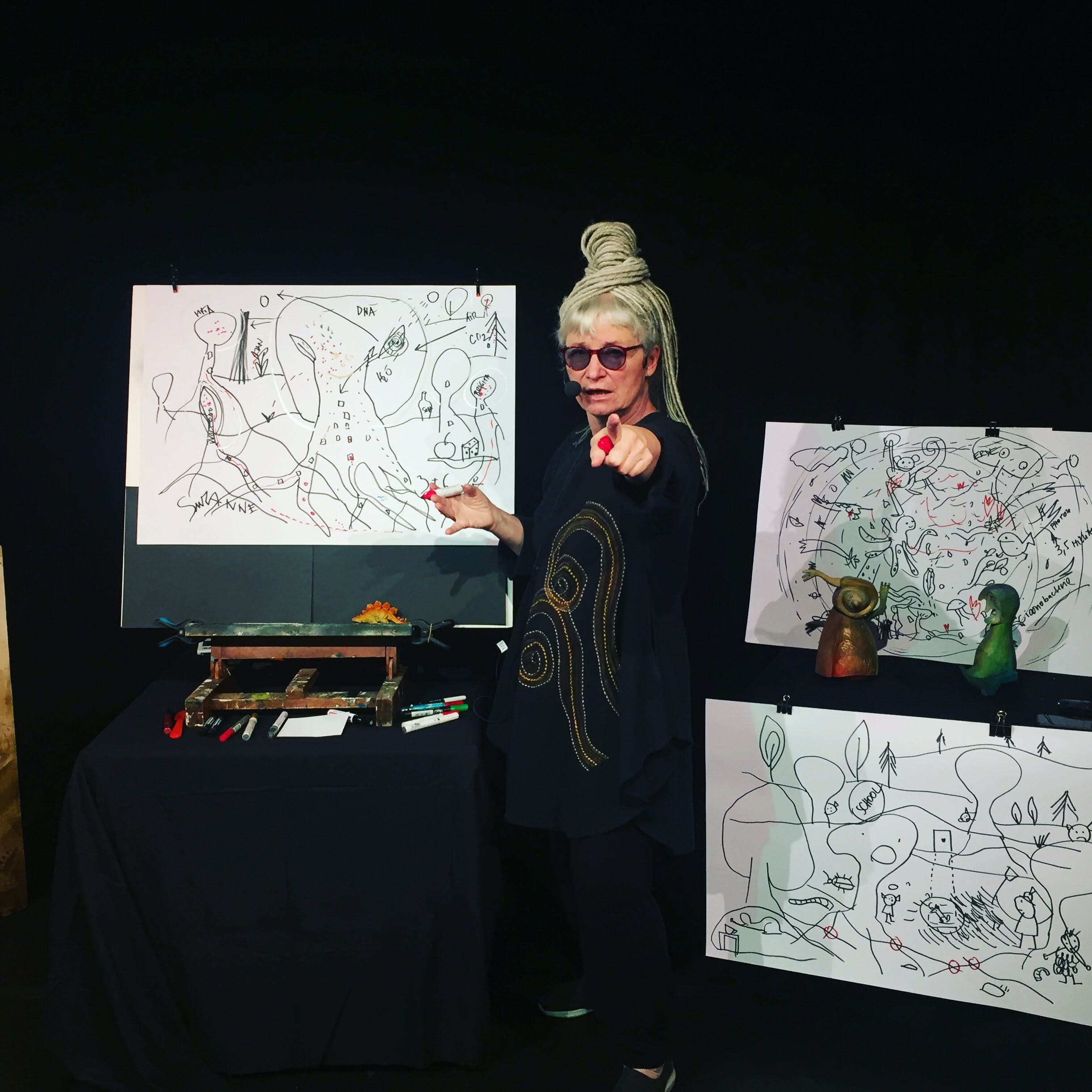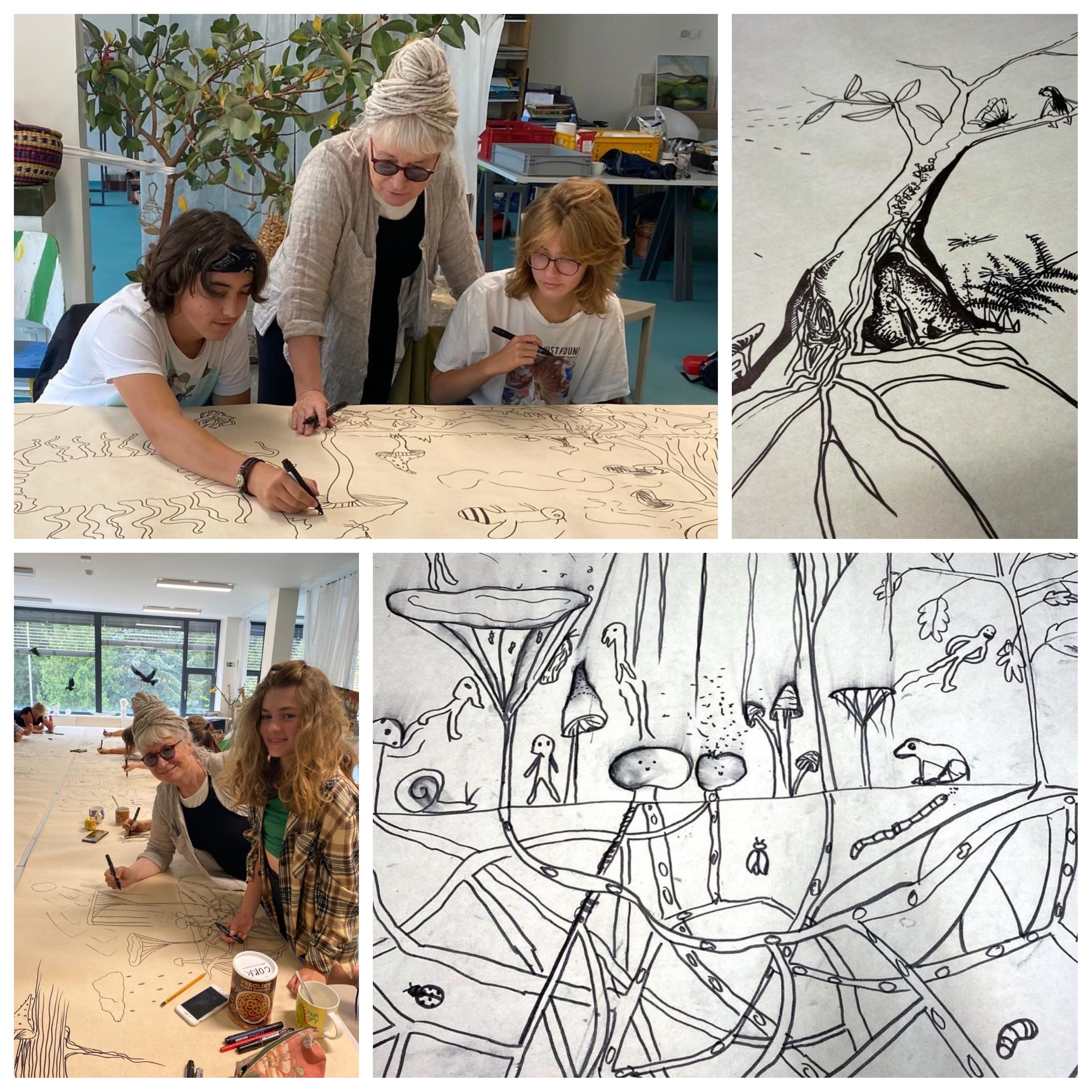 2020
Mystery Revealed / Mystic Lamb for Taptoes's Erf, Ghent, Belgium
Michaela Bartoňová and Jiří Helcel created puppets for the Taptoes's Erf Theater, which was commissioned by the city of Ghent to establish a specific production called "Mystery Revealed" as part of the "Year of Van Eyck". The performance wants to formulate answers to many questions about the genesis of the triptych Lamb of God. Thus, the focus is not on what happened to the altarpiece after its creation, but on the creation itself. Who painted, who ordered it, why, how the triptych got to Sint Janskerk, what techniques the Van Eyck brothers developed for his painting and where they took inspiration…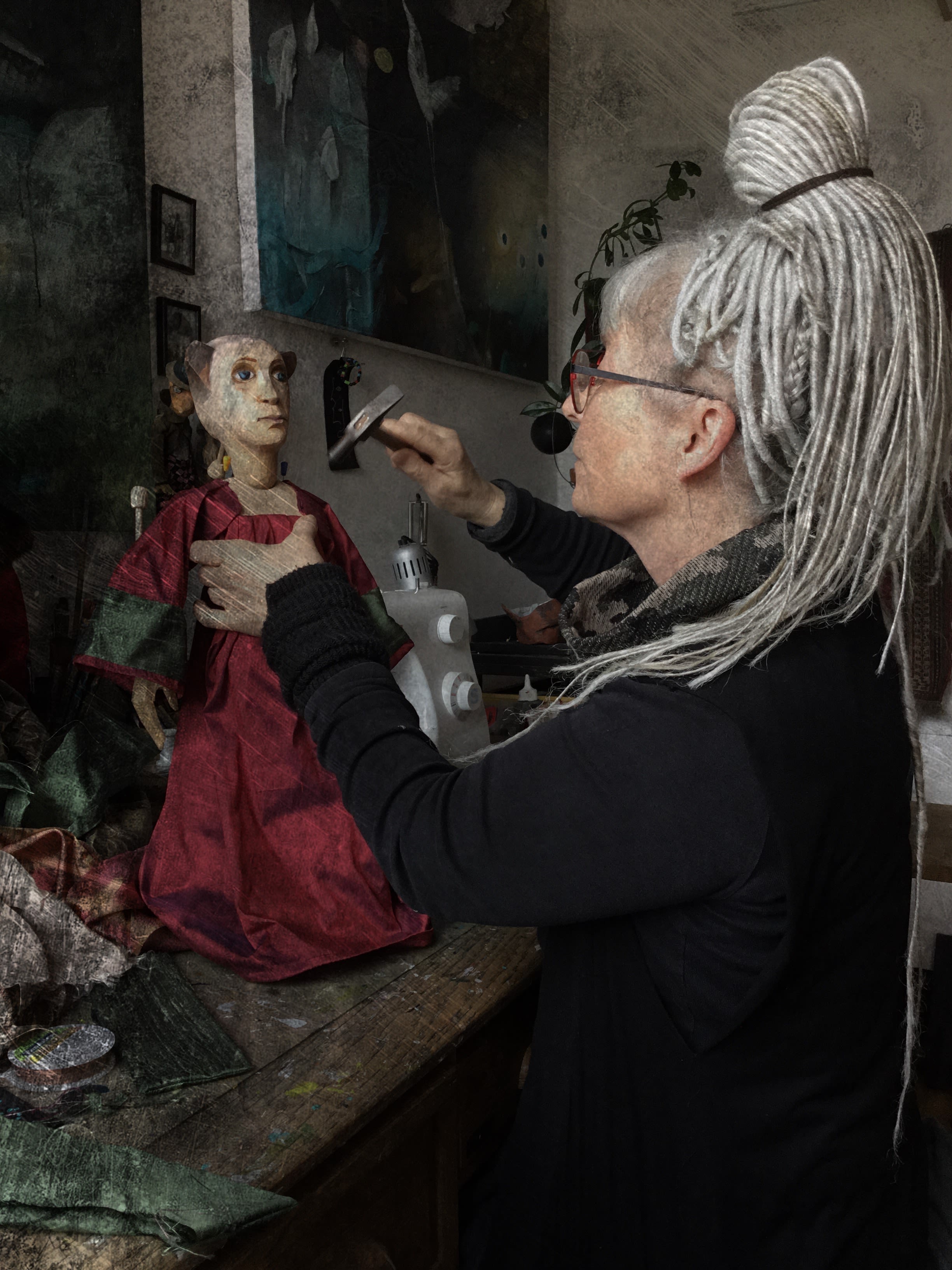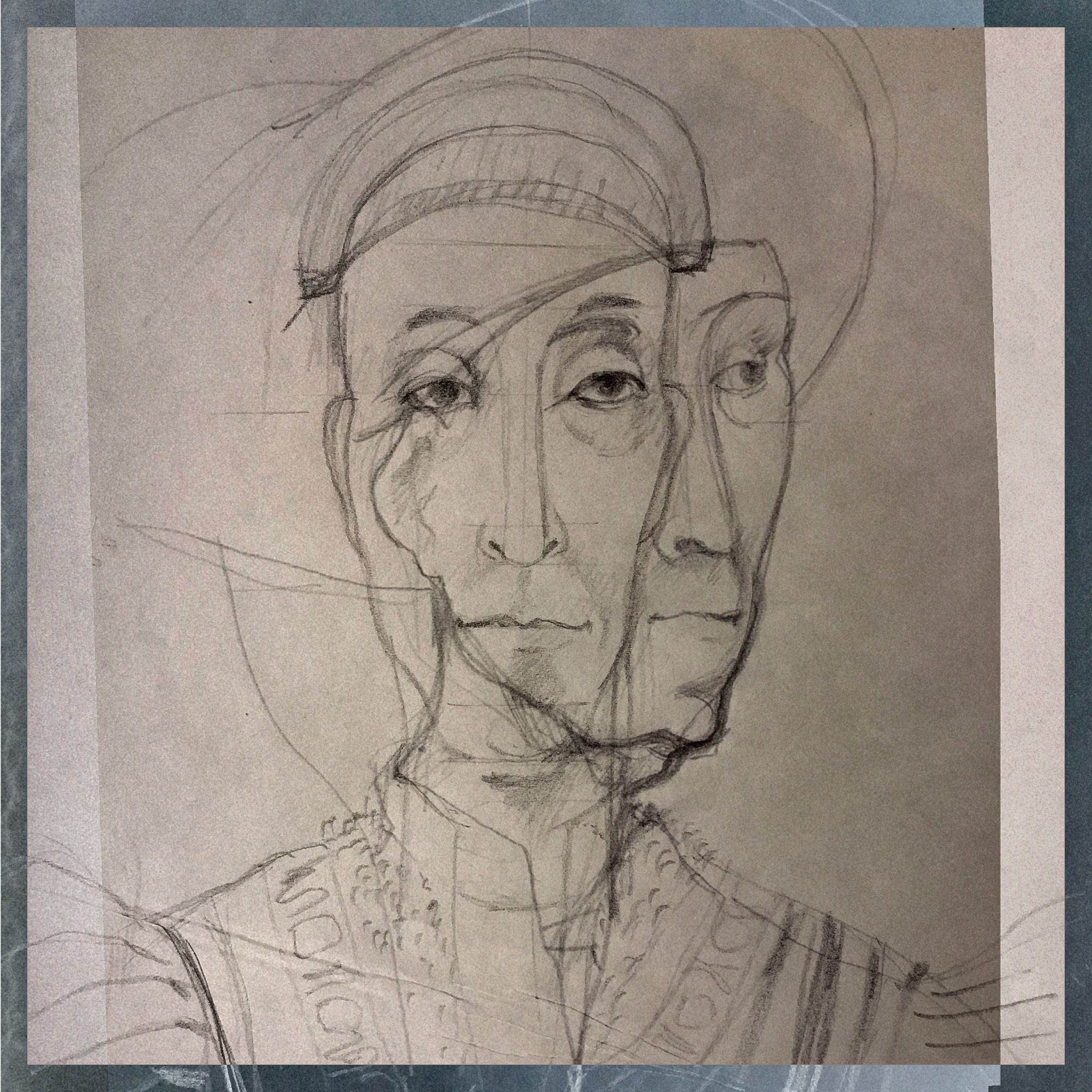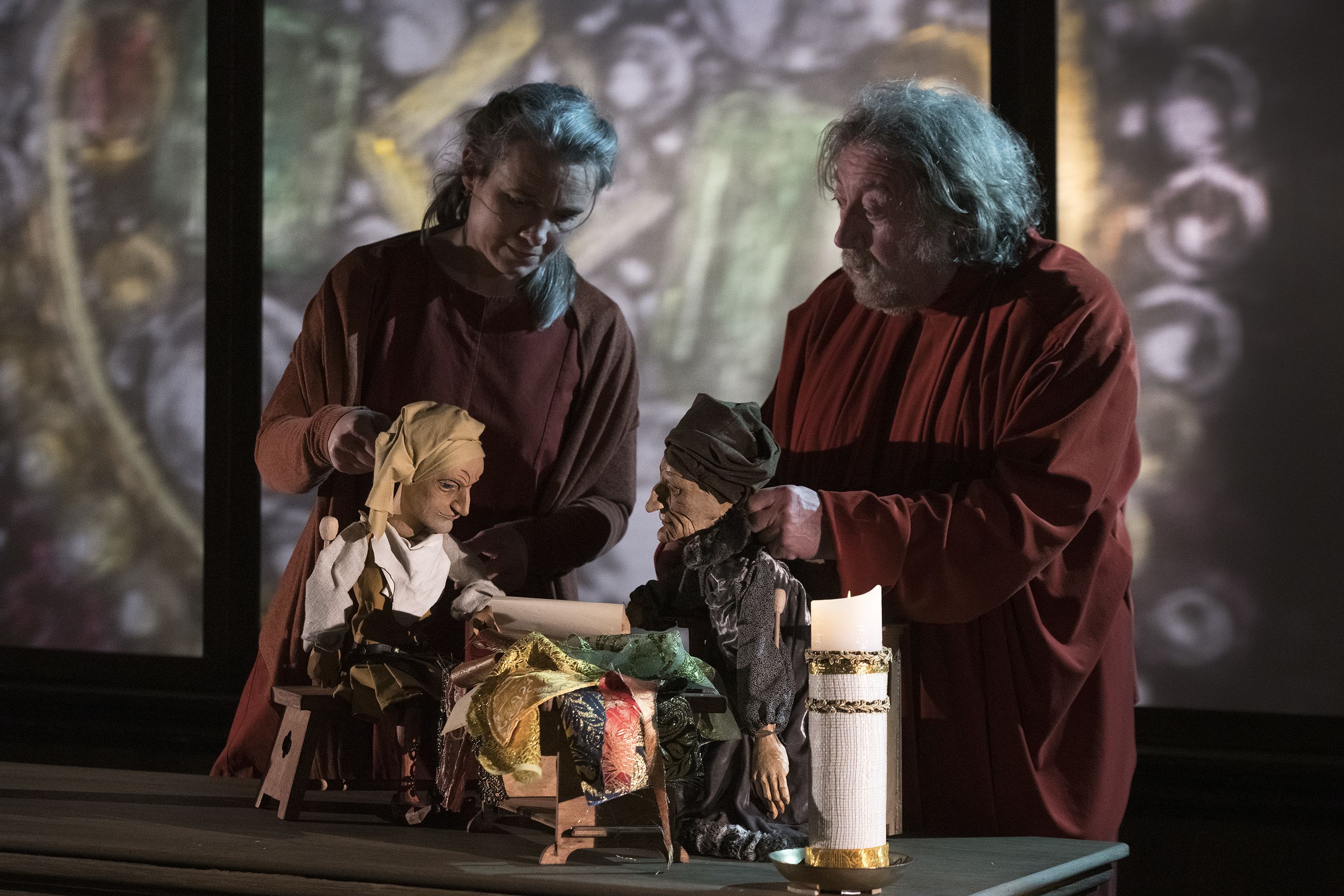 2019
Wood Wide Web
Visual theatrical processing of the invisible world of tree roots and mushrooms. Live painting, shadow play, music and the story of Suzanne. In the abstract, we touch on phenomena from biology that fascinate and inspire us, capture events from the nanoworld and personify them. Everything is based on research by scientists. The painter paints the scene on an iPad. Everything consciously avoids everything that the film resembles. He also succeeds in how the actor plays in the painting, partly with small flat characters and their shadow, and partly he communicates with the image.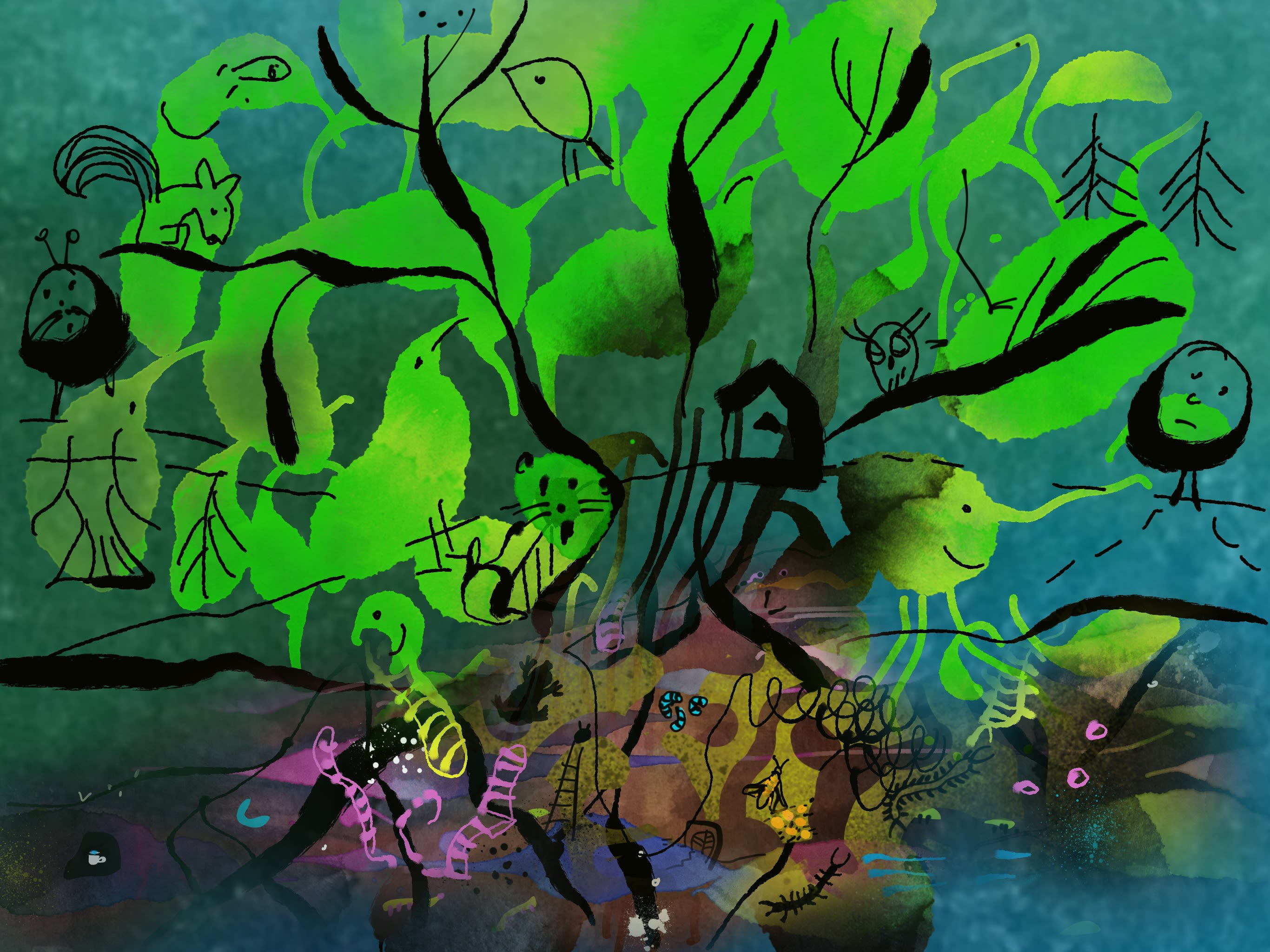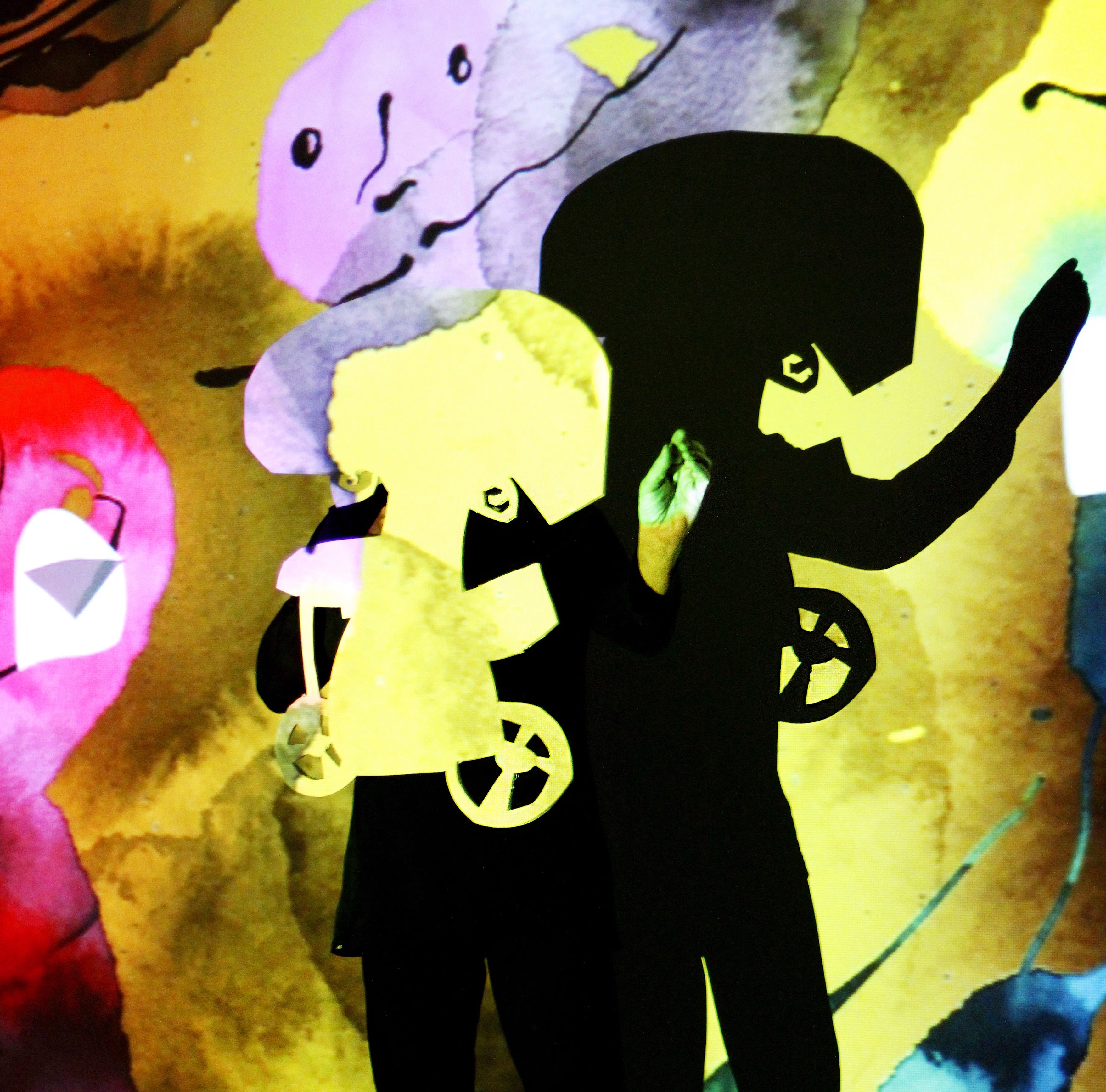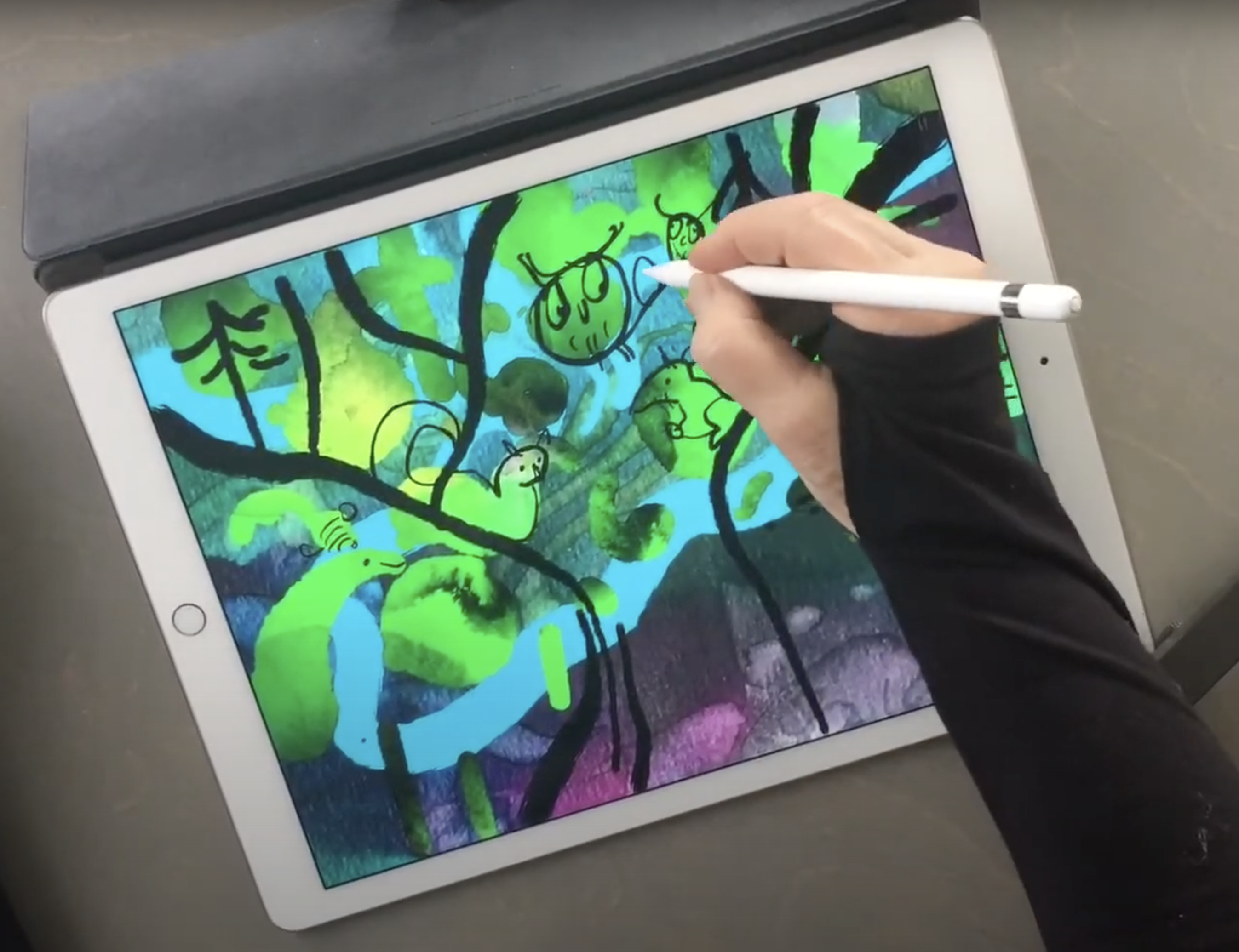 2017
Rungholts Ehre, Kobalt Figurentheater, Lübeck, Germany
Puppets, costumes, stage and video projections for a detective story from the Middle Ages, which took place in Lübeck, a Hanseatic city. It was about destroying capable people who wanted to build a canal between the North Sea and the Pacific Ocean. However, this did not please the rich townspeople, who, together with the pirates, robbed ships and wagons full of goods ... Rungholt manages to destroy the network of thieves attached to some councilors. But the canal was not built until 300 years later.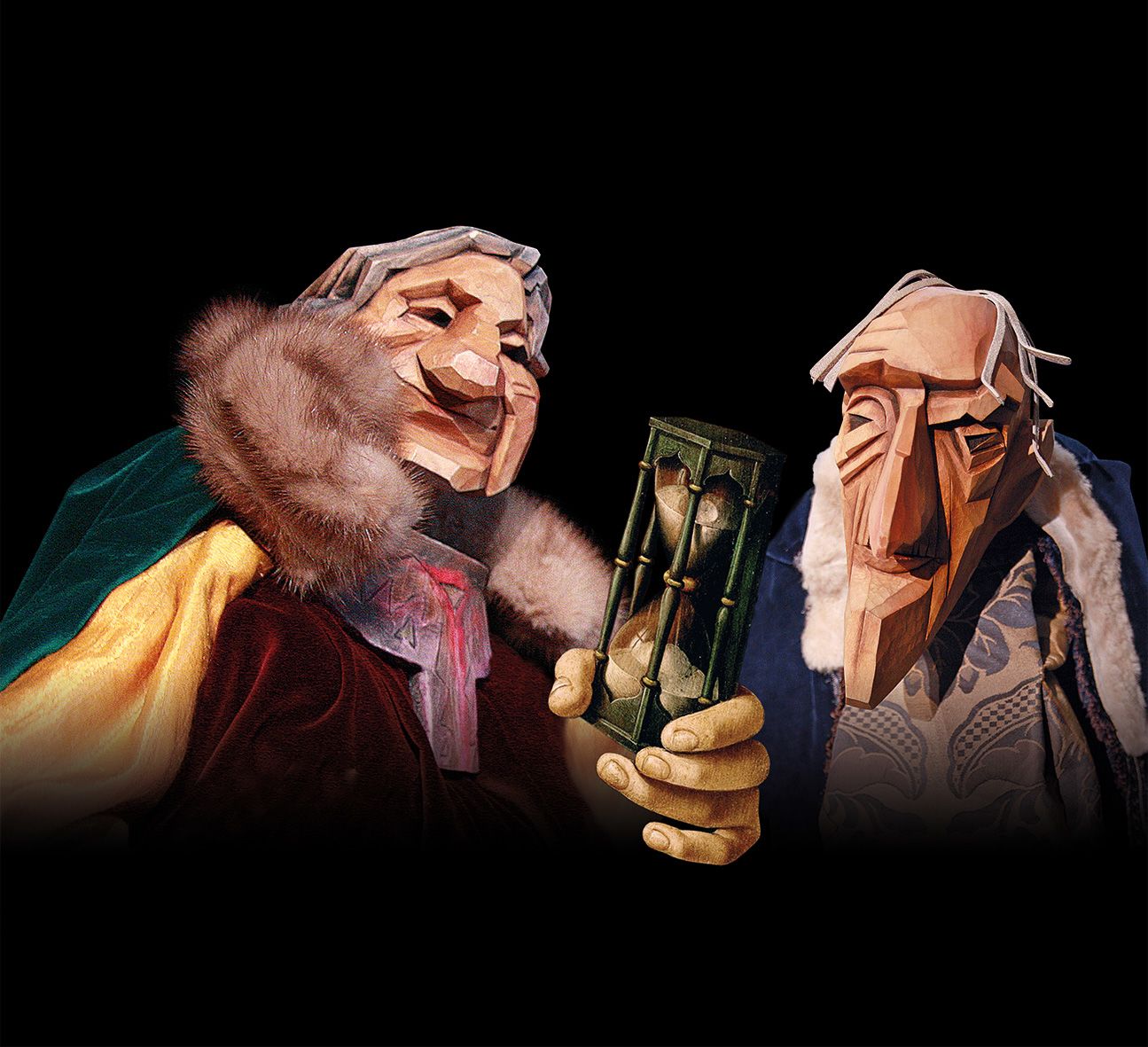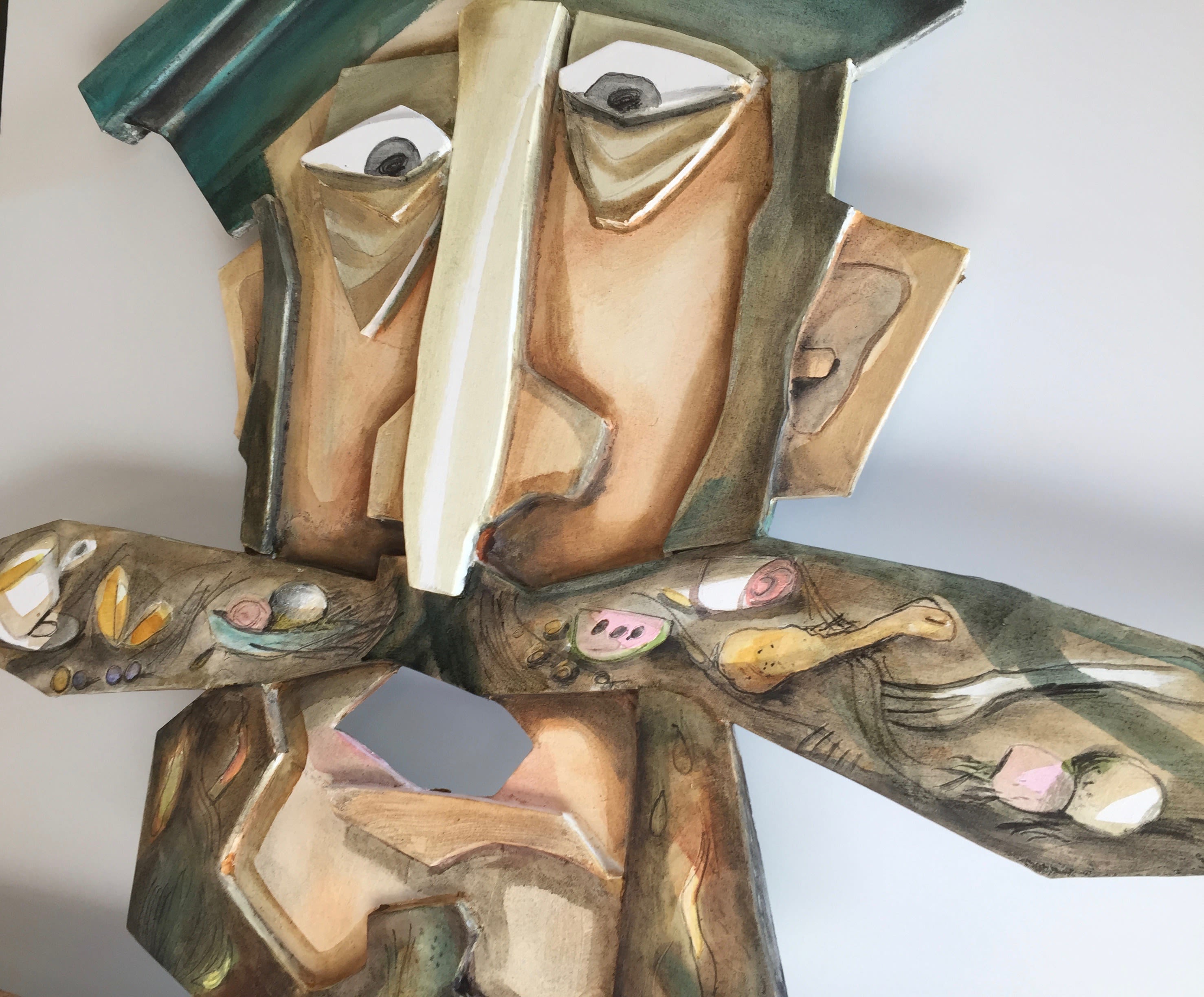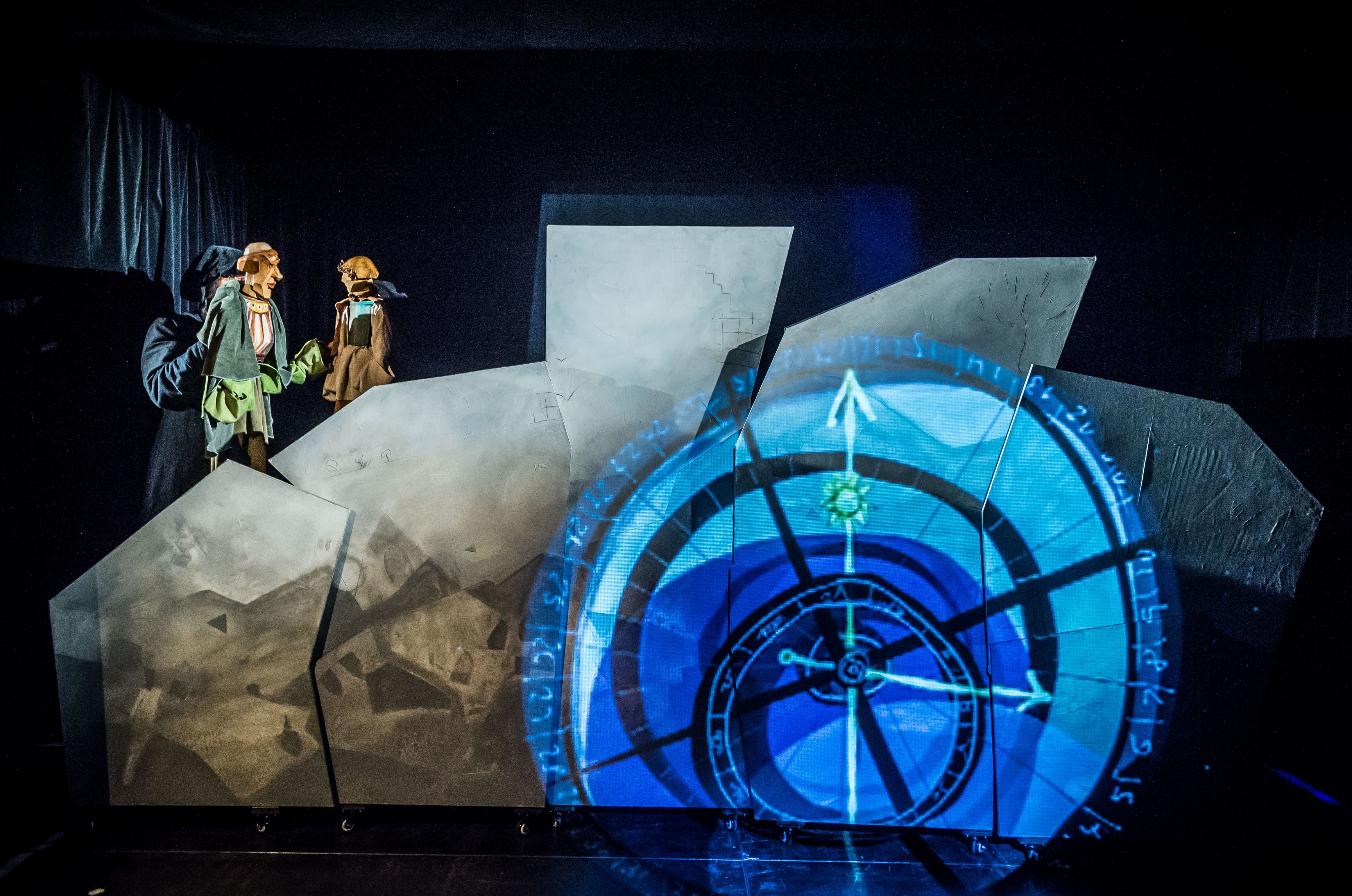 2017
To Somewhere Else
Multimedia show about the emigration of Czech brothers to Germany. We consciously set about processing our game on an aesthetically demanding and emotional level. We wanted to grasp a global issue and be involved. It concerns both our human history and our hot present. It concerns social problems, interpersonal relations, but also relations of property, property, political problems and wrong direction towards violence, totalitarian practices, wars. An international team took part in the performance, almost all of whom had personal experience of various types of persecution. Director: Azadeh Mohammadi Kangarani, Iran, theme and live drawing: Michaela Bartoňová, CZ, starring: Dagmar Spain and Ralf Lücke, DE, music: Jan Šikl, CZ and Roman Zabelov, Belarus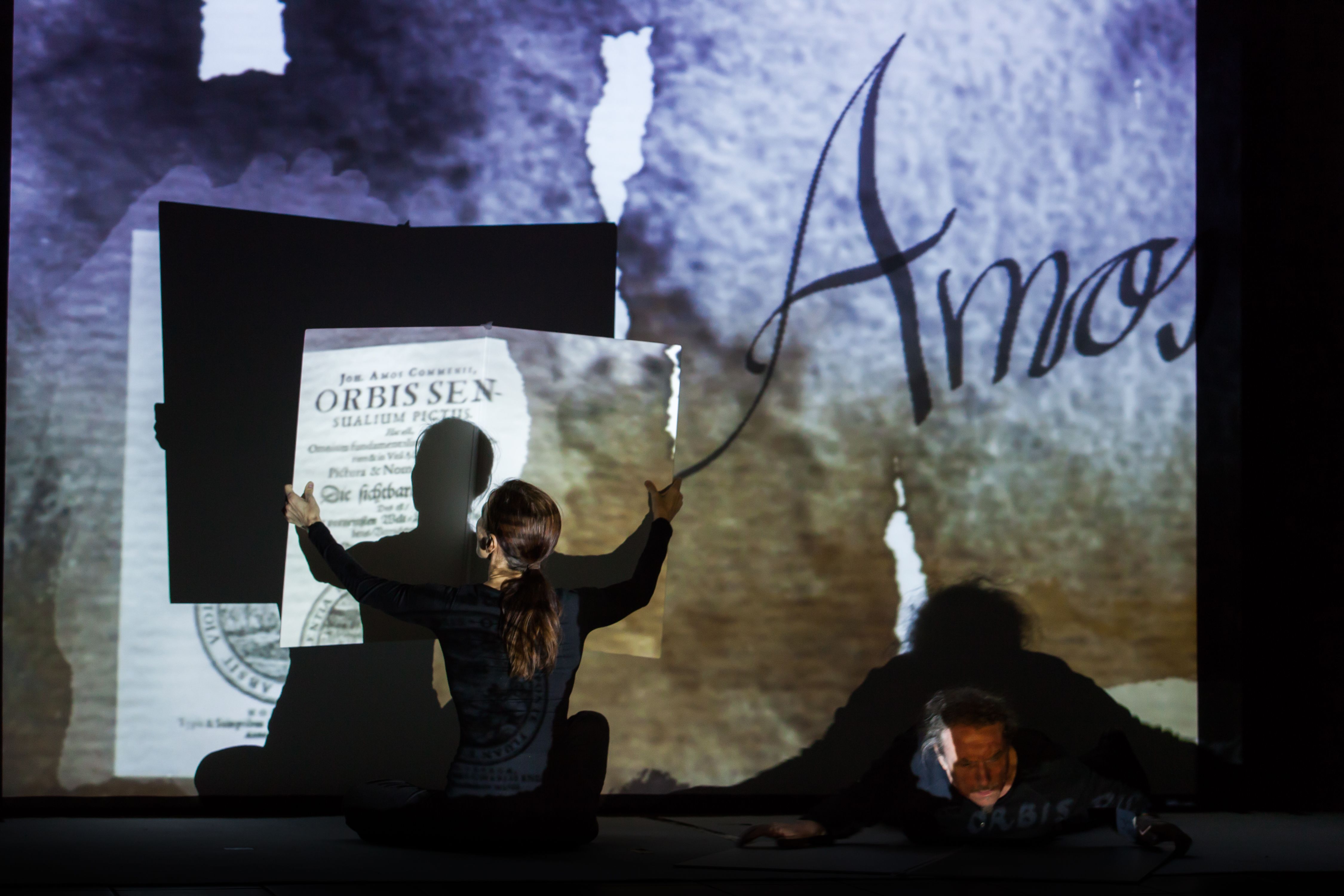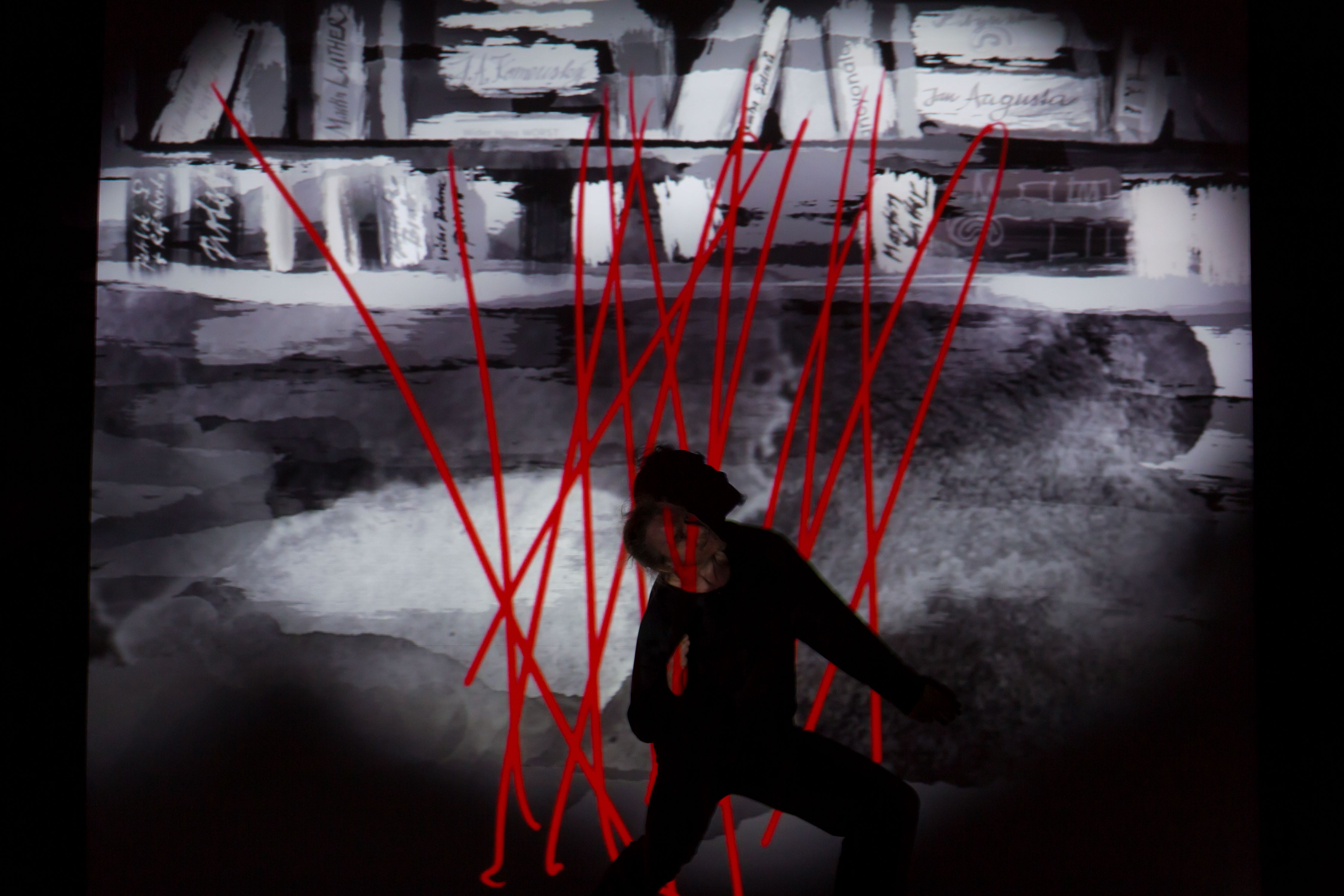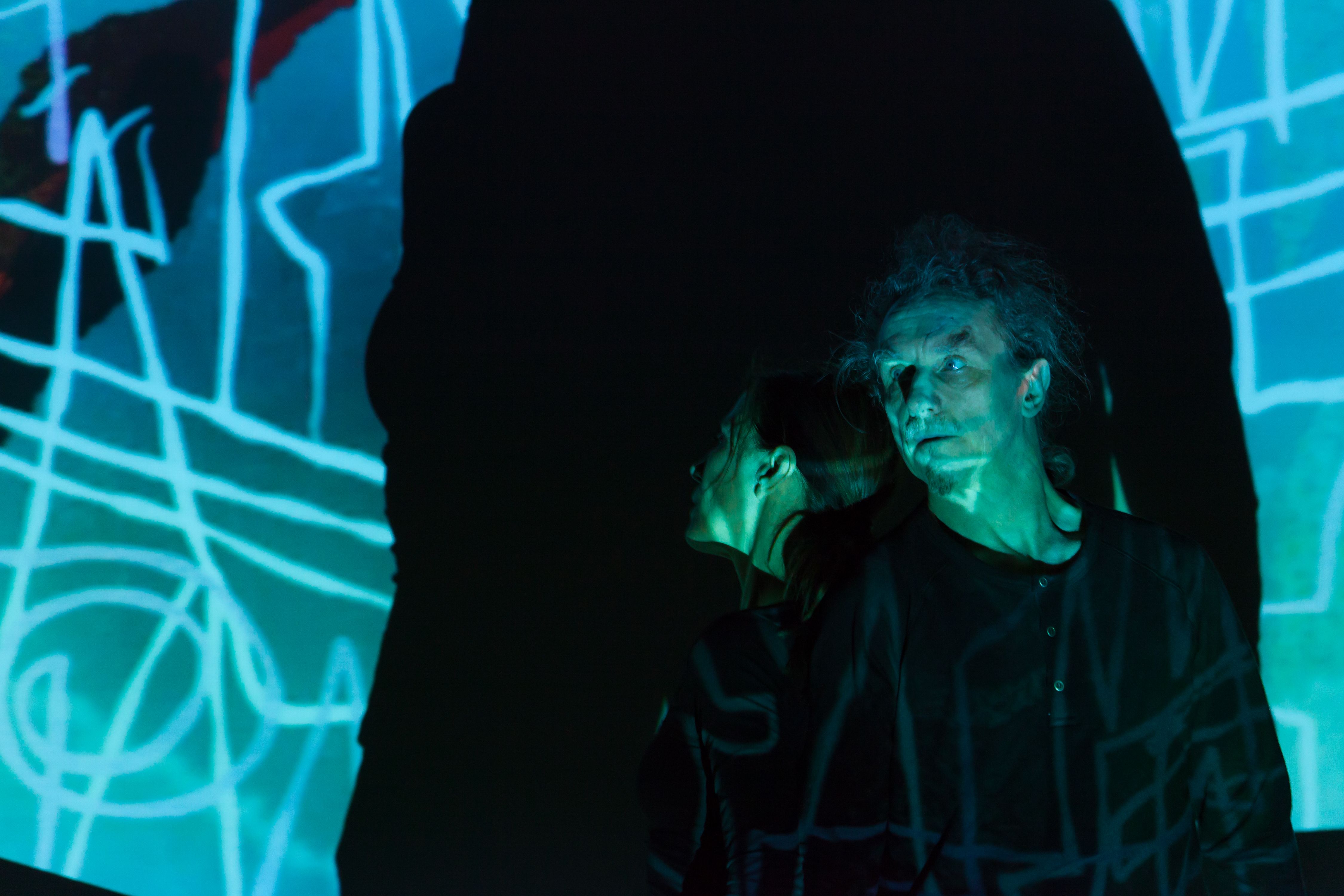 2018
Wagon for openair for Figurentheater Kobalt, Lübeck
Spare space during the reconstruction of the theater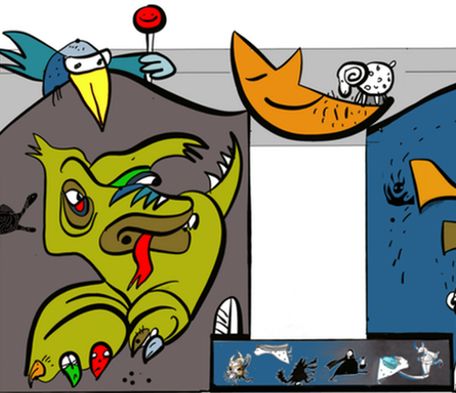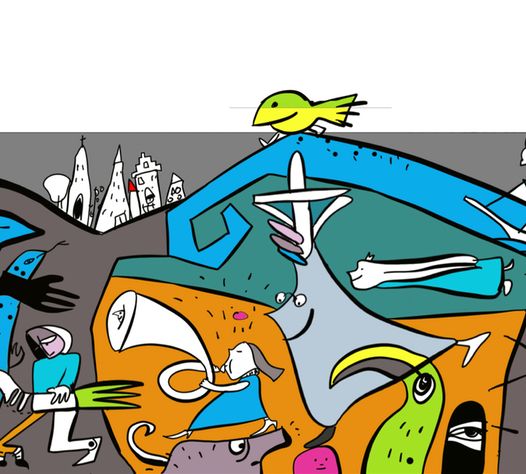 2014
EGG
What are our cartoon puzzles about? About who all is born from an egg. They are changeable poetic images from biology in which humor is present. The mysterious egg that interferes with the scene from the beginning becomes the key to our game. The drawings bring surprises. They are paintings of animals, insects, birds and fantastic creatures, drawn by a certain hand of Michaela Bartoňová accompanied by music by Ralf Lücke, a musician and actor, a mime from Berlin. He also plays with masks all our birds, monkeys and giraffes, and at the end both painters and mimes will experience a surprise with the audience when an unexpected creature hatches from an egg. Our performance is created every time it arouses the imagination and emotions.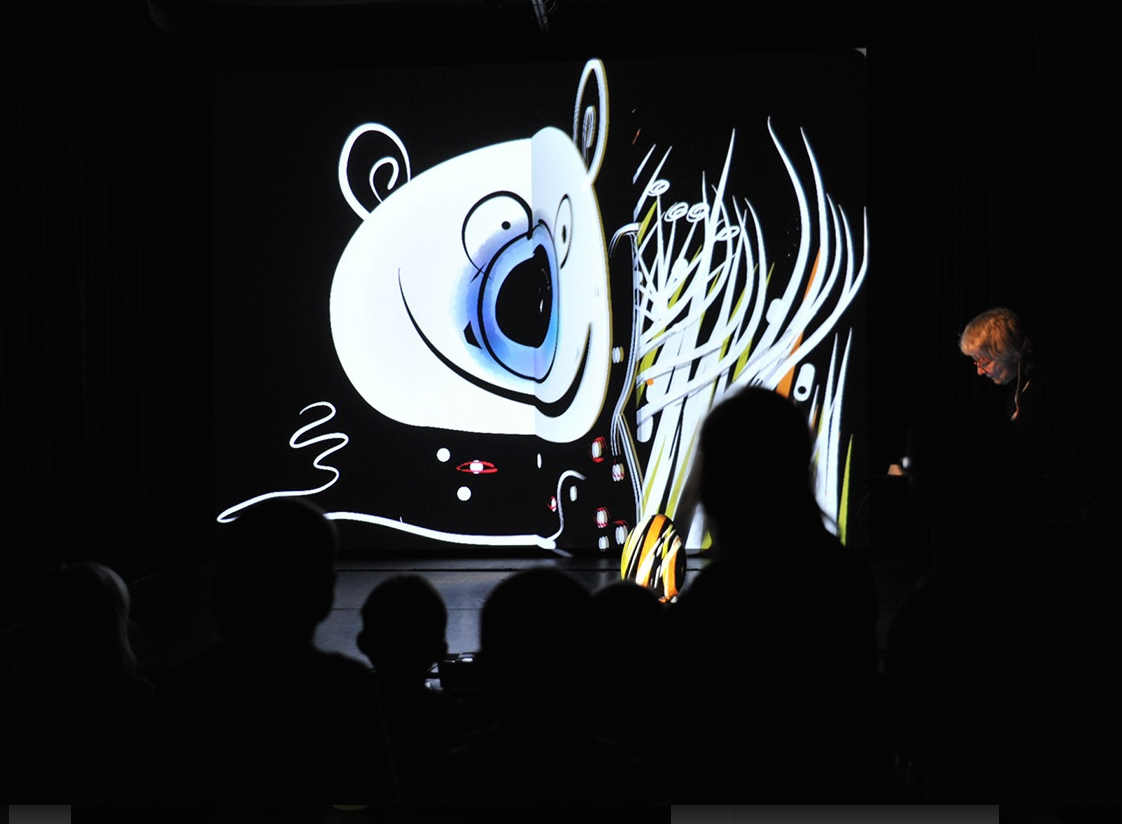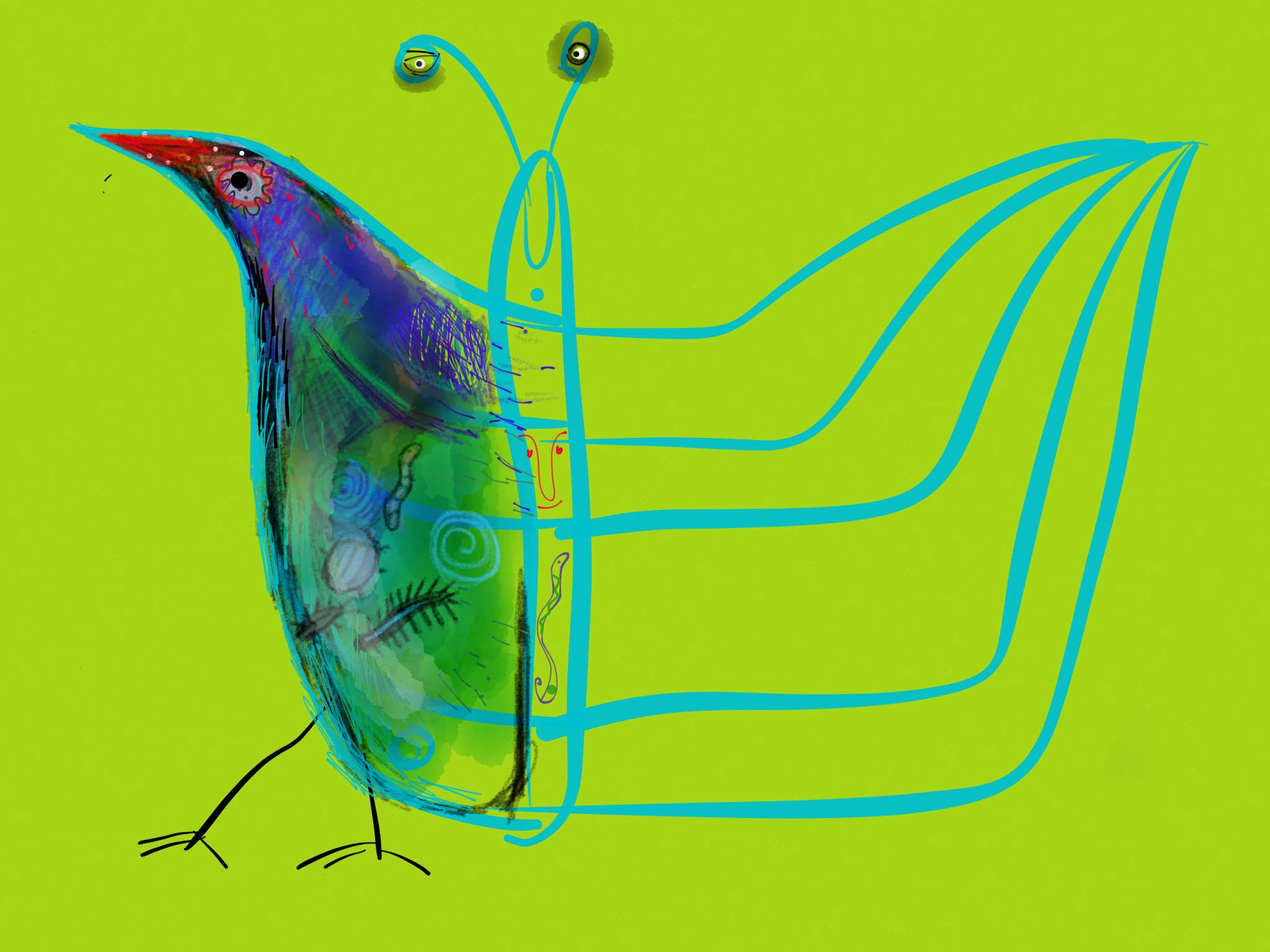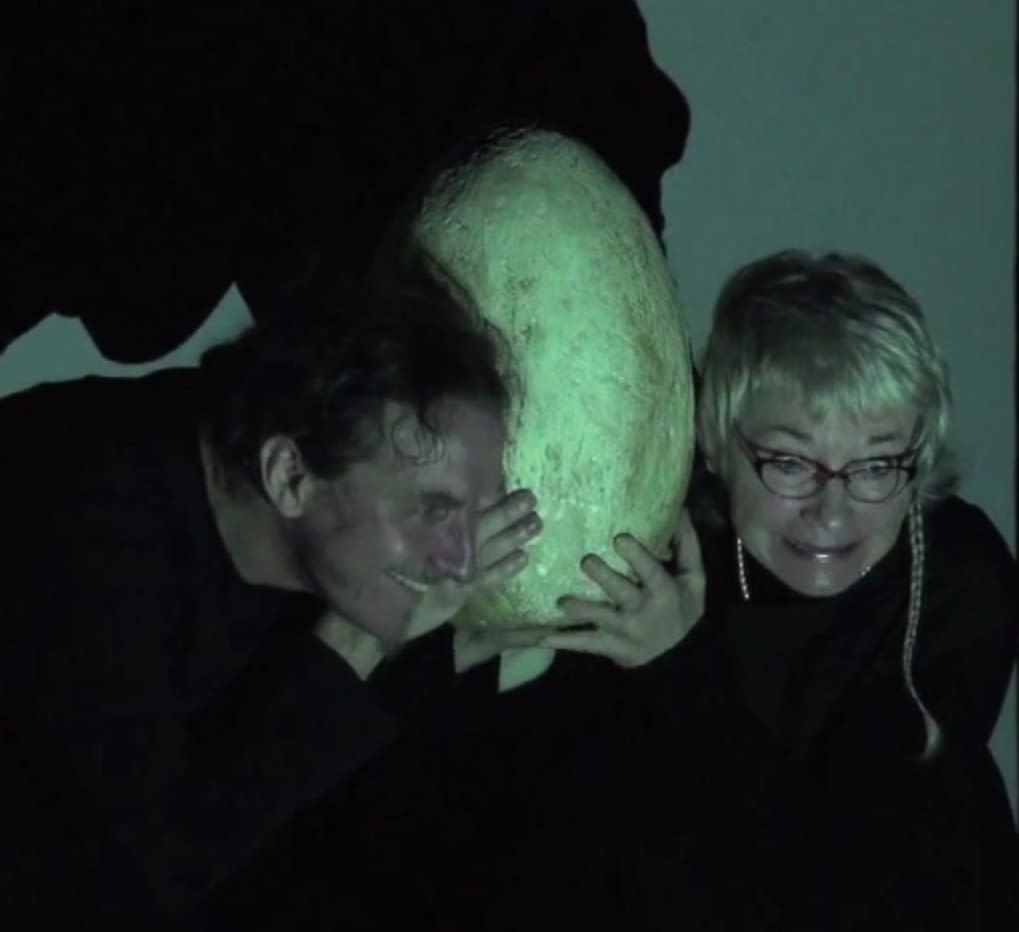 2014
Story Tree
At the request of František Kinský, the owner of the New chateau in Kostelec nad Orlicí, I created a tree of stories from hornbeam in the middle of the playground. And two angels ...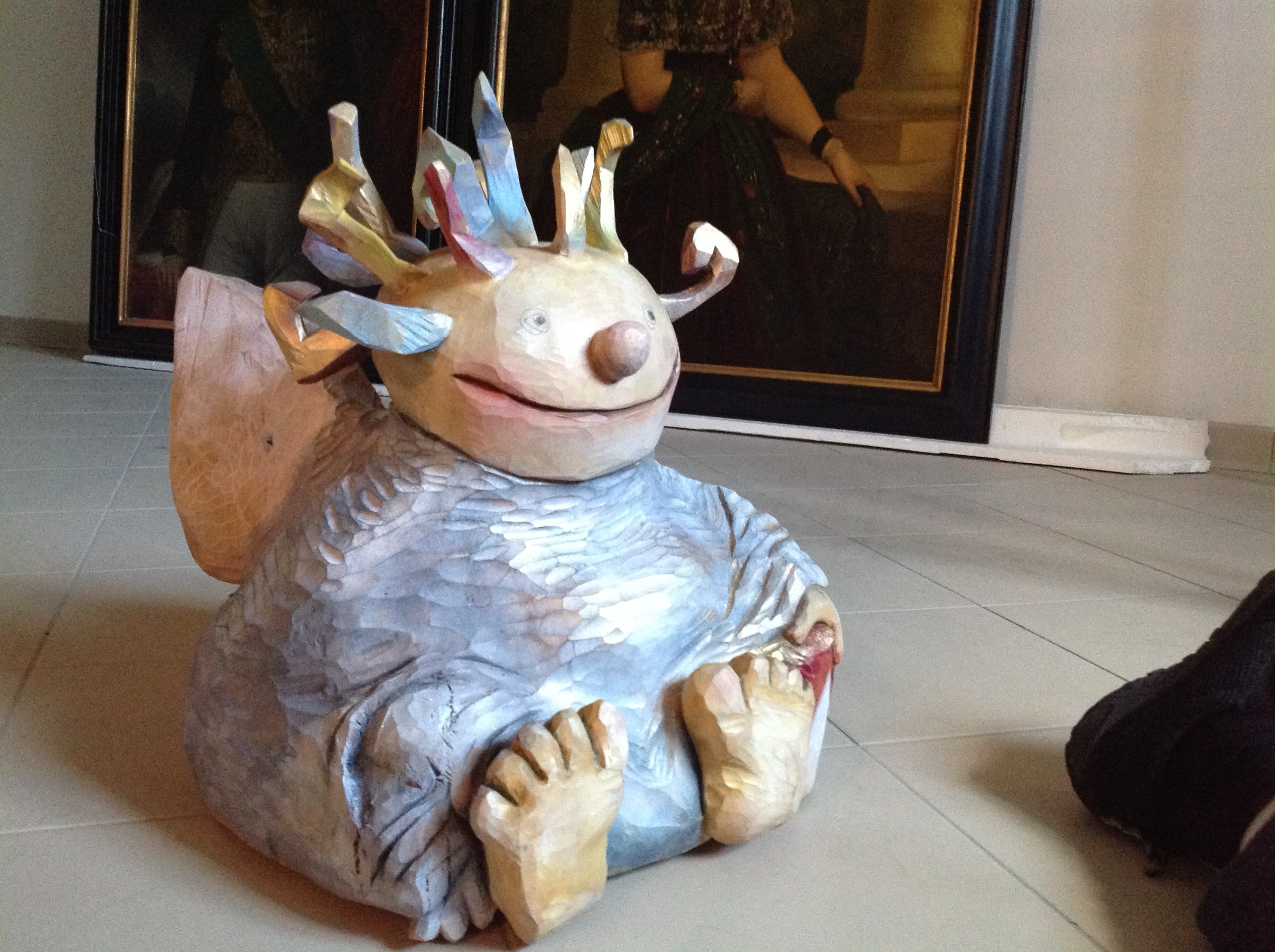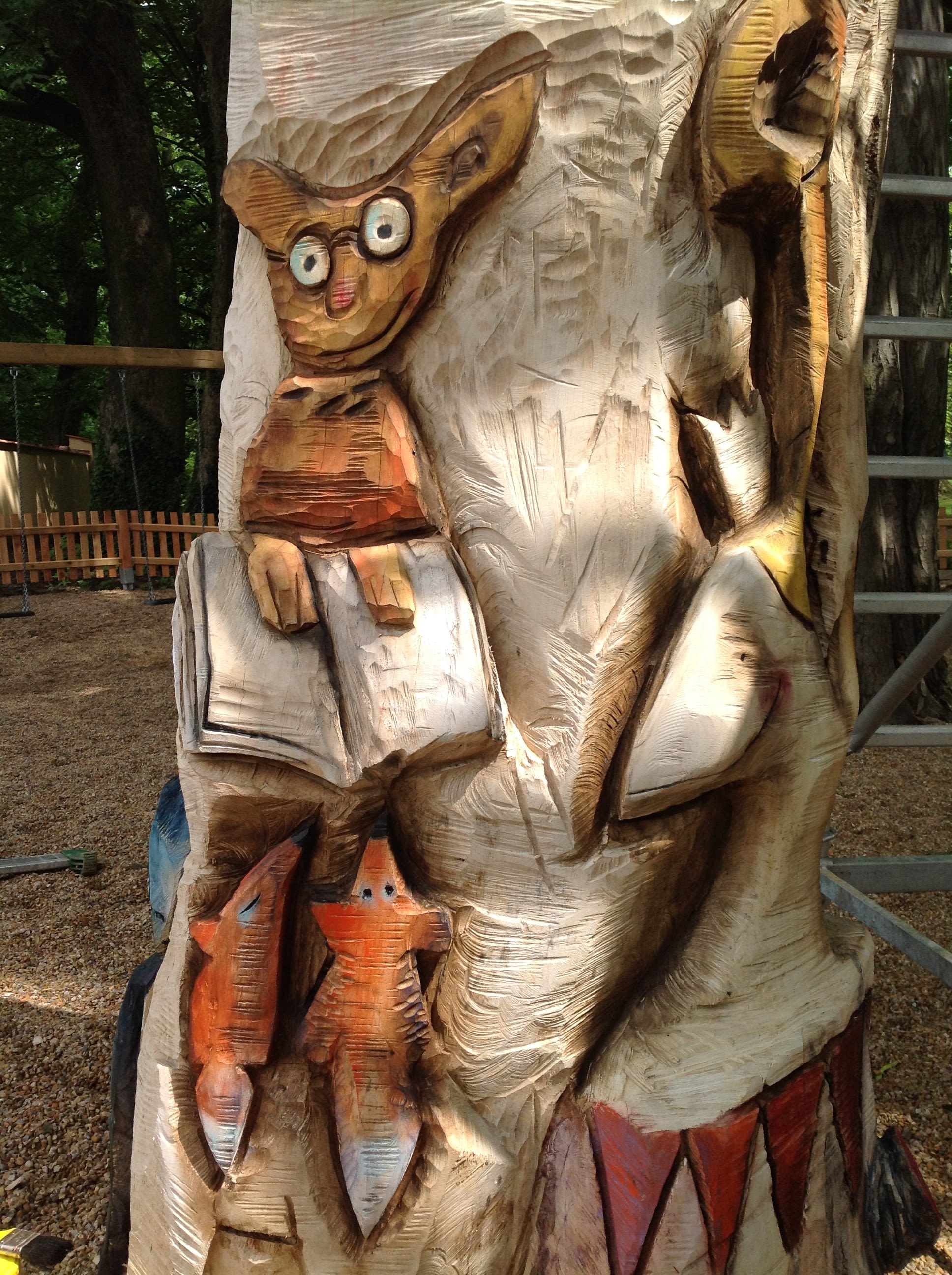 2013
Drawing in Motion
Visual poems about humans and animals. Short stories from the history of our coexistence. Usually static drawing is set in motion in the time and rhythm of the music. The drawing changes shapes again, the lines overlap and the pages turn, as if we were flipping through the memory, as if by some magic they drew themselves, even though we see that it is a projection of a live drawing on an iPad, created in the present tense on the stage. So it's not animation! And the actor completes the picture with a movement that slides to dance and talks to the drawing. It is a virtual charm, very contemporary and very technical, and yet it has the power of a poem because it evokes imagination and emotions.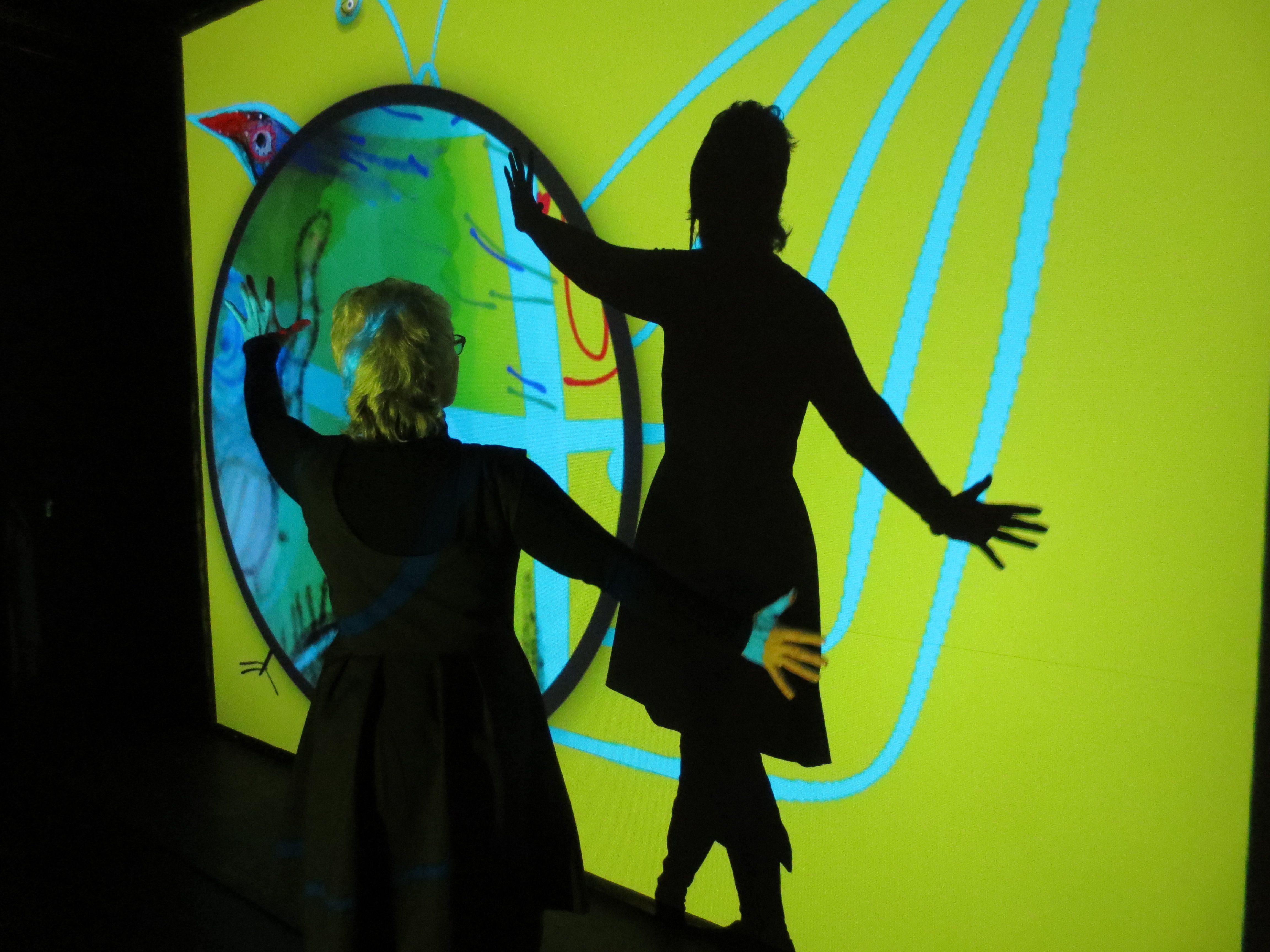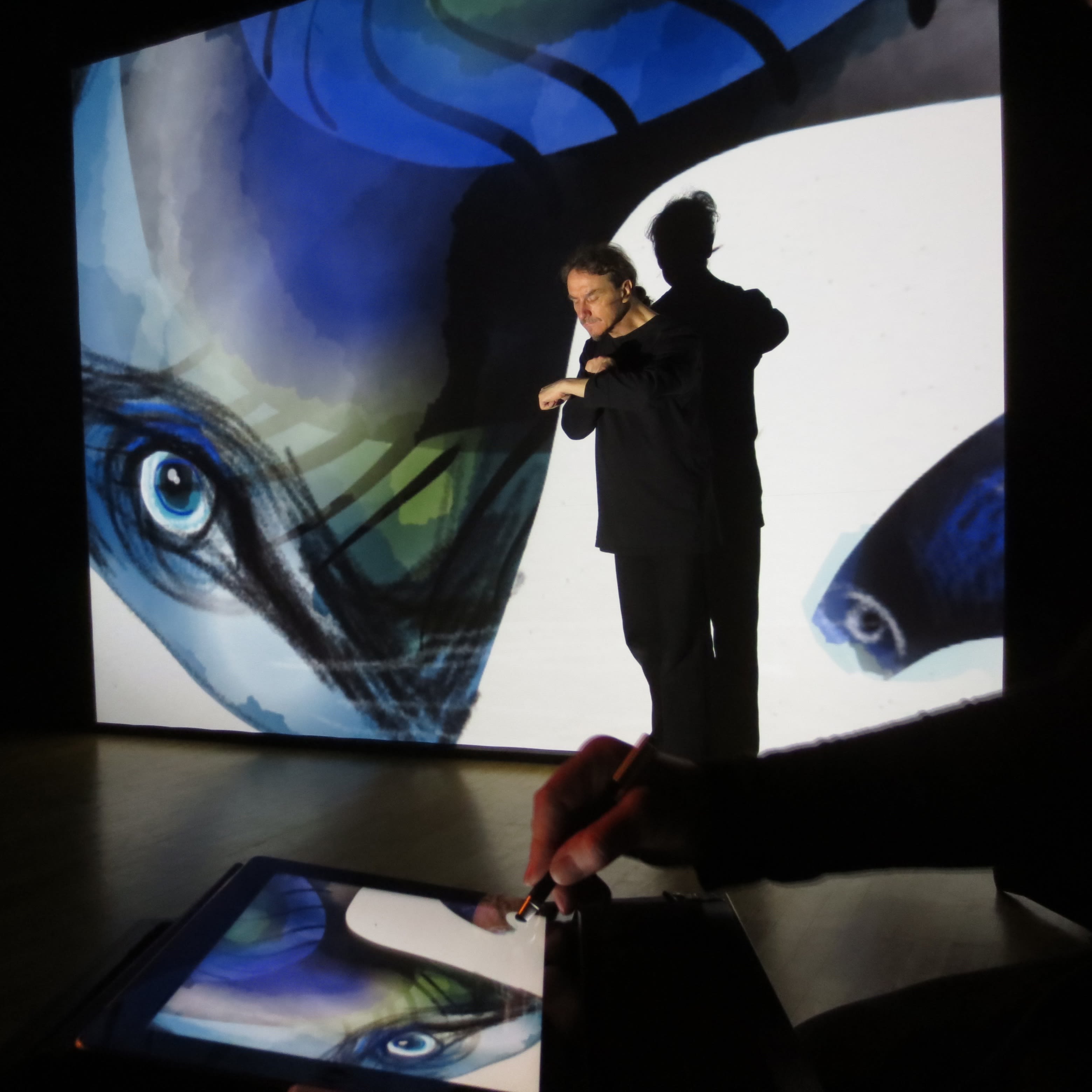 2012
Sleeping Beauty for Dornerei Puppentheater, Musbach, Germany
A fairy tale about the Sleeping Beauty in the poetic story of Eleen Dorner.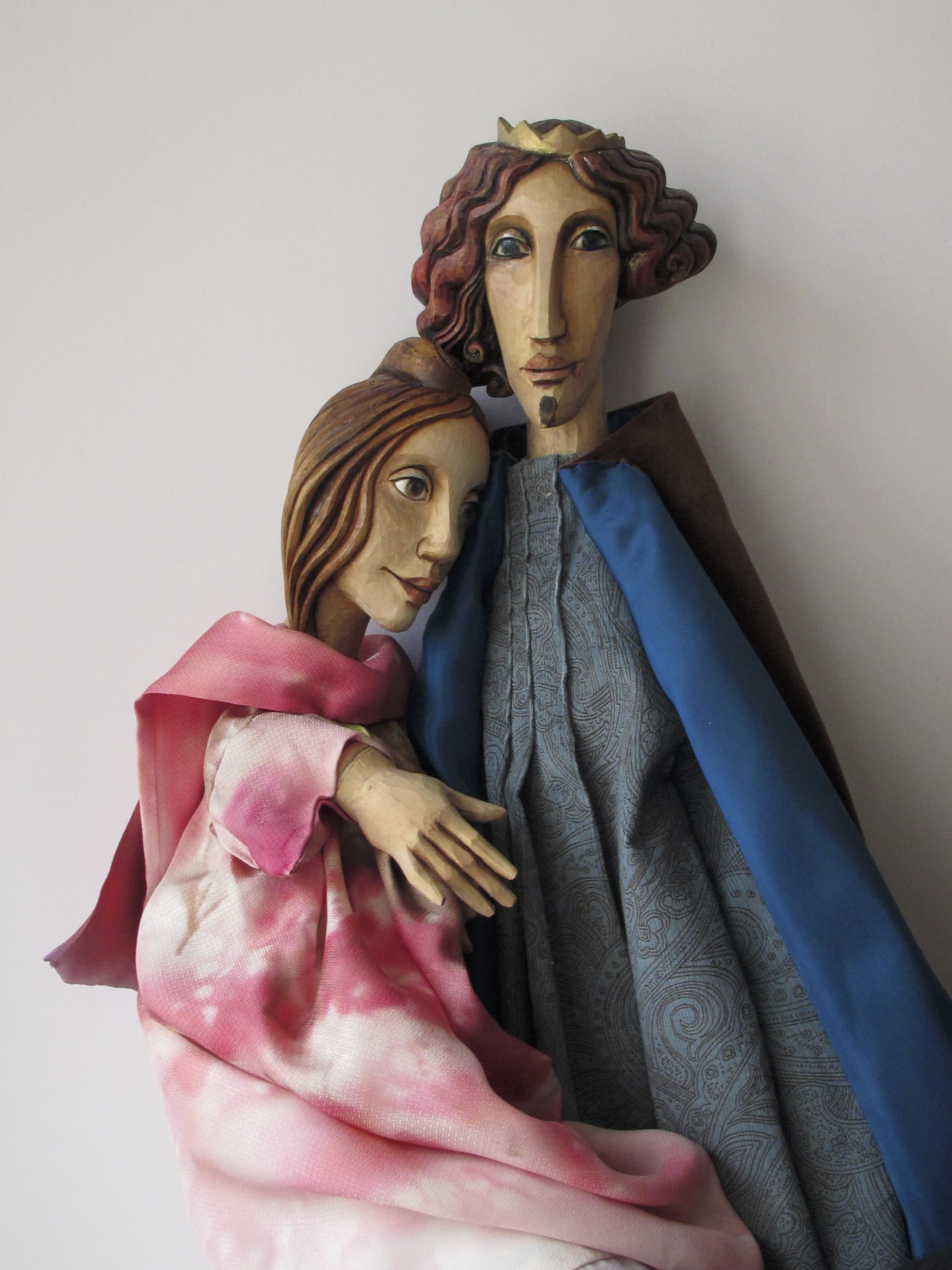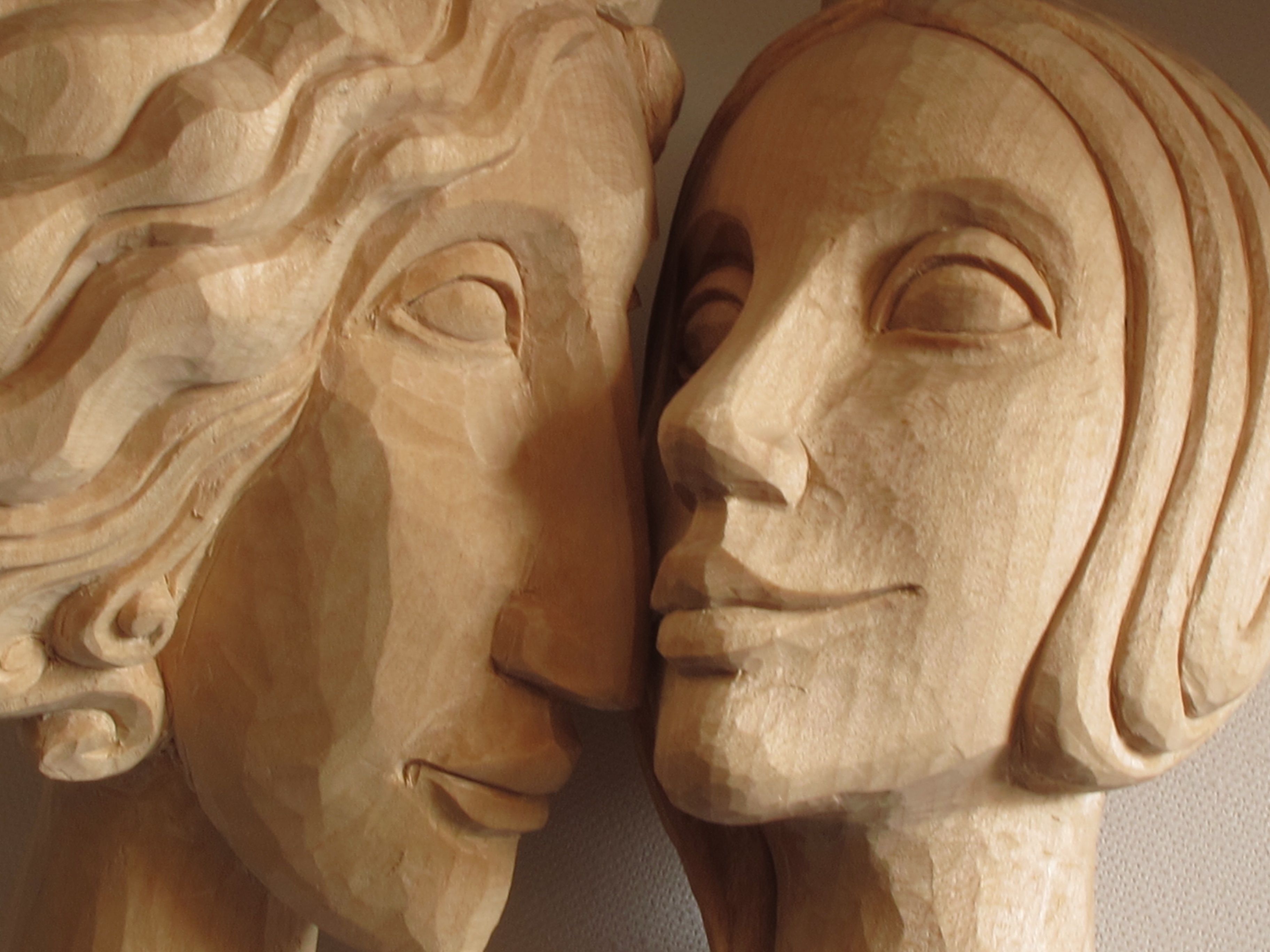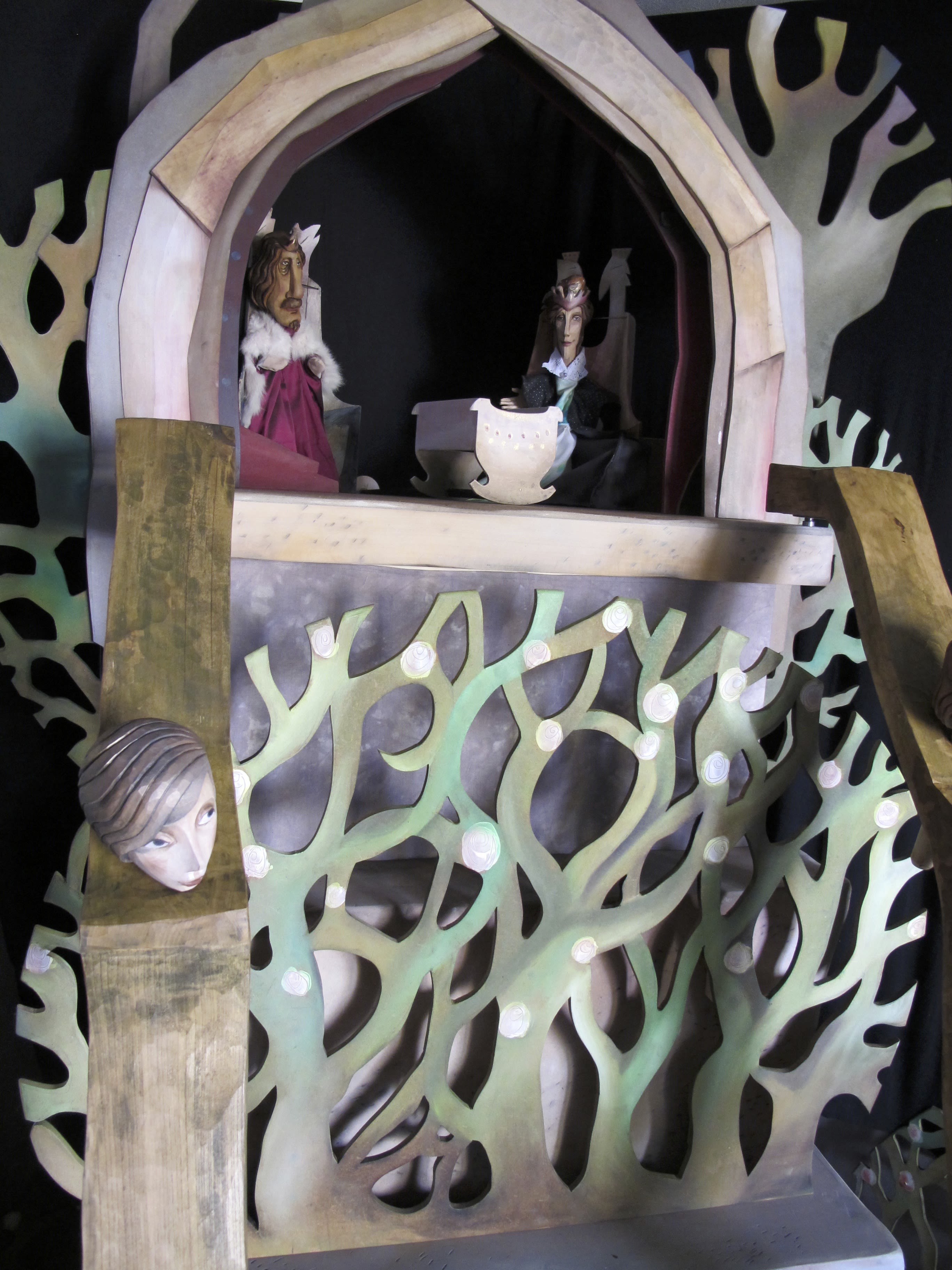 2010
Noah's Arc
Old Testament - life-size moving figures for Noah's Ark to Holland. Michaela Bartoňová is the author of puppets. She created 23 giant puppets based on Old Testament stories. She worked on design, painting and costumes for two years and led and collaborated with 10 carvers from Czech, Germany and Australia. The ship is still sailing in Europe and the puppets are part of an exhibition of biblical stories. Noah's Arc and the whole project belong to Aad Peters, Netherlands.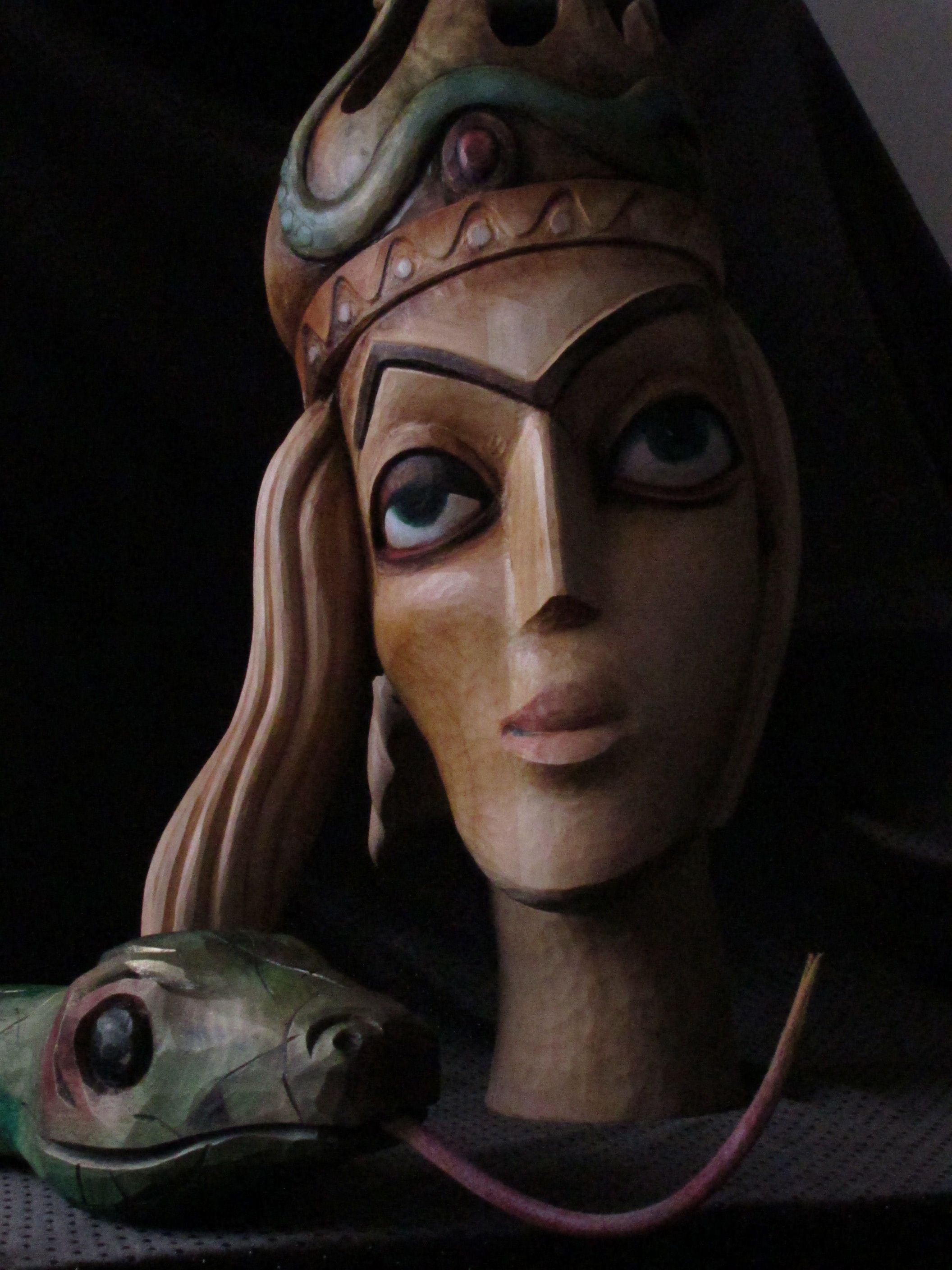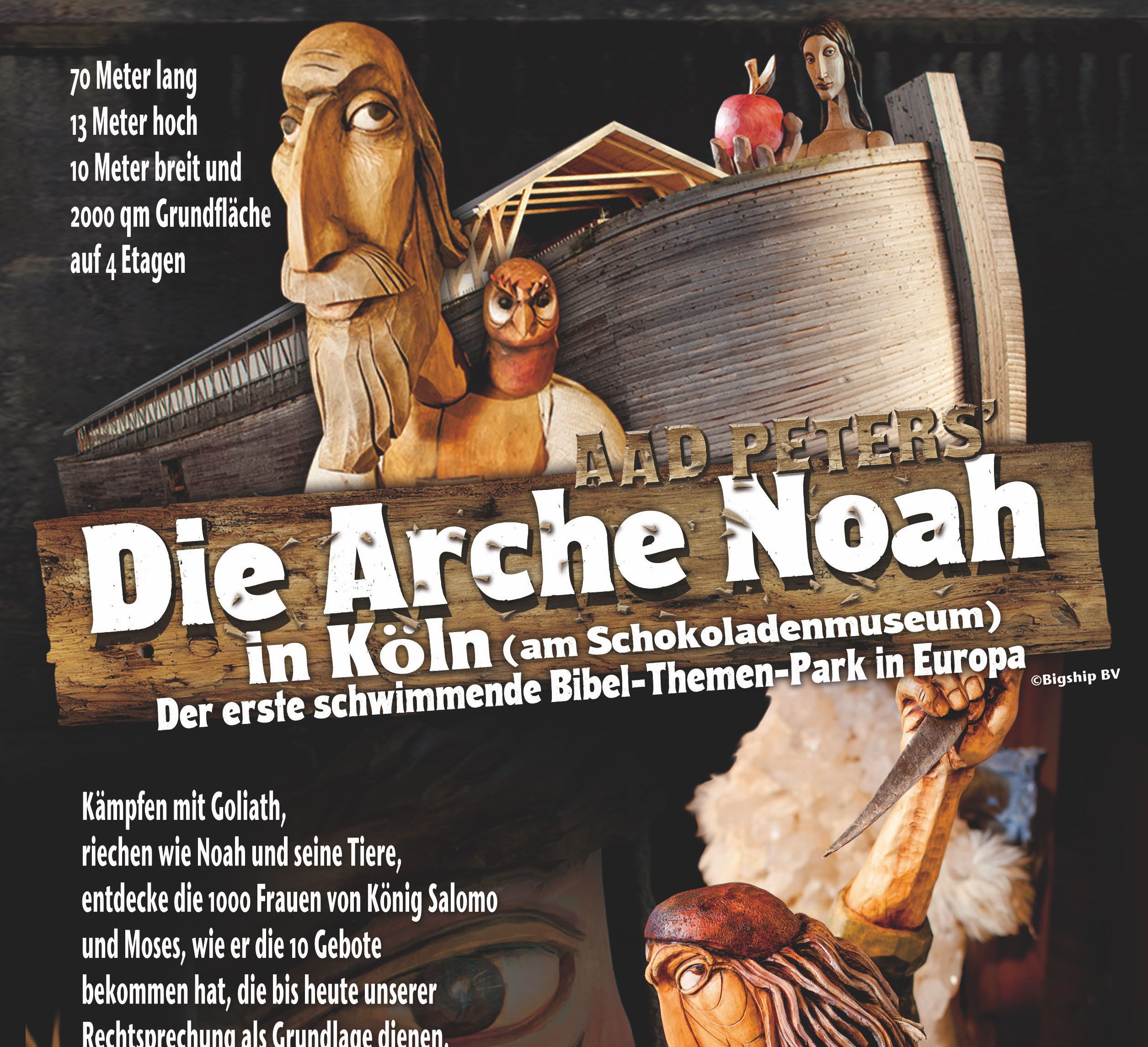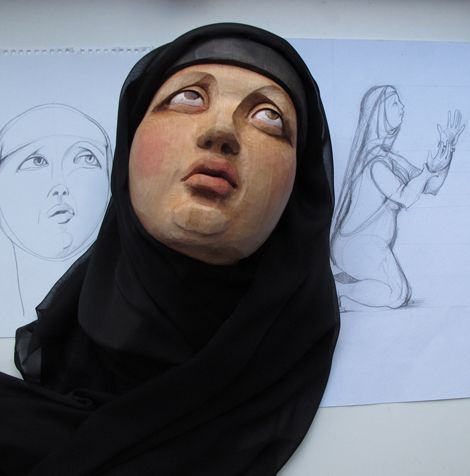 2008
Around the World in a Tea Kettle
The story of Edward Lear, a painter and traveler, but especially the famous English Nonsence poet, inspired us to play a children's puppet show about sailing in a teapot. Characters of Wheretogo and Theretogo are "created" on stage, the camera captures vividly painted watercolor - shadow colored puppets play in it as well as three-dimensional ones. Colors, islands, fantasy, masks, music. And the final sentence says it all: Traveling is a wonderful thing - but home is home!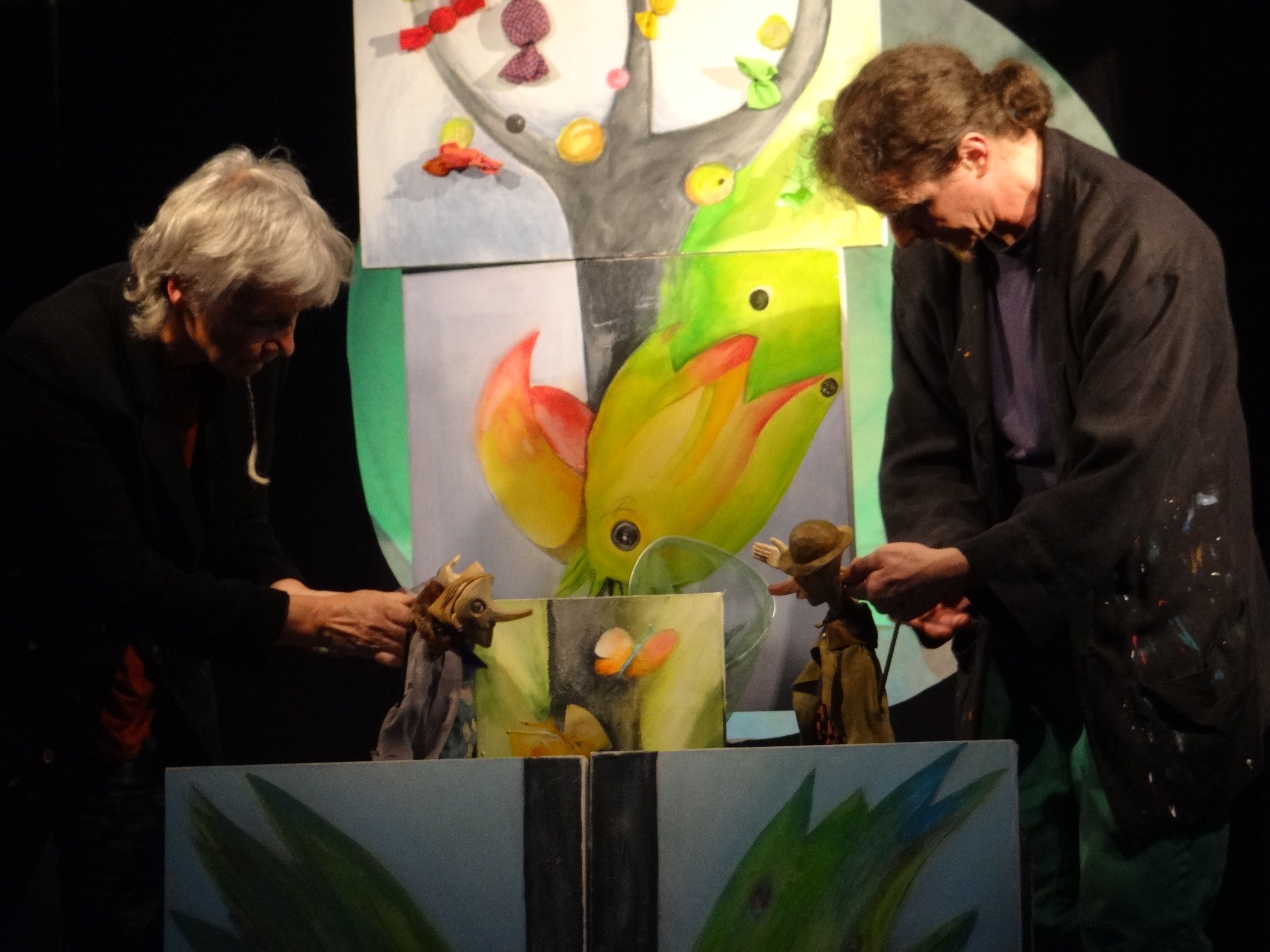 2008
Flying Dutchman for Theater Taptoe, Belgie
The wonderfully minimalist production by the Belgian ensemble Theater Taptoe (that disbanded shortly afterwards) and the musicians of I Solisti del Vento was shown by Neuköllner Oper, Berlin's fourth—and maybe most interesting—opera house. It featured a reduced ensemble, a four-man-choir, puppets, shadow play, and more stunning ideas to make this overly romantic tale digestible today.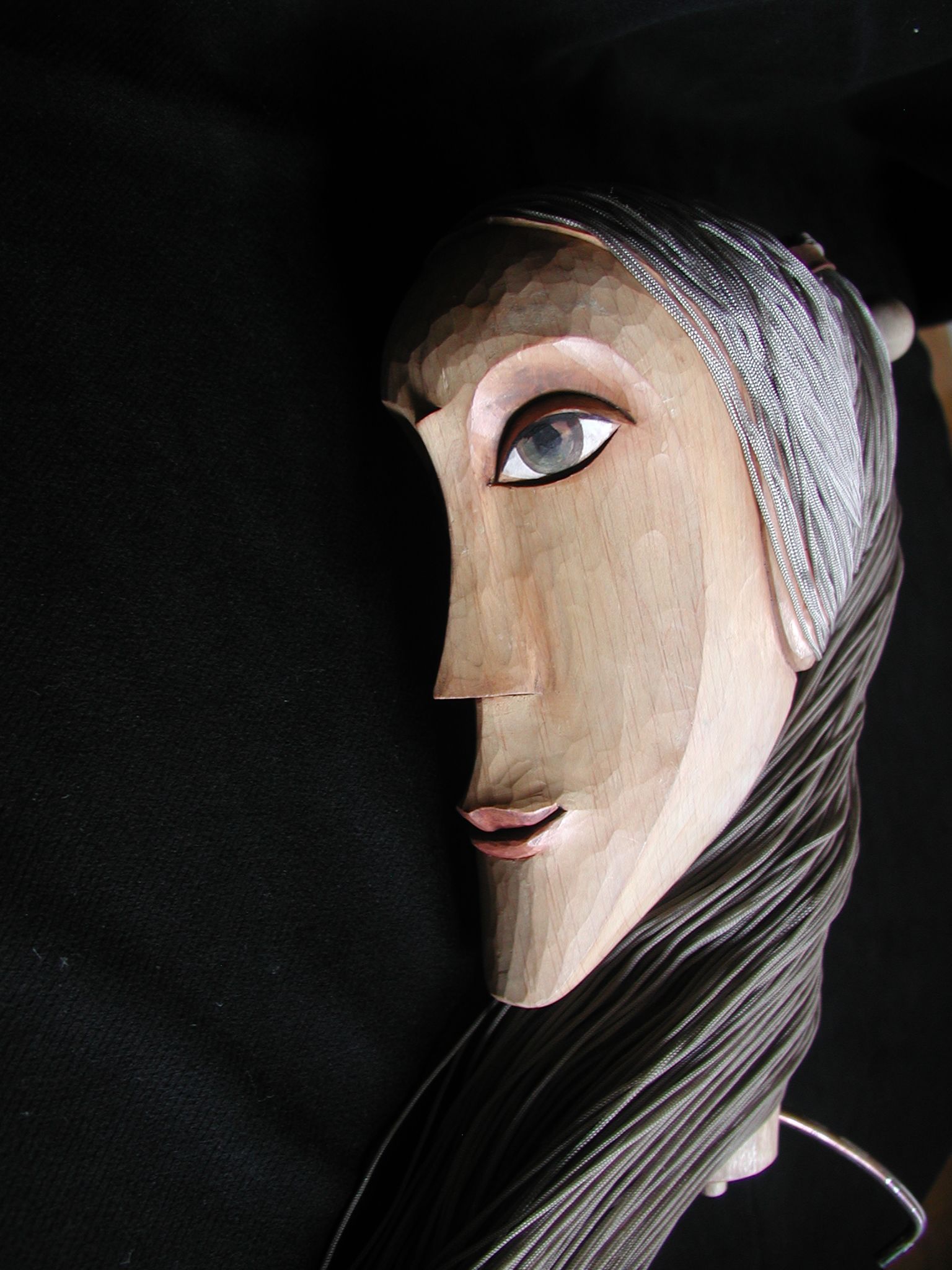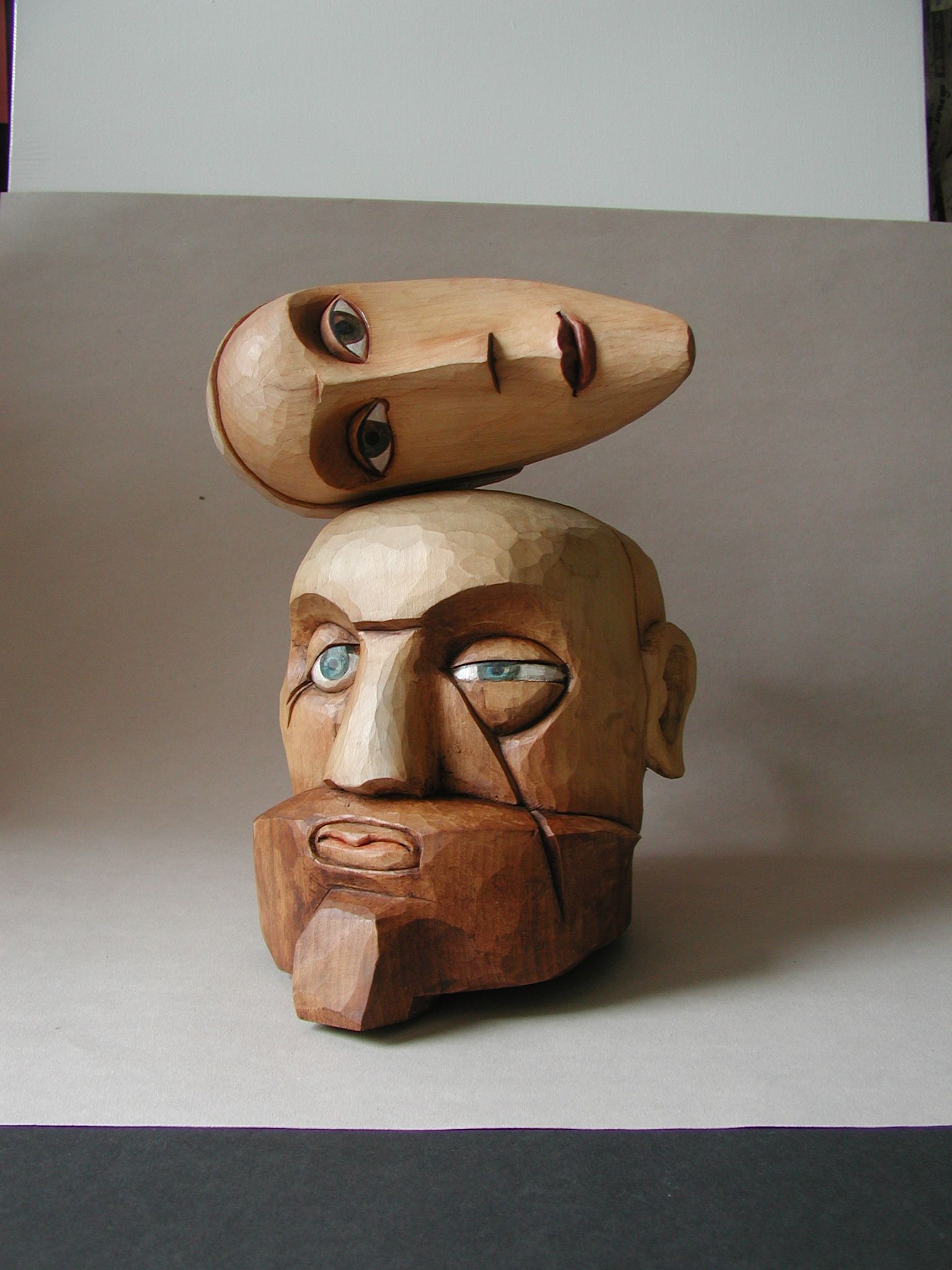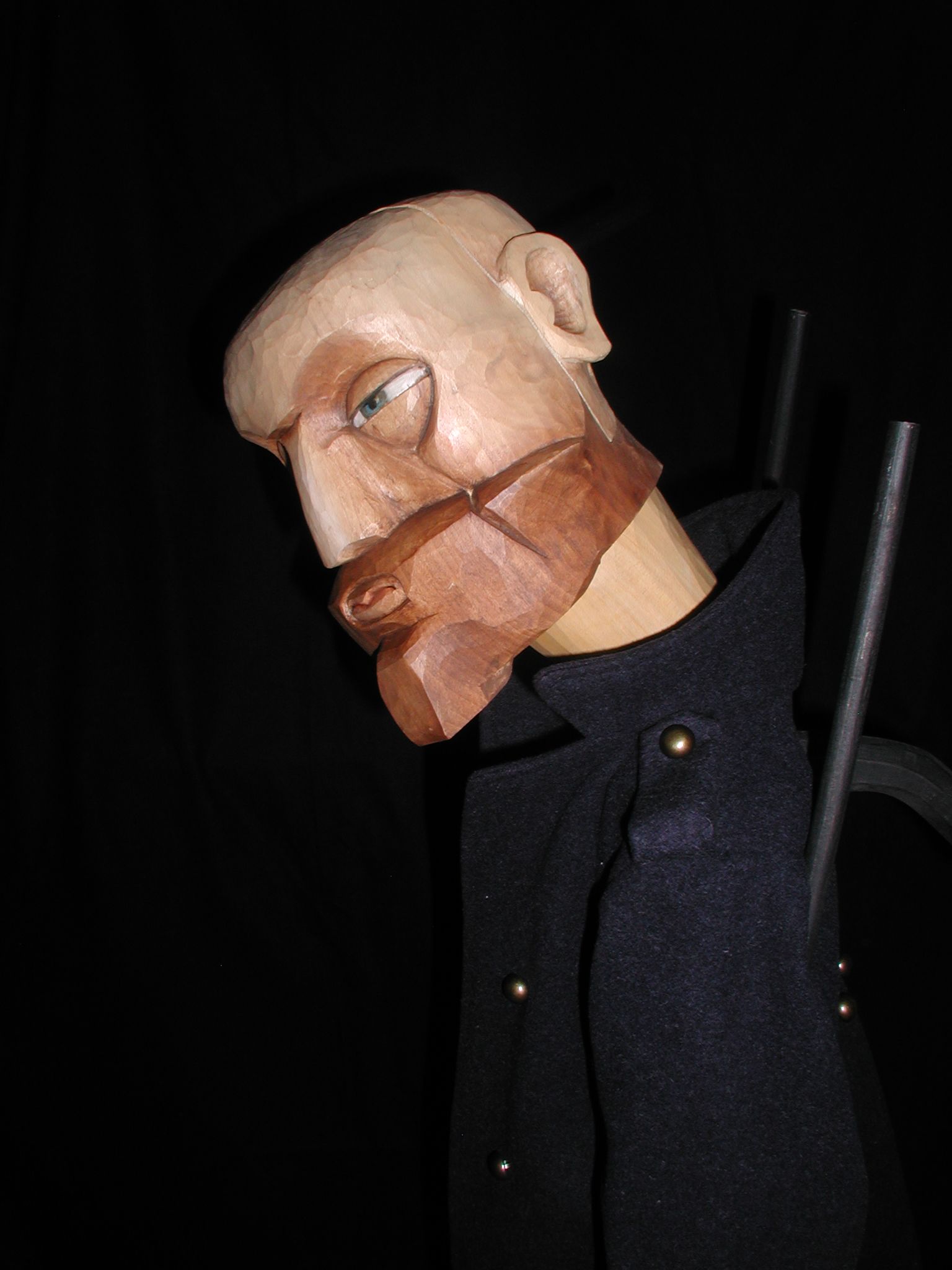 2007
Dornröschen
A classic fairy tale for families with children. For Kobalt Figurentheater, Lübeck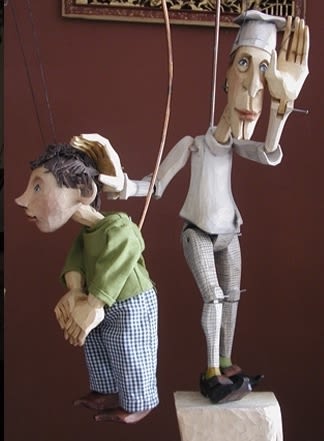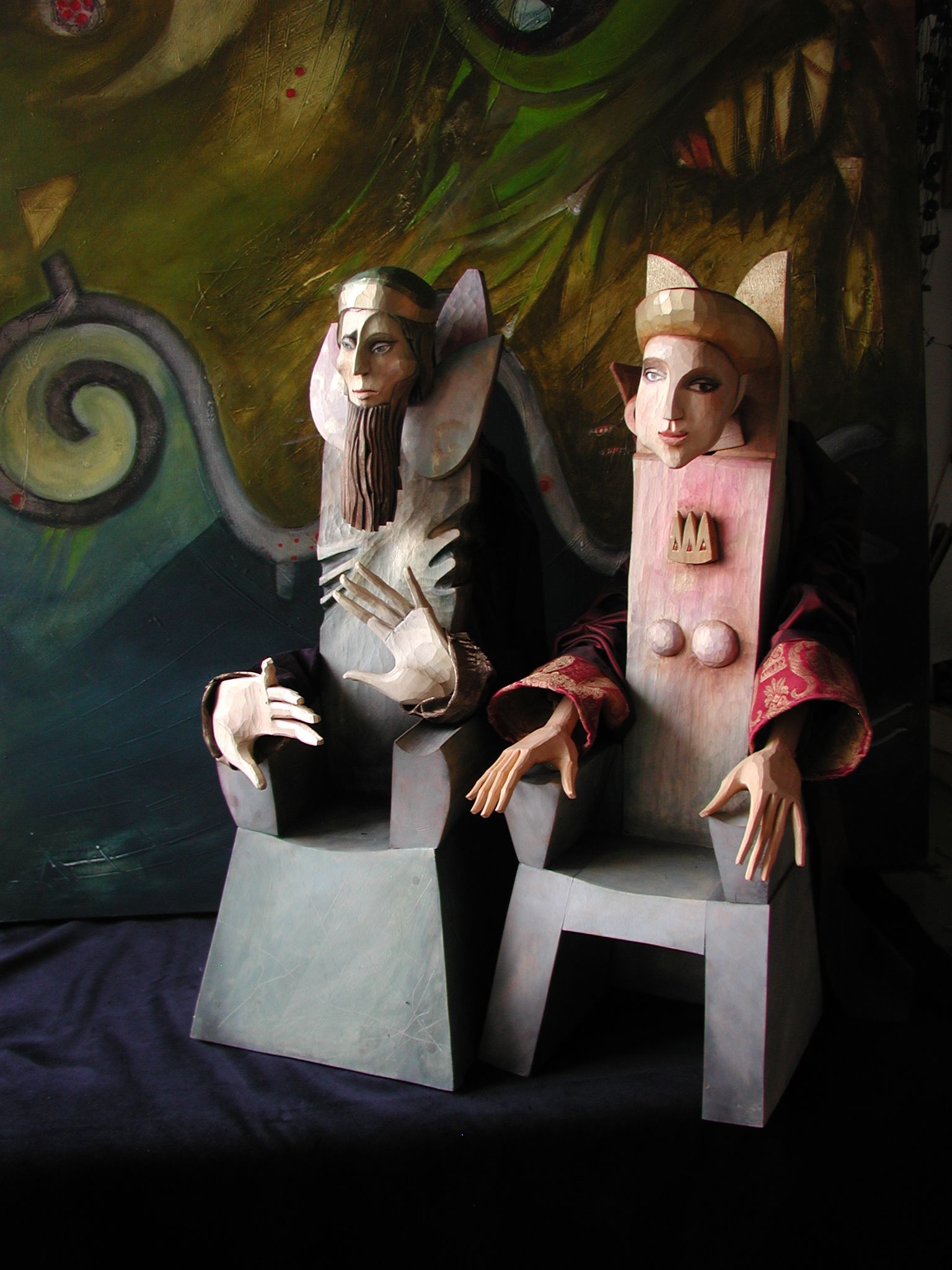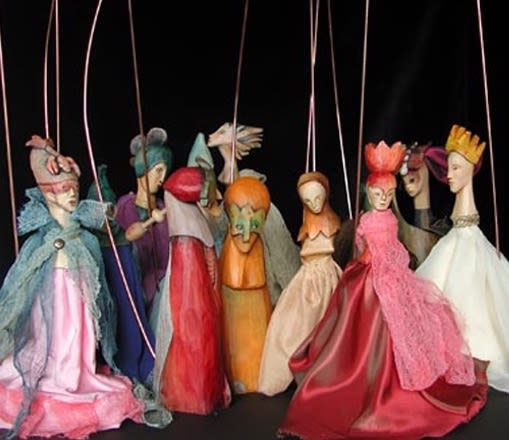 2006
Étaín - from Celtic Myth
The Celtic goddess Etaín was the last representative of the matriarchy. In her three lives, she decides whether to love a druid - a magician or a warrior king. The classic triangle will be solved by choosing the most acceptable for us - it will become an eternal tree. Relationships between us are the most interesting and the most important. Relationships form a world. The graphics on the projection were the catalyst of the story, live music, violin, viola, harp and drums added poeticism and juice to the story.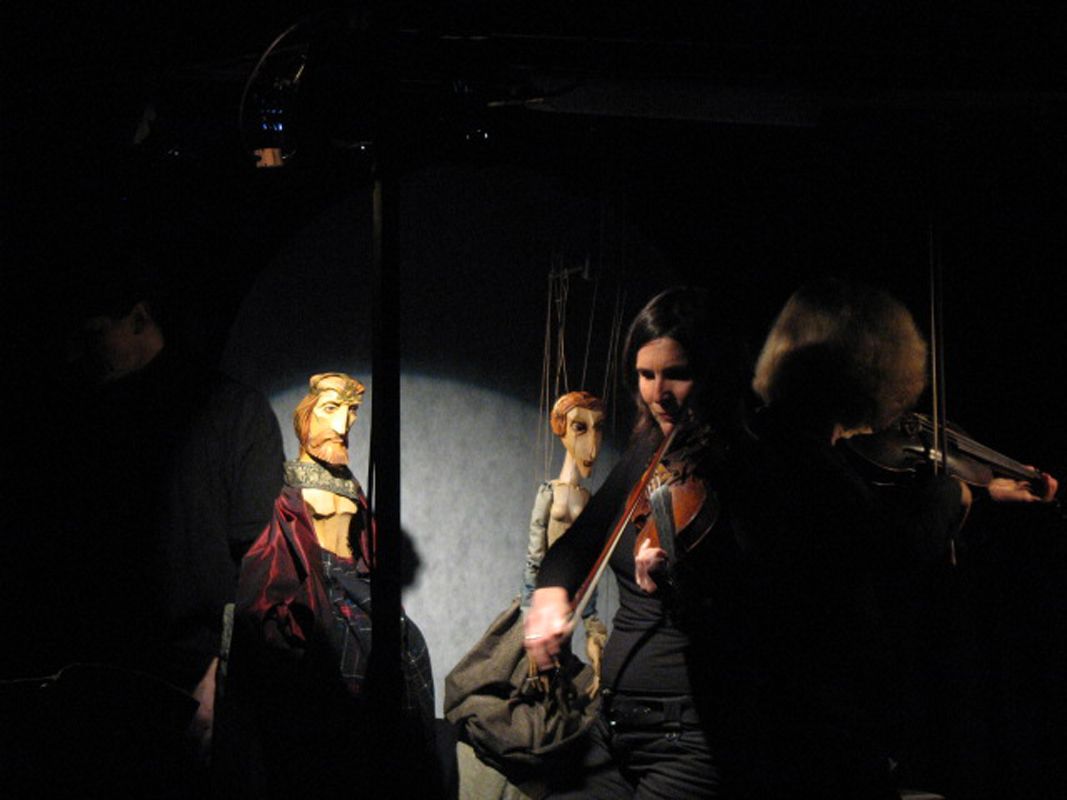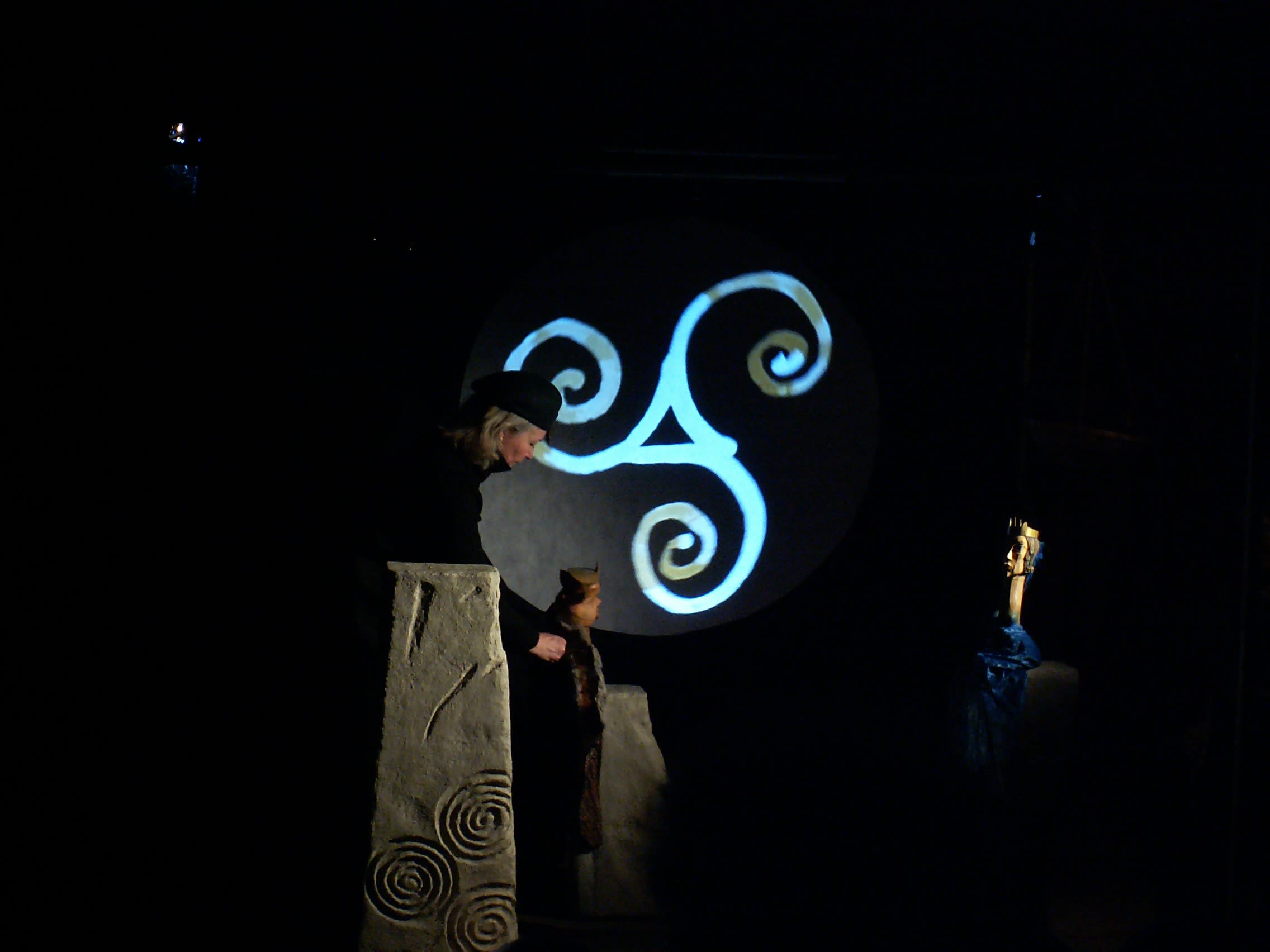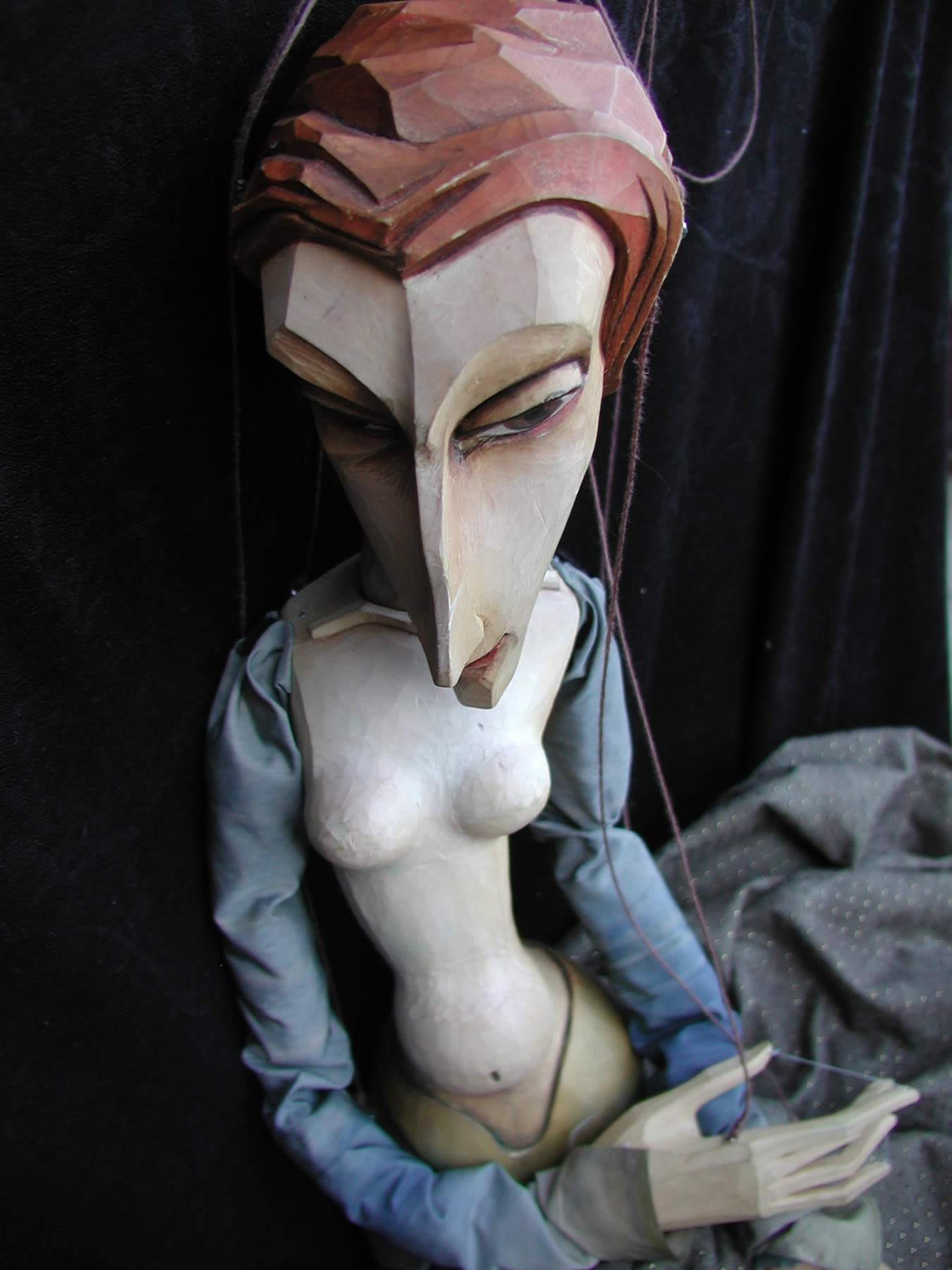 2005
Doggie and Kitty for Theater Rafael Zwischenraum, Berlin
The play presents two wonderfully absurd episodes from the popular book "All About a Doggi and a Kitty" by Josef Čapek "How a Dog and a Cat Washed the Floor" and "How a Dog Tore His Pants" in his own theatrical version. The charm of the 1930s was maintained with the help of simple period props. The author's humor is transformed into humorous dialogues. It is a simple but very apt and cordial language. Washing your dog and cat with real water on stage, kids really love.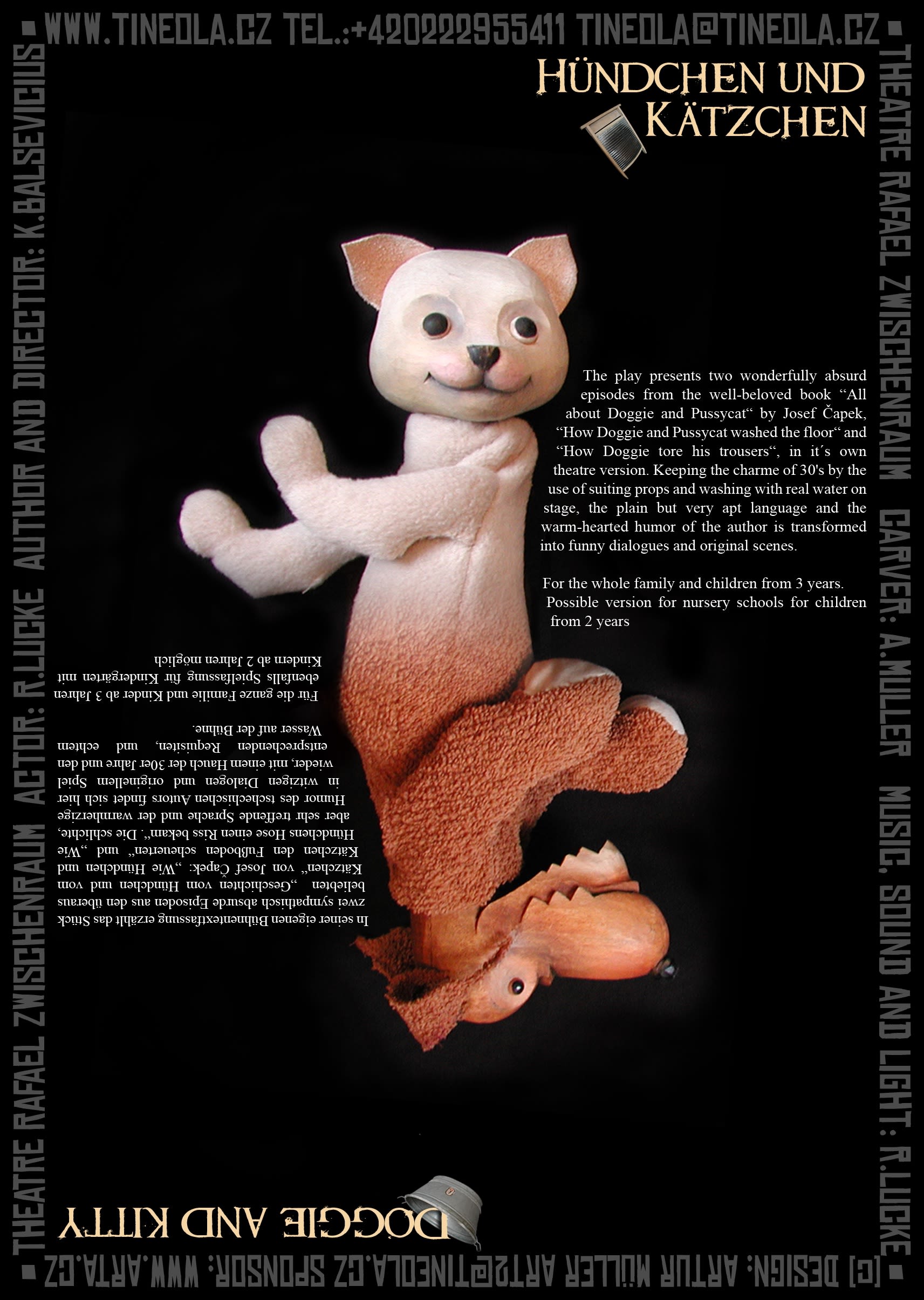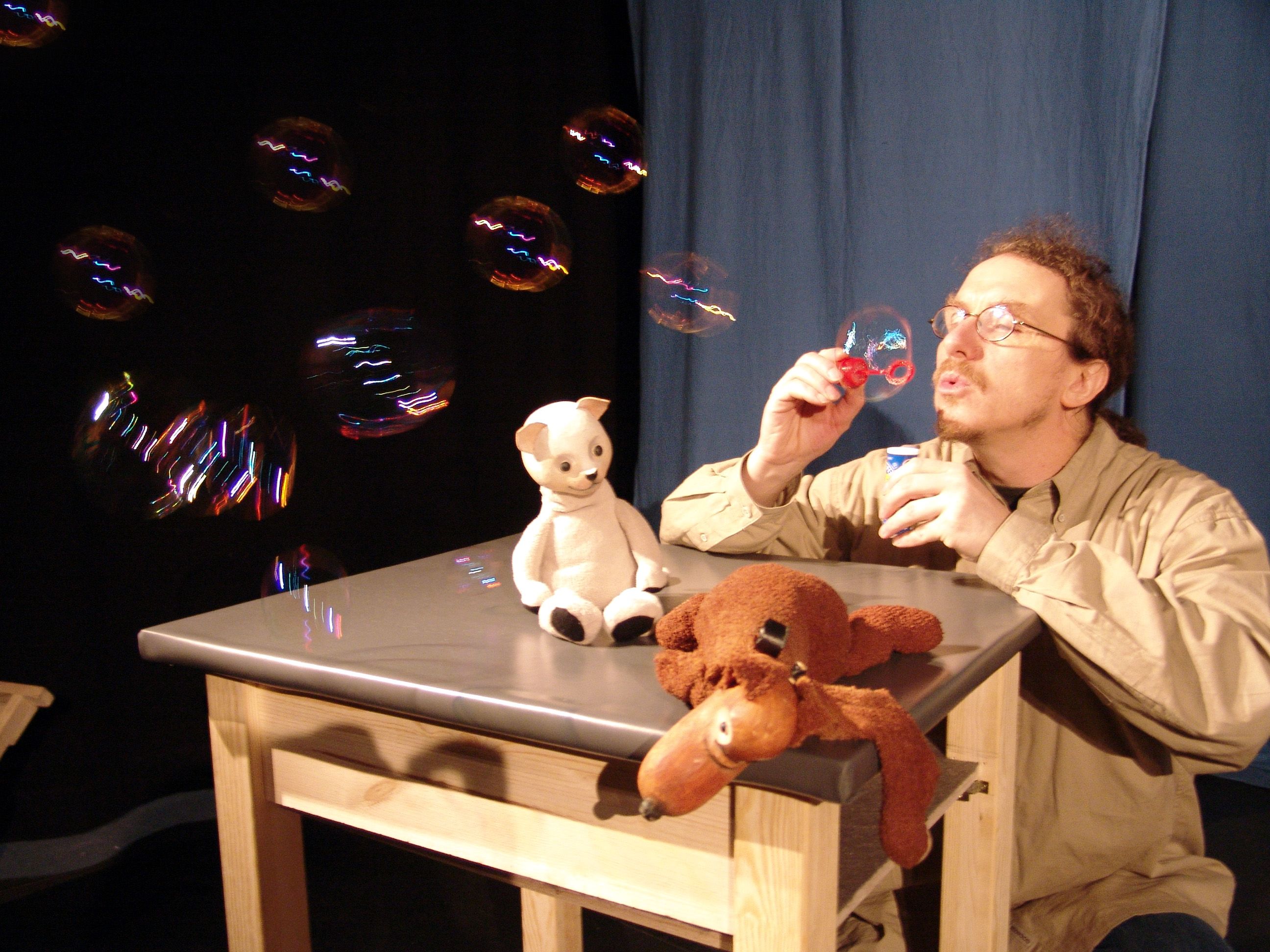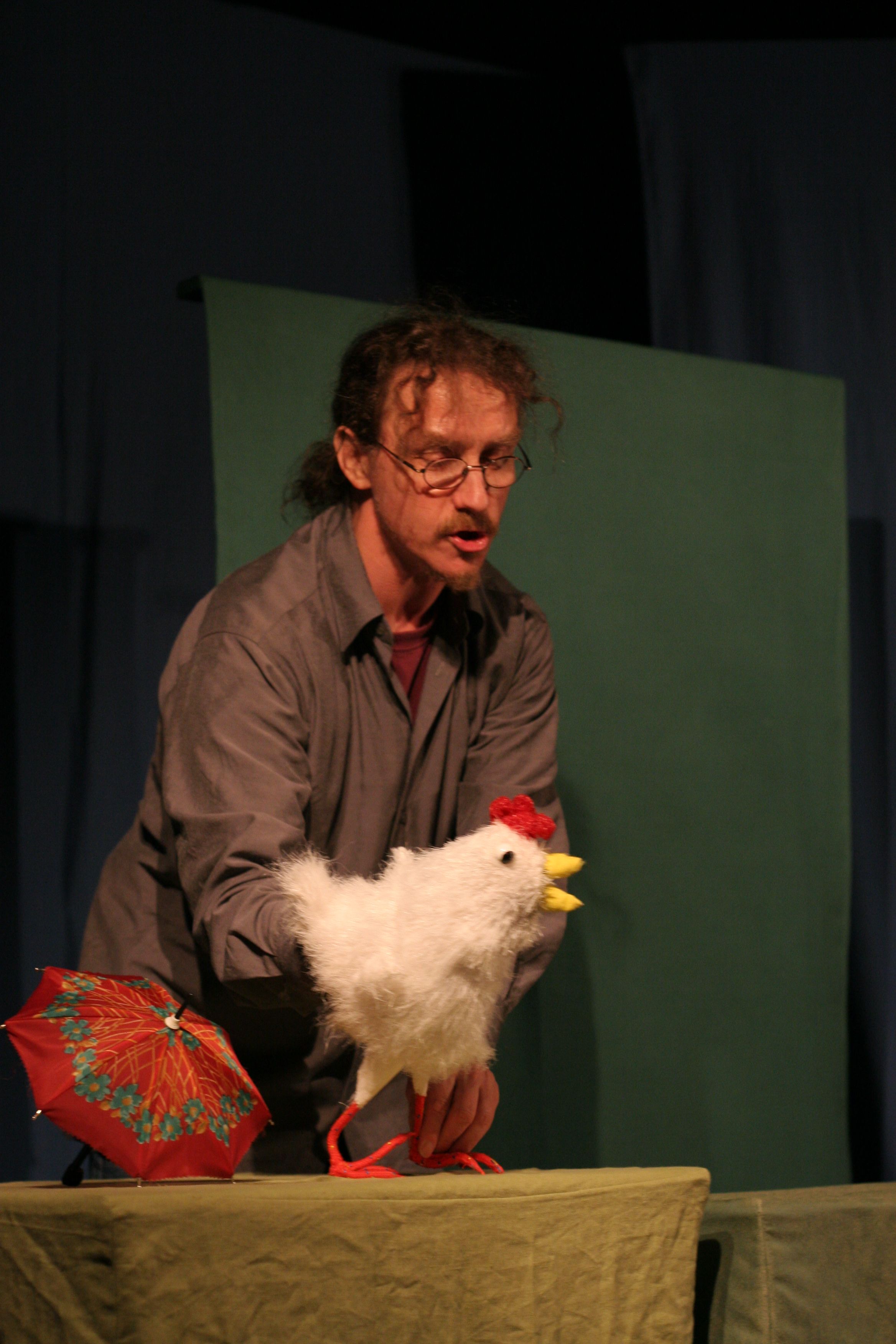 2004
The Sorcerer's Apprentice for Garlic Theatre, Norwich, UK
An enchanting story full of secrets and enchantment with an amazing mix of physical theater, humor and technical magic played by Mark Pitman.
2004
Morgenstern and Vesper
A puppet show for children and adults inspired by characters from poems by Christian Morgenstern, a German poet of nonsense. It's a hilarious journey of two funnels through the night forest. The language of the two heroes - the funnels - is imaginative, non-existent. They play with the light of the moon, they are afraid of the bloating Shirts and they make fun of Raven. As the night progresses, they witness preparations for a longer pilgrimage, and together with the desperately slow snail, which has problems with its own house, the nervous Potato Mouse and the Ladybug, they go to the gallows hill. Along the way, they are frightened by the Twelve Nix and its faithful Gluton, who control the peace of the night ... Will they stand on top of the hill? ... And what do they really want to see there? We have created a dreamy image of a night journey through the forest, in which ridiculous and absurd, cute and goofy things happen.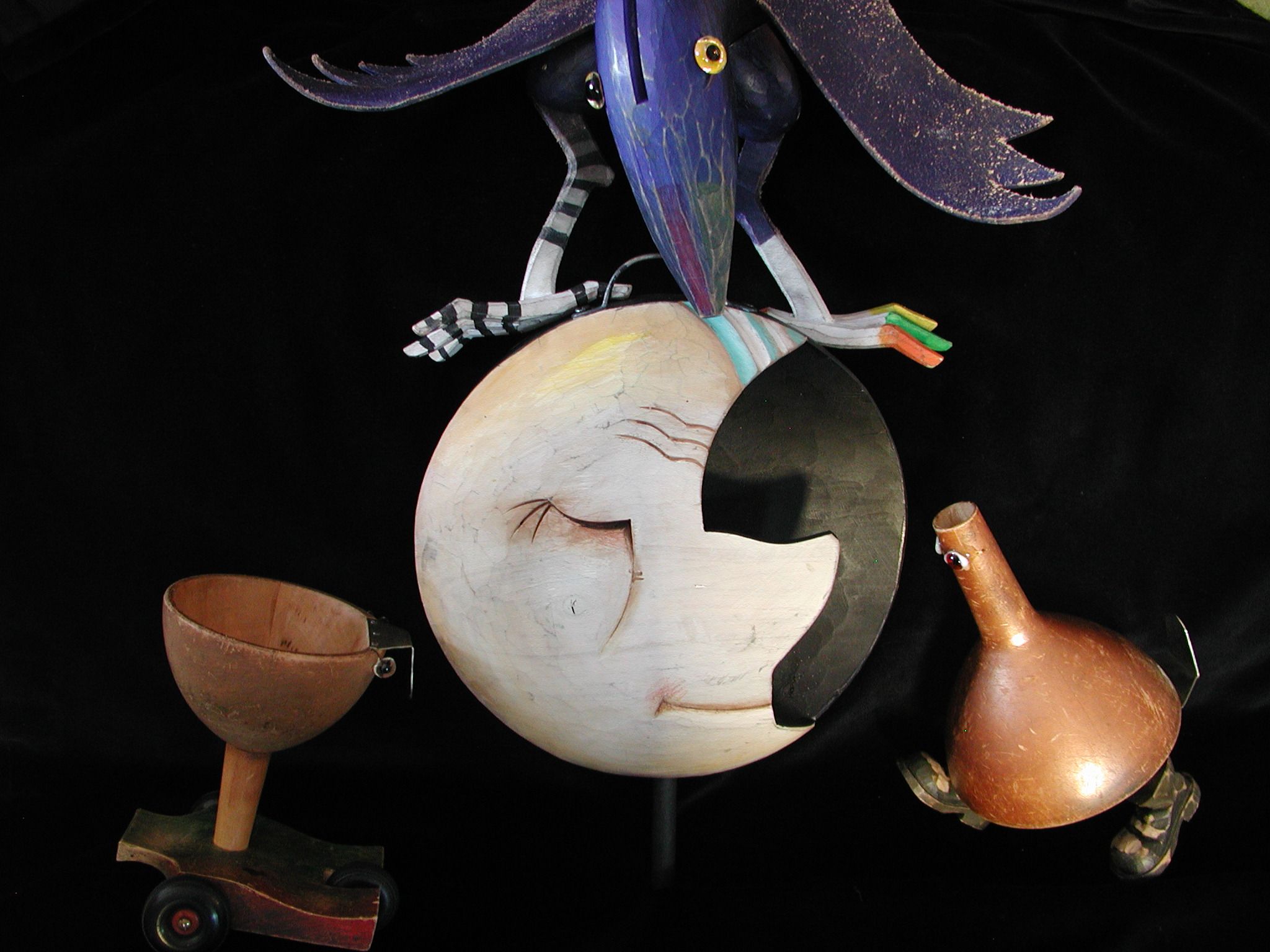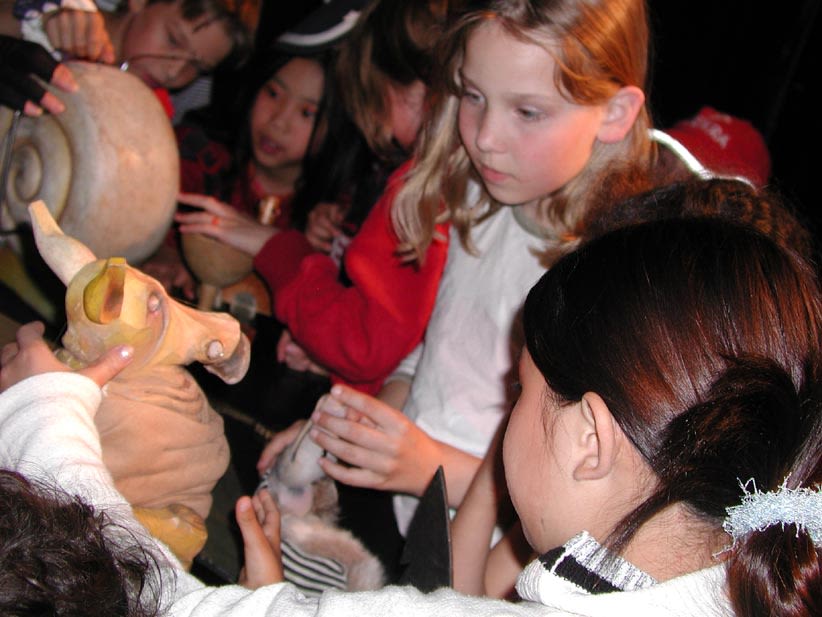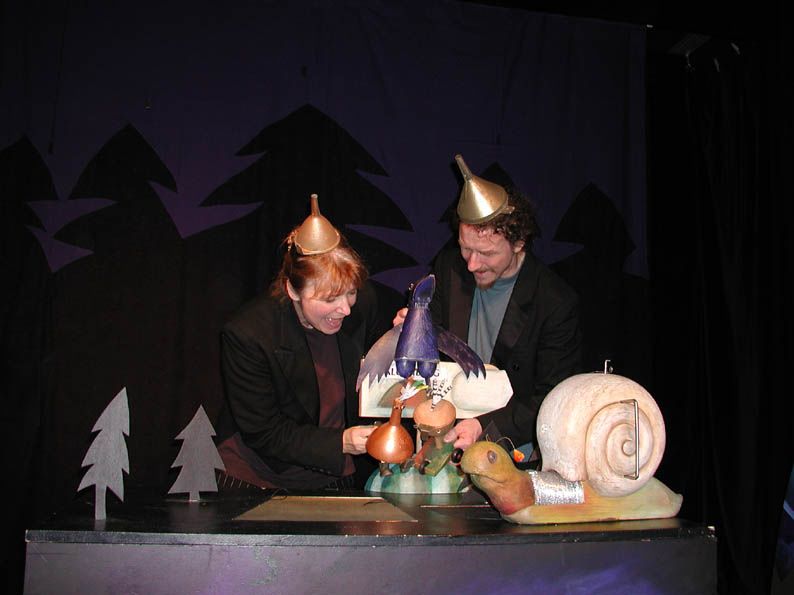 2003
Fiddlestick for Garlic Theater, Norwich, England
Fiddlesticks is a magical journey of playful violins with legs that break free from the strings and take us into the world of musical fantasy.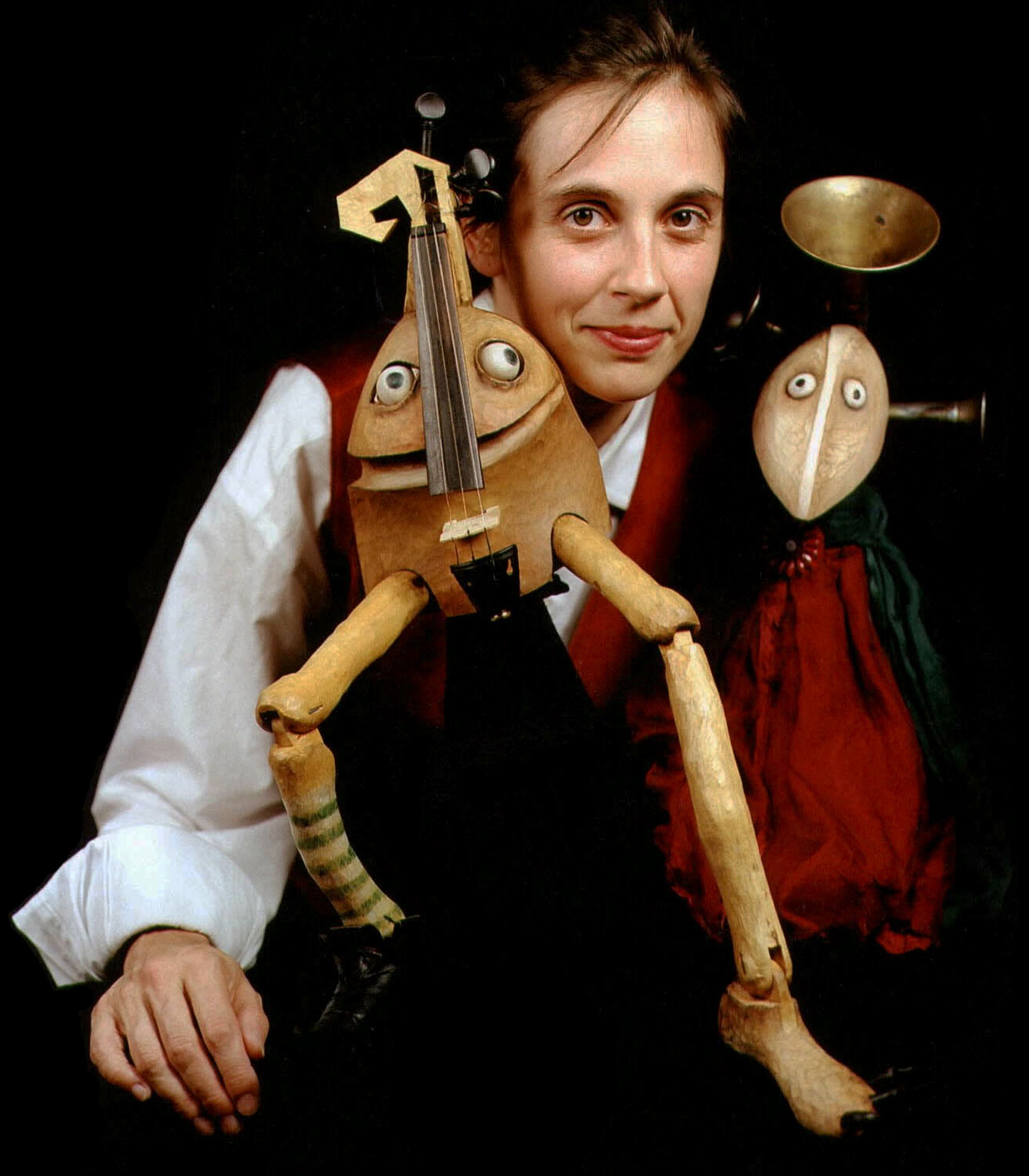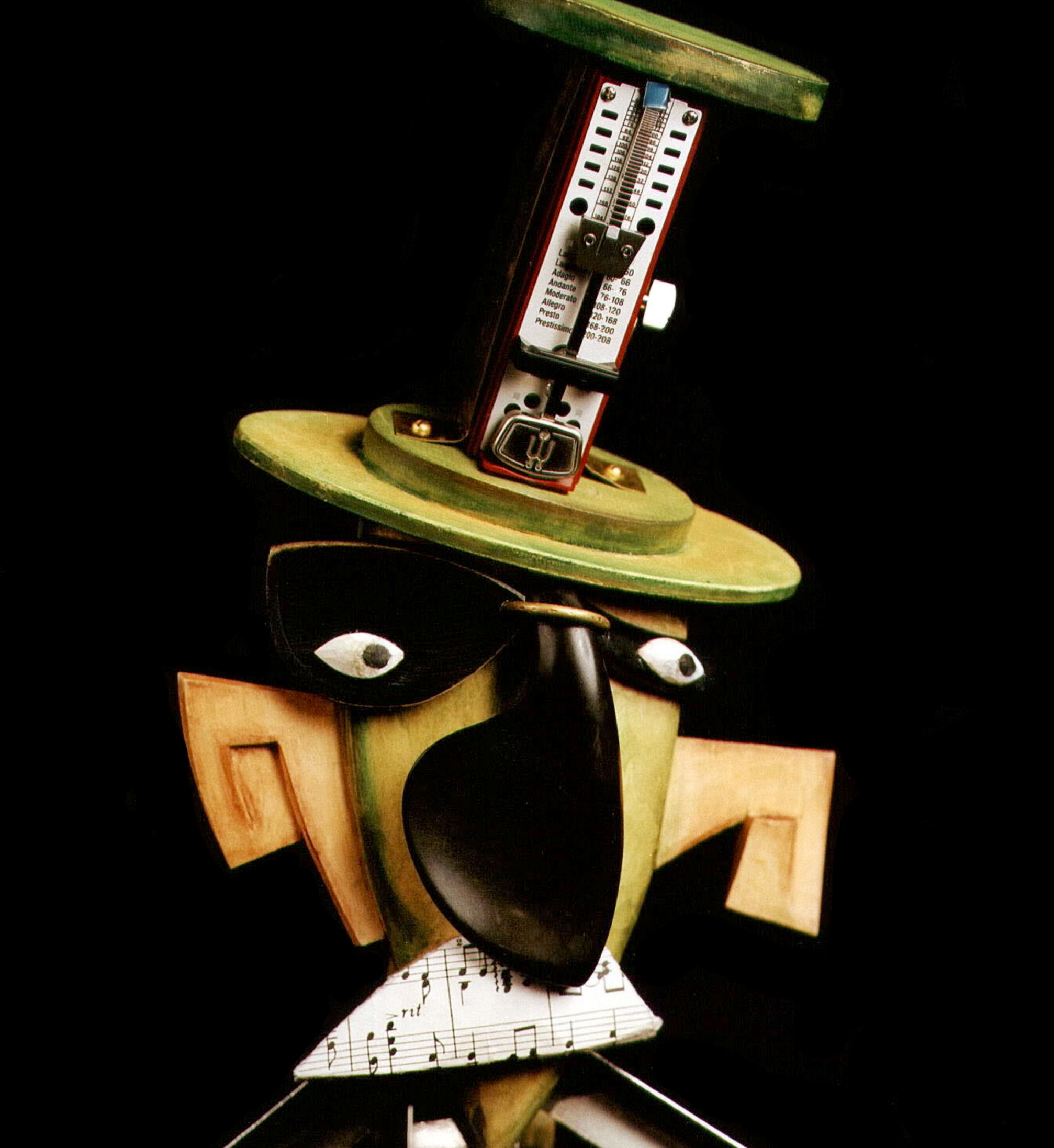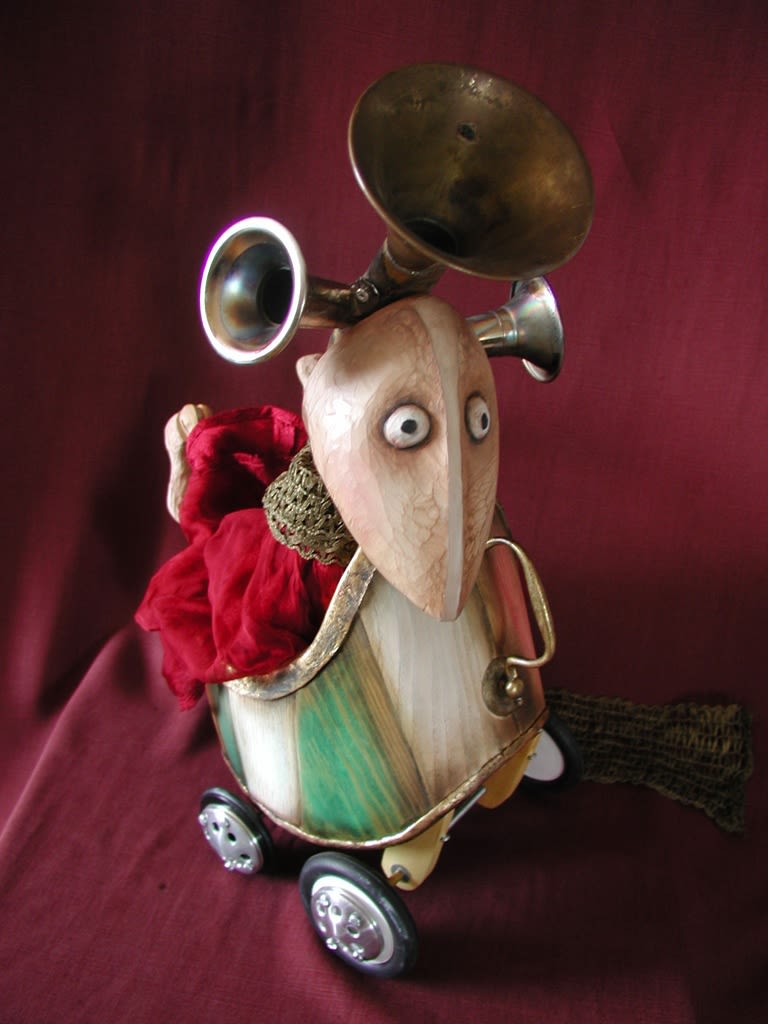 2002
Lust for Theater der Spiegel, Belgium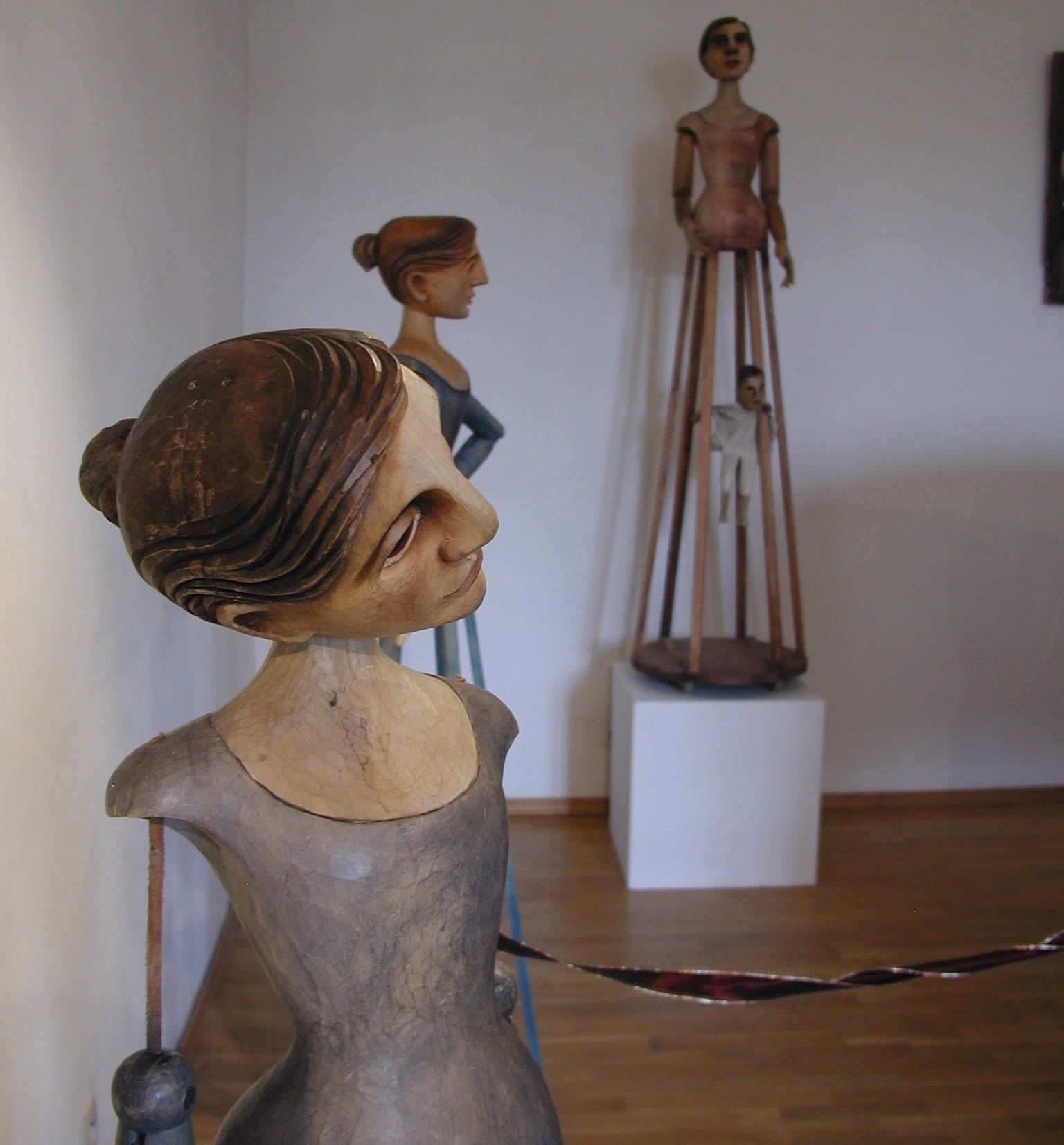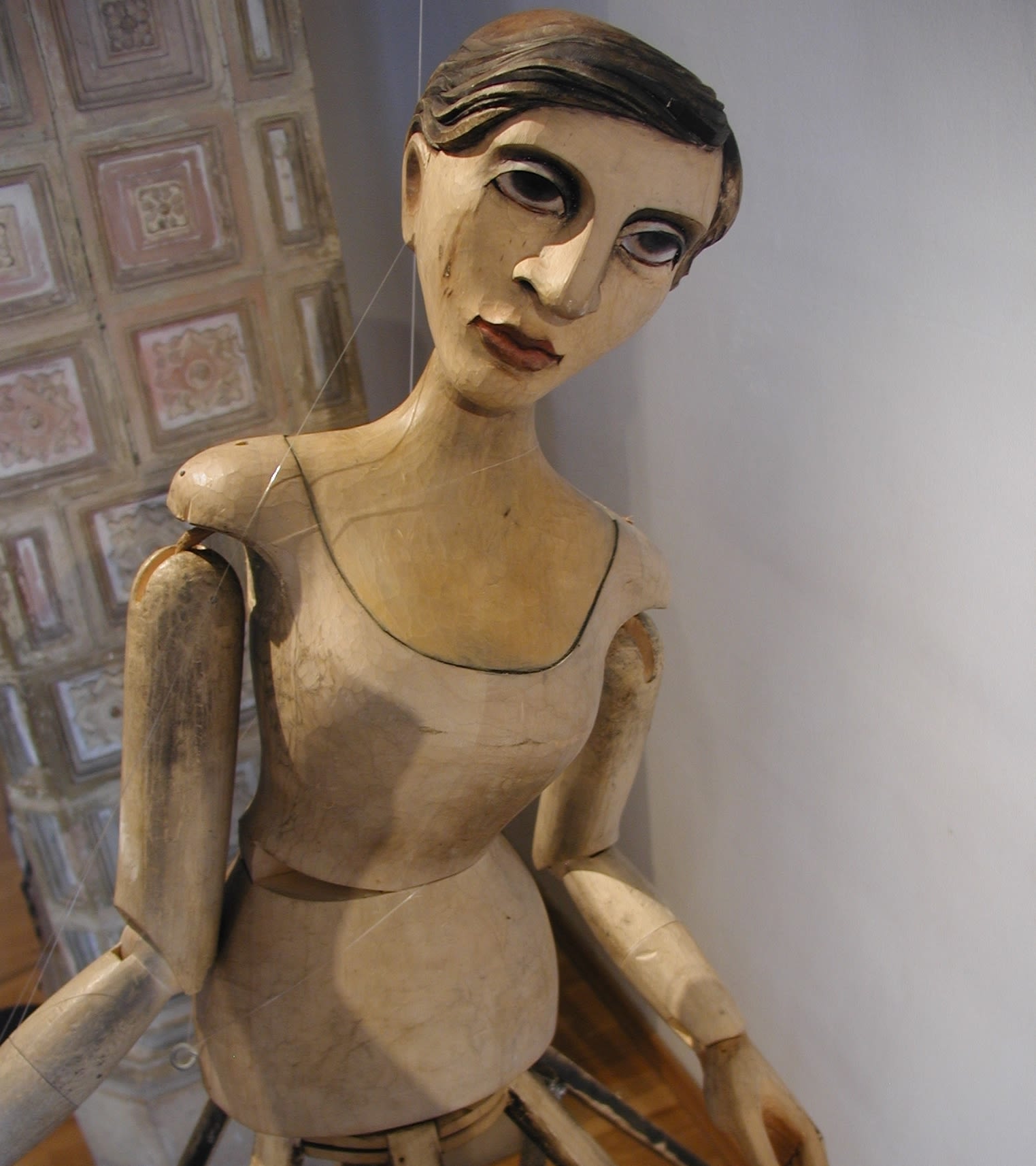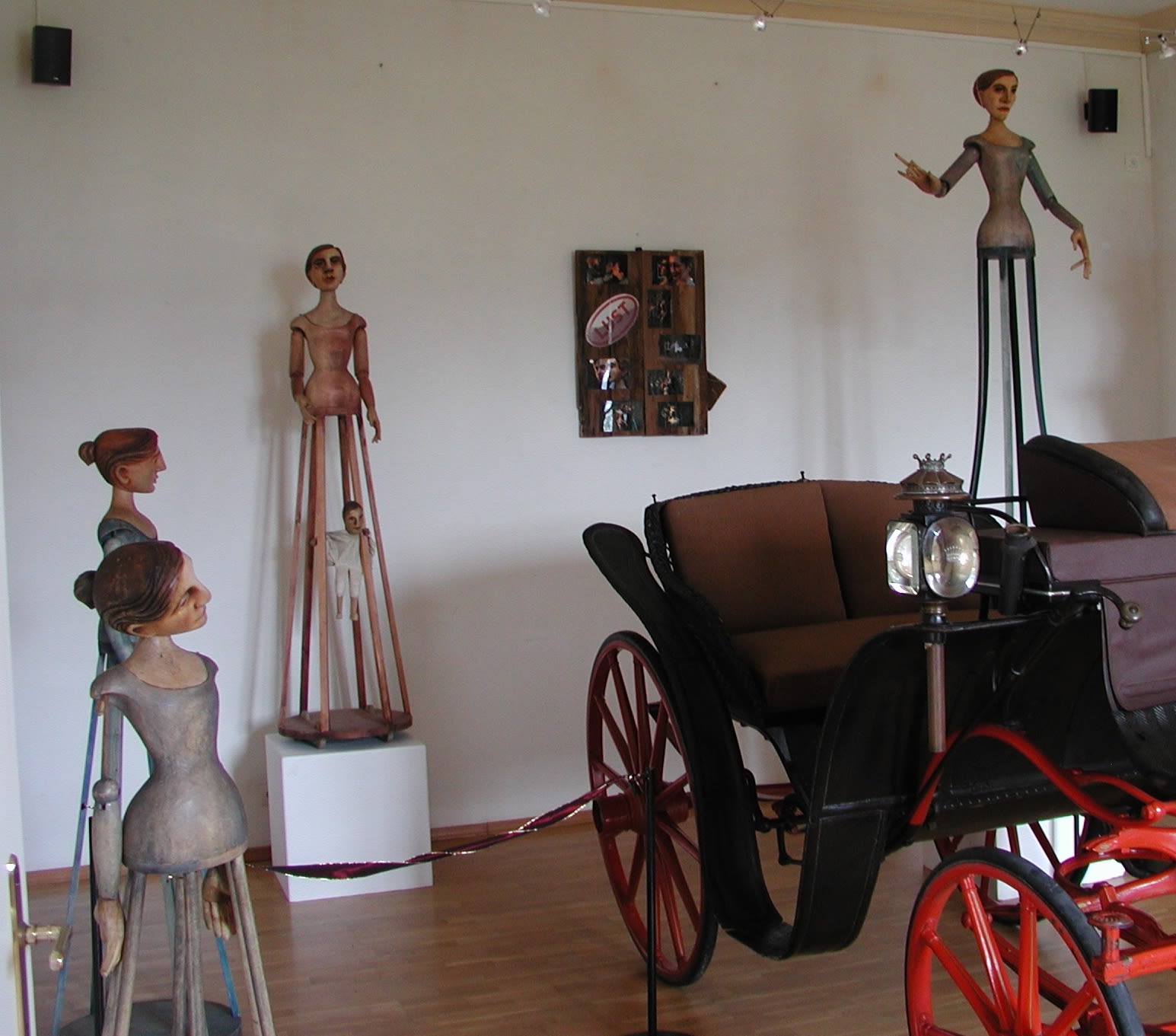 2002
Christmas Amiability
Carols and puppets belong to the pre-Christmas time in Bohemia. Tineola played a cheerful melancholy look at the story of three kings and one confused midnight from Bethlehem. The puppets were wooden and, as always, beautiful. Ritornello's professional baroque musicians played forgotten songs and less "serious" music. We performed - or a concert - at festivals such as Silkeborku, many churches and the parish. In the end, we sang well-known carols with the audience.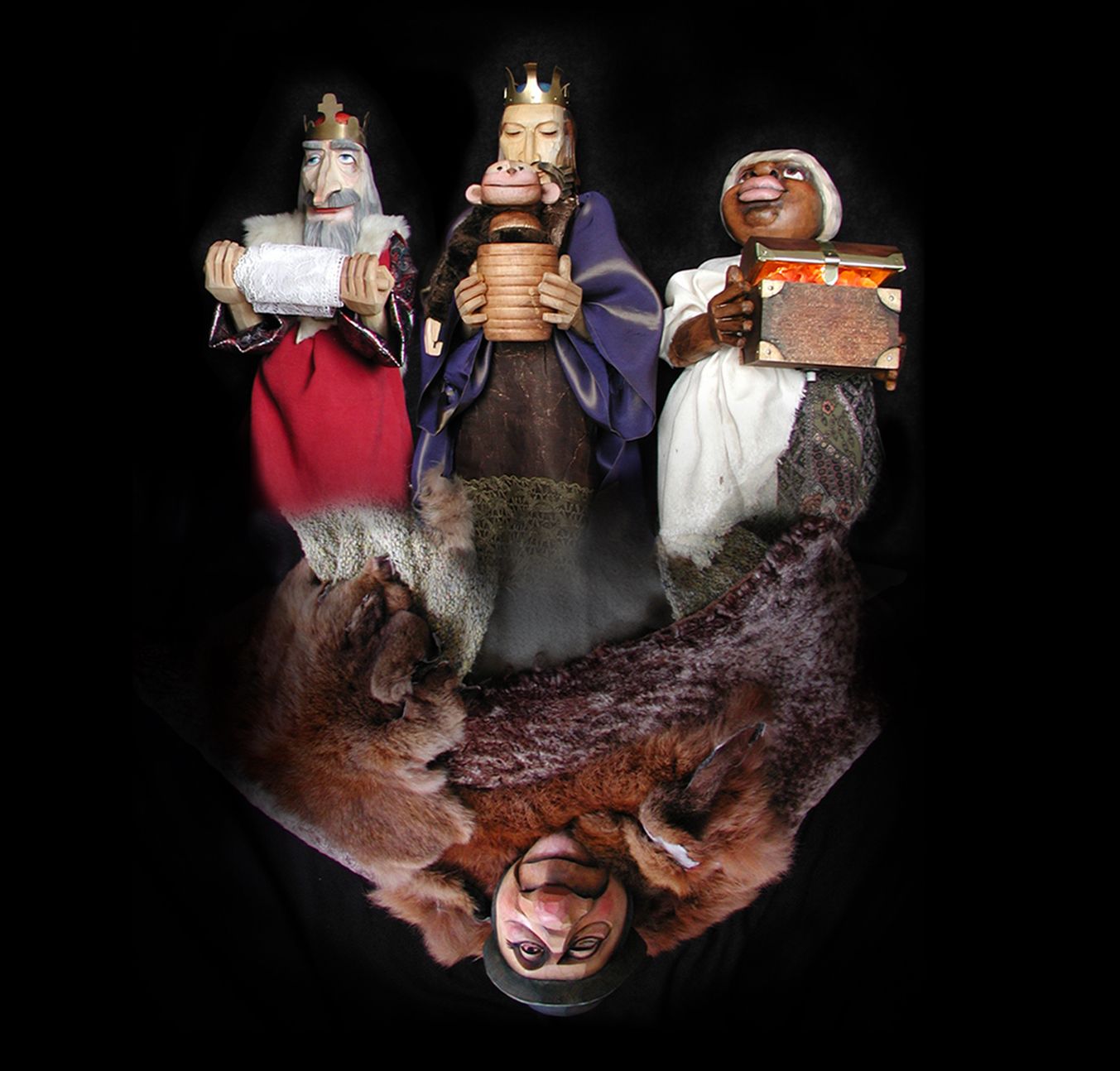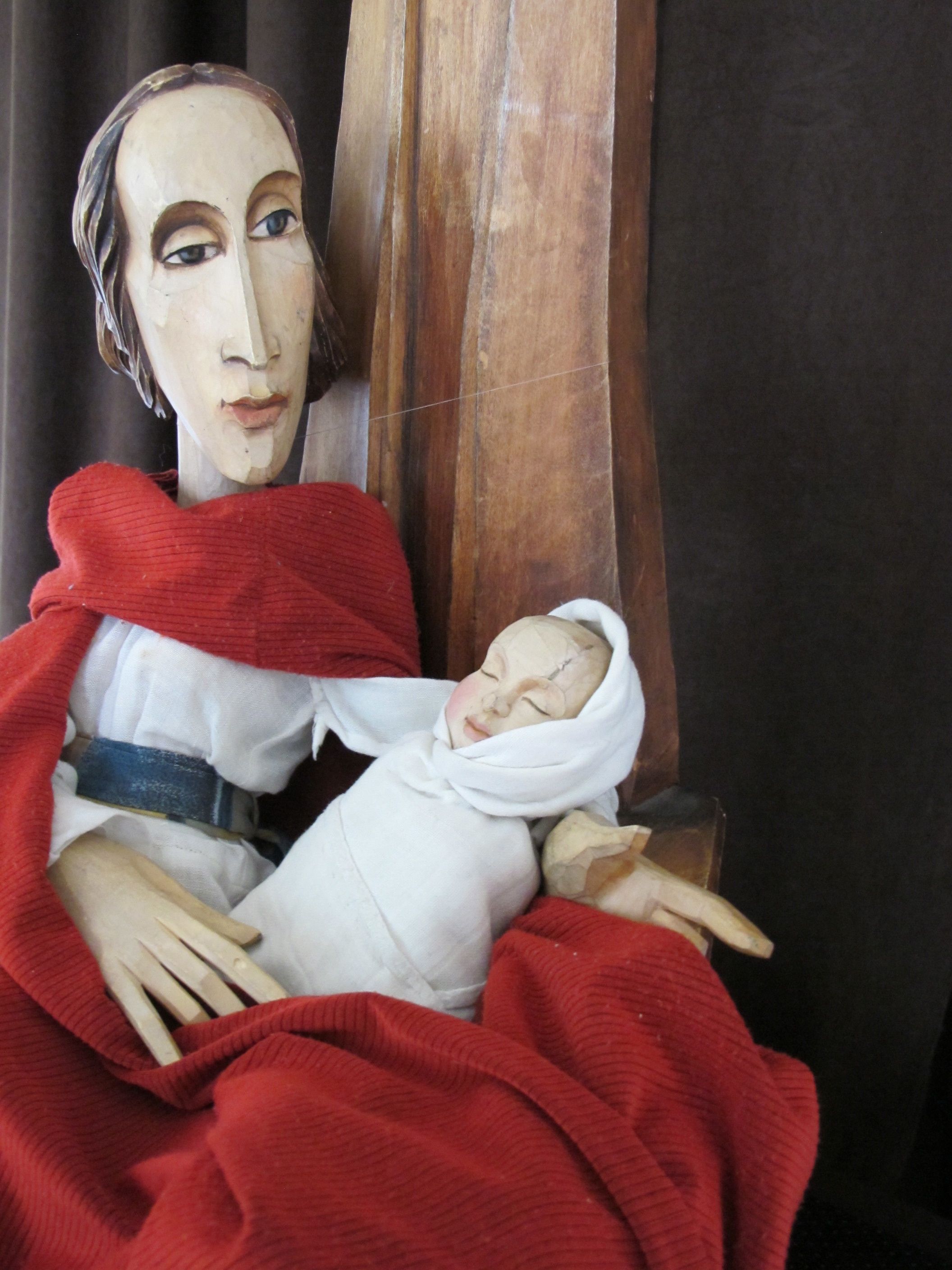 2001
Kaykio Drama Museum, Japan
The story of the German Dr. Siebold, when he was the first European to document Japanese fauna and flora and established relations with the Japanese through the care of sick people and the spread of European health care practices, such as the use of a microscope. He pretended to be a Dutchman when he was discovered and was immediately deported. After returning to Europe, he initiated business and friendly relations after a long period of isolation of Japan, when they protected themselves from the aggressive spread of Christianity. The puppets are exhibited in the permanent exhibition of the Japanese Puppet Museum.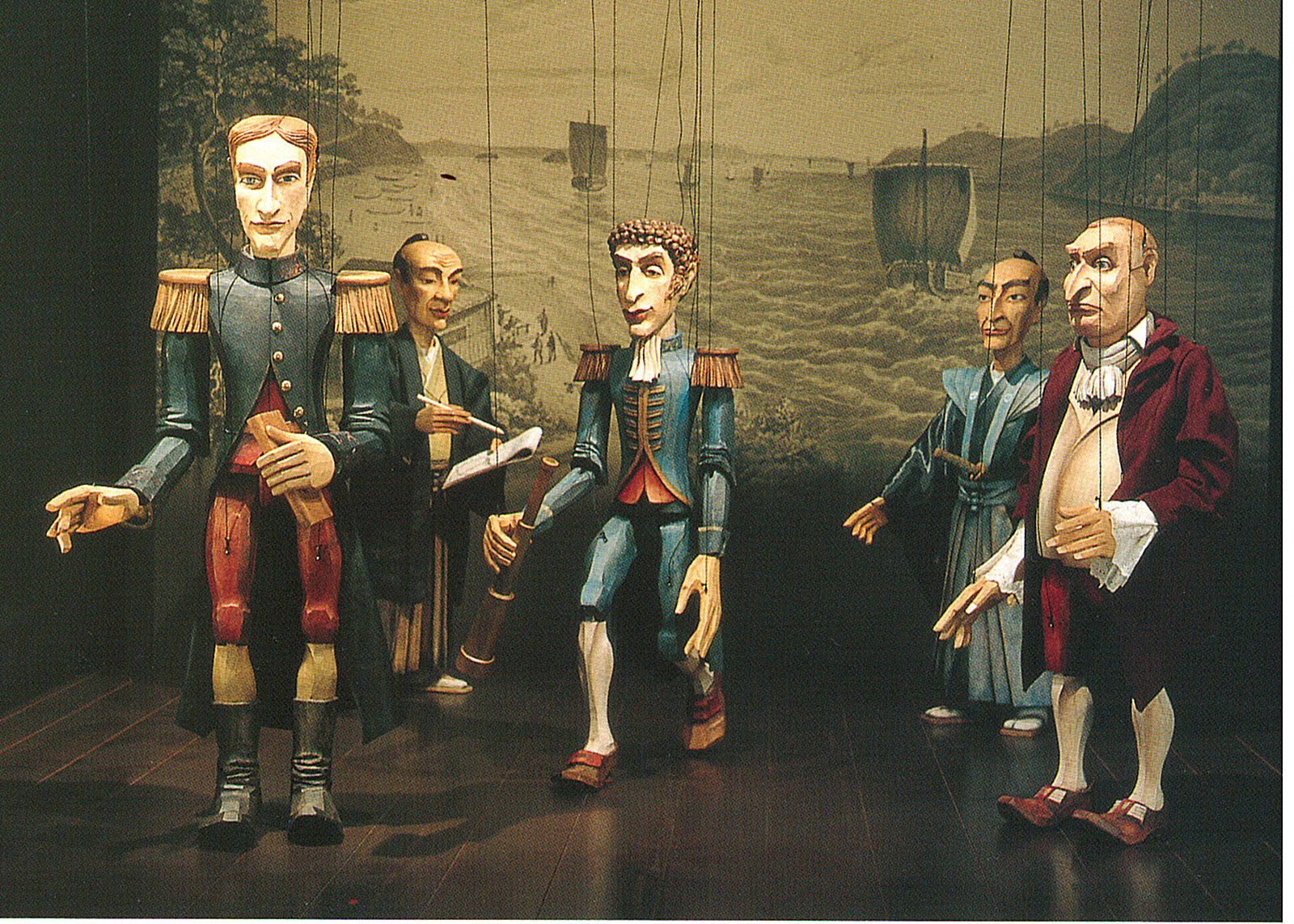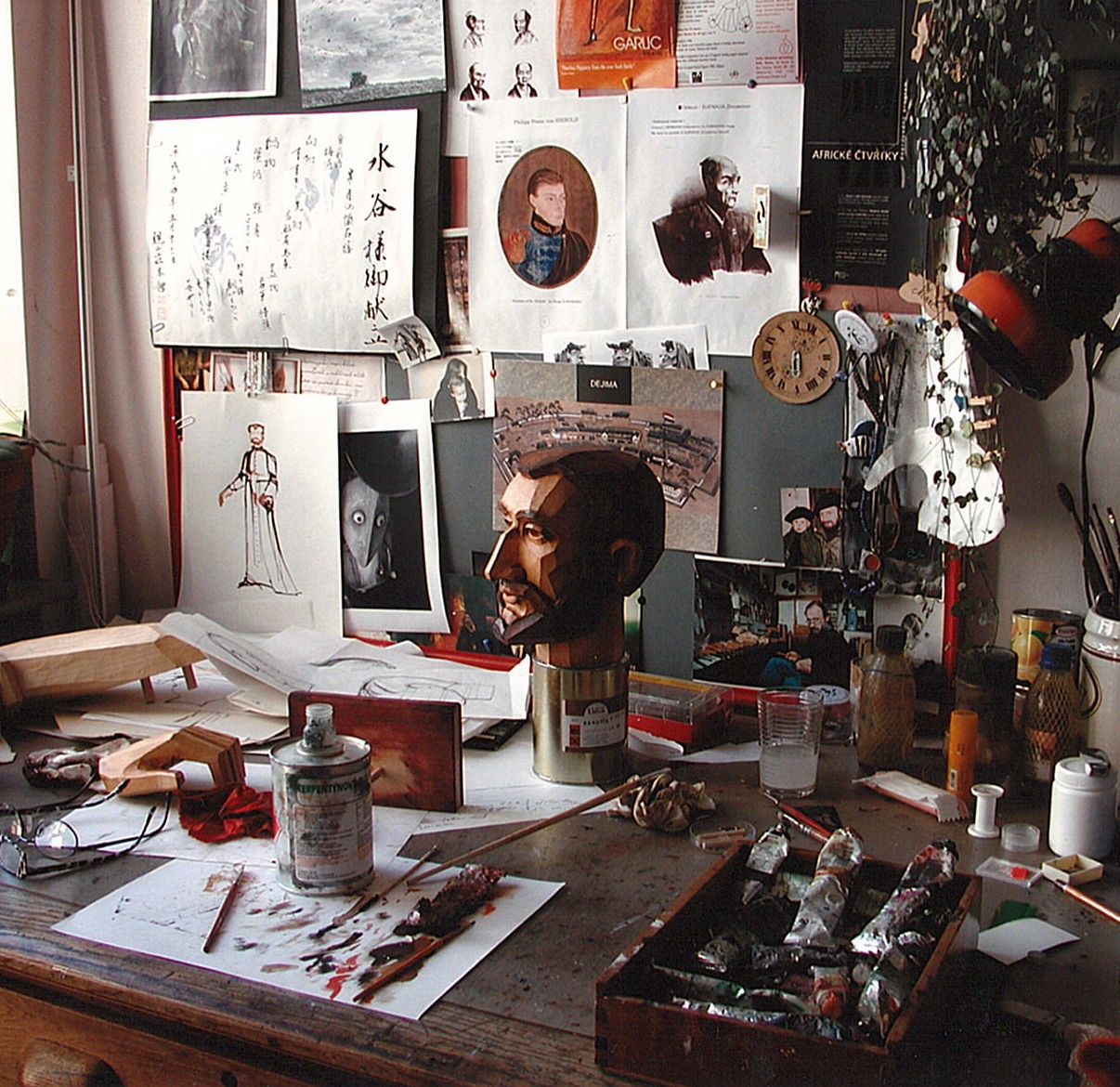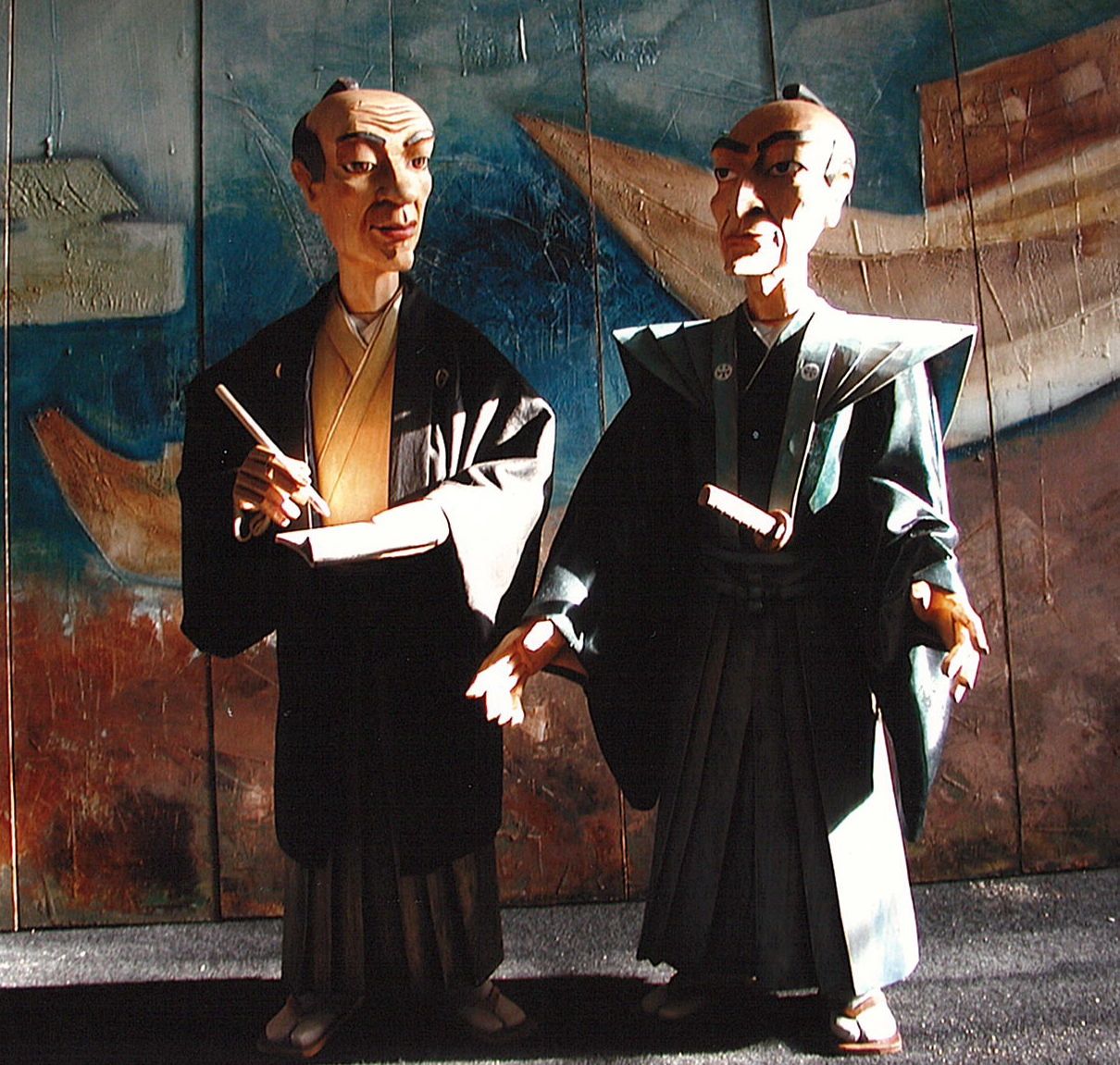 2002
Goose, pro divadlo Der Speigel, Belgium
2000
The Haywain
The performance opens up a glimpse into the fantastic world of Bosch's paintings through original wooden puppets. The authors tried to select and remove some of the three most important Bosch triptychs and think about the situations of bizarre characters - people-musical instruments, people of various fruits, half animals, half things - Ušonůž, charlatán, nun with a pig's head…: What happened before they got into the picture? This was the story with which the Tineola Theater presented Prague - the city of culture in 2000 and then elsewhere in Europe…Video: https://youtu.be/xjtgnyel8rE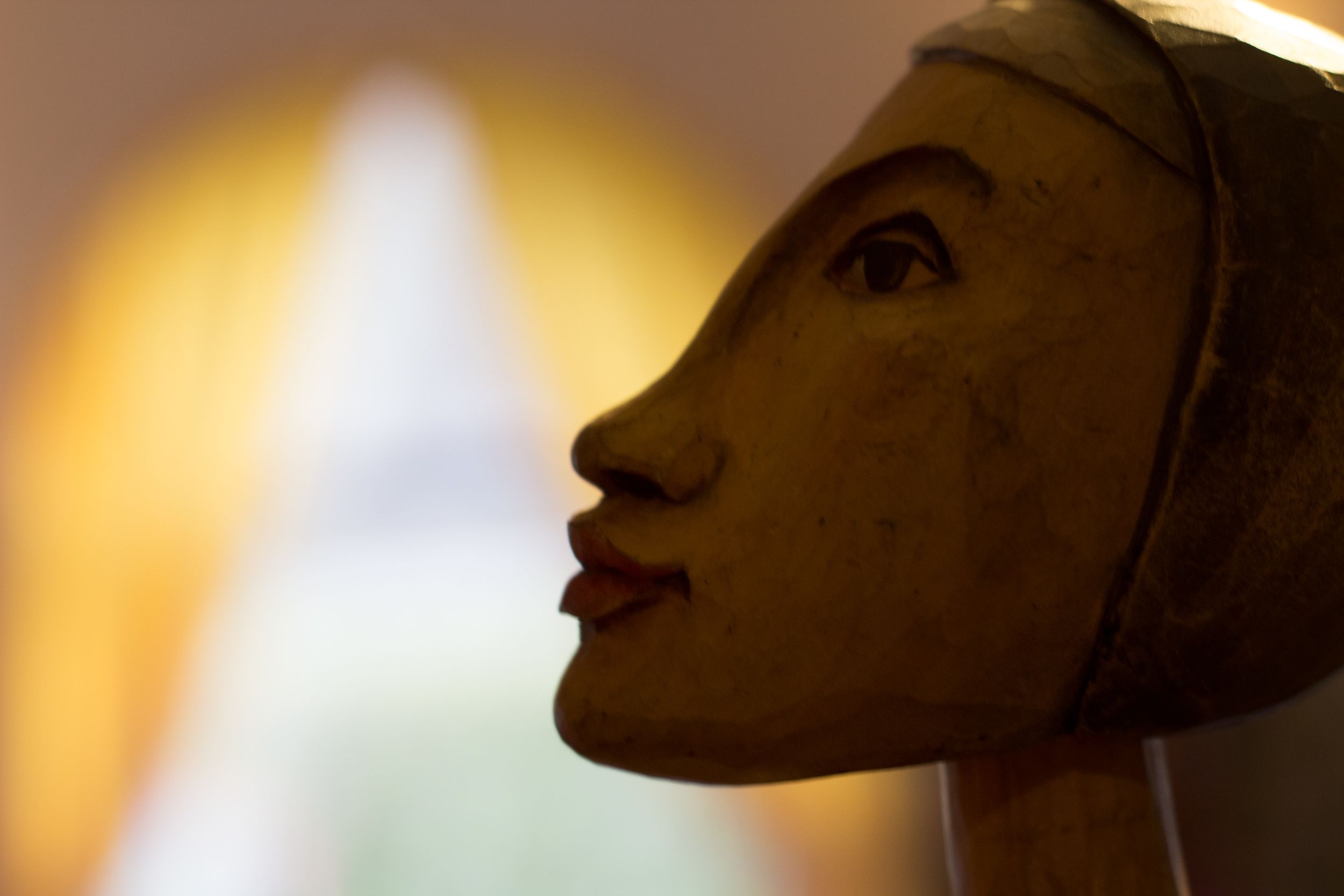 2000
Michael Kohlhaas, Kobalt figurentheater, Berlin
Michael Kohlhaas, the teacher's son, one of the most decent people of that time. This extraordinary man could be considered a model of a good citizen until he was in his thirties ... But his sense of justice made him a robber and a murderer.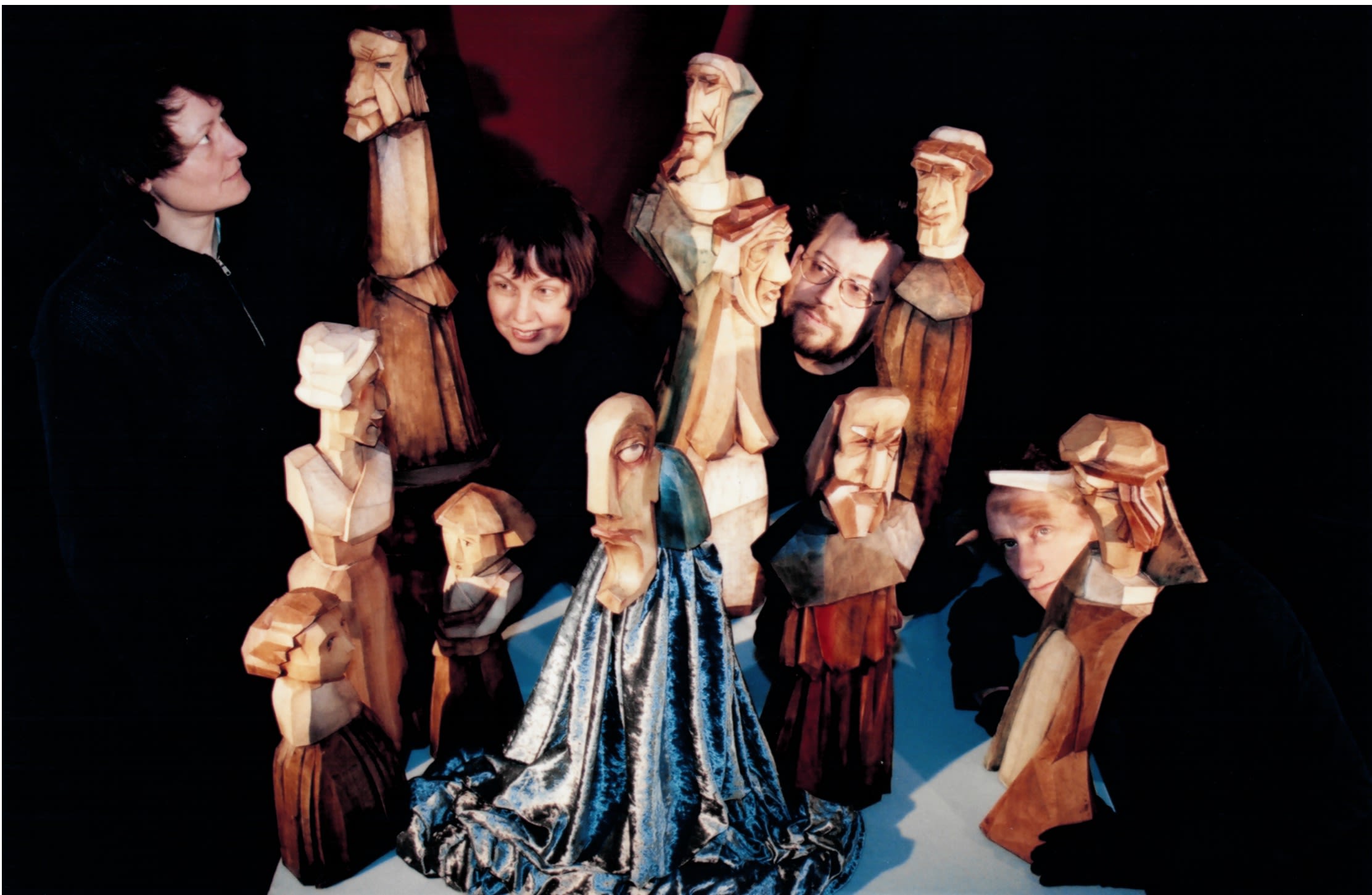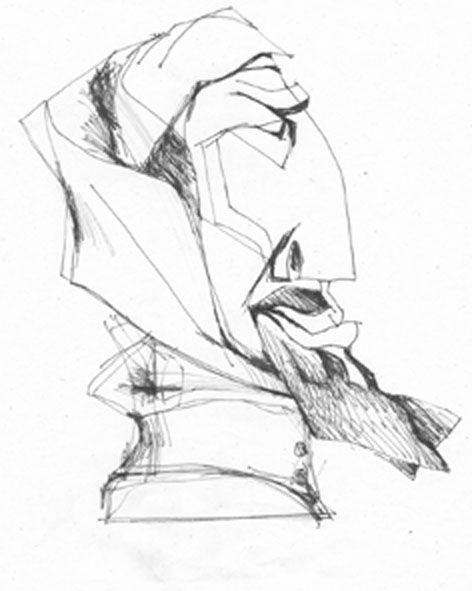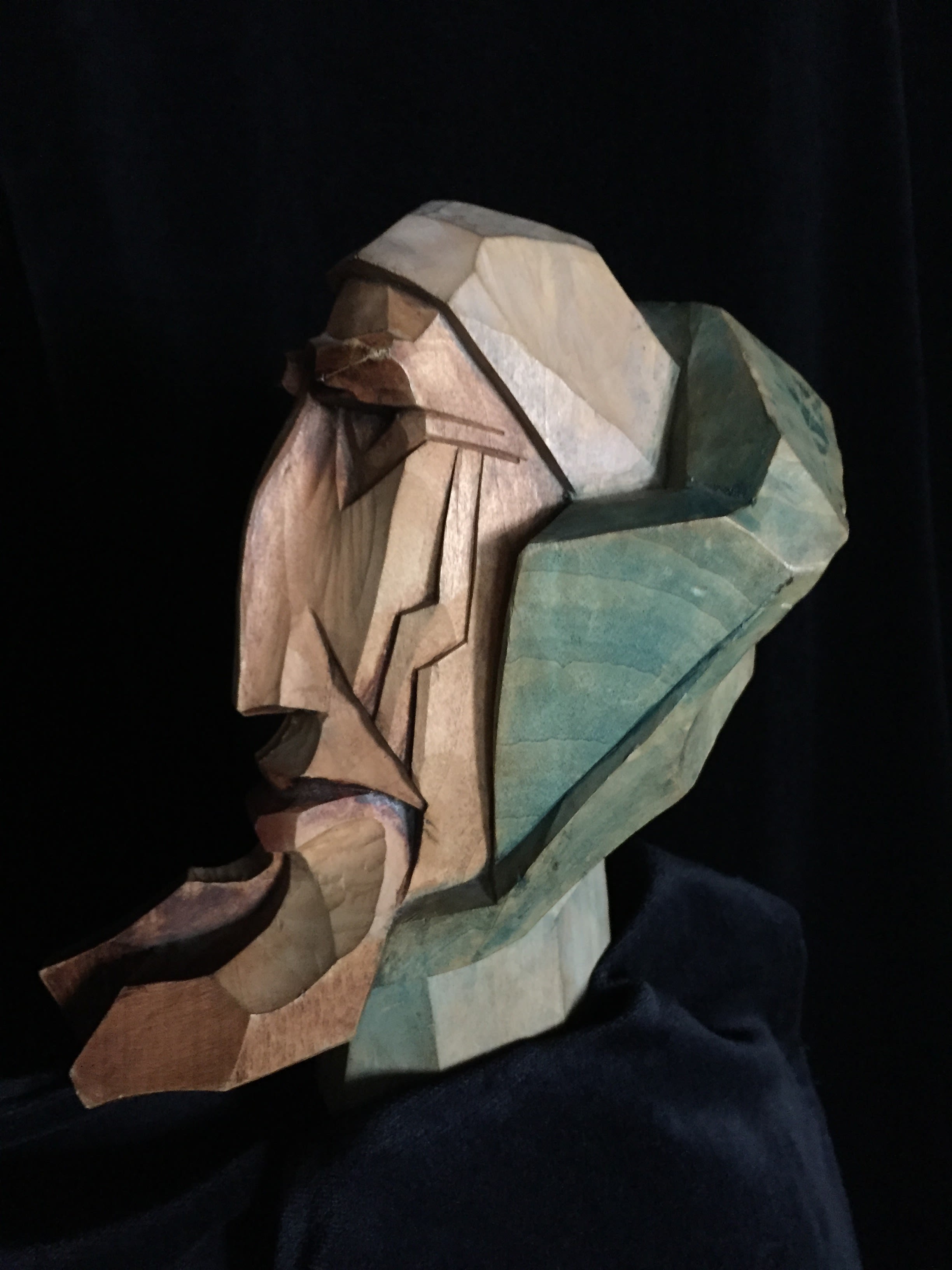 1999
Faust metamorfoses- in co-operation with Kobalt Figurentheater, Berlin
Archetypal figures influenced by Hieronymus Bosch's paintings appeared in the traditional community of figures from Goethe's Faust I and IV with selected passages of poetic texts that resonated with puppet designs and then brought a new puppet play, Faust Metamorphosis, together with the scenic expression. Large and small, moving, transforming wooden sculptures represented farcical, absurd figures with their melancholic actions. It was the logical result of collaboration with the Kobalt Theater in Berlin, for which Tineola had already created the puppet opera Rigolleto (1996) and Princess on the Pea (1997). Actors from both ensembles recited Goethe's poems in Czech and German on stage.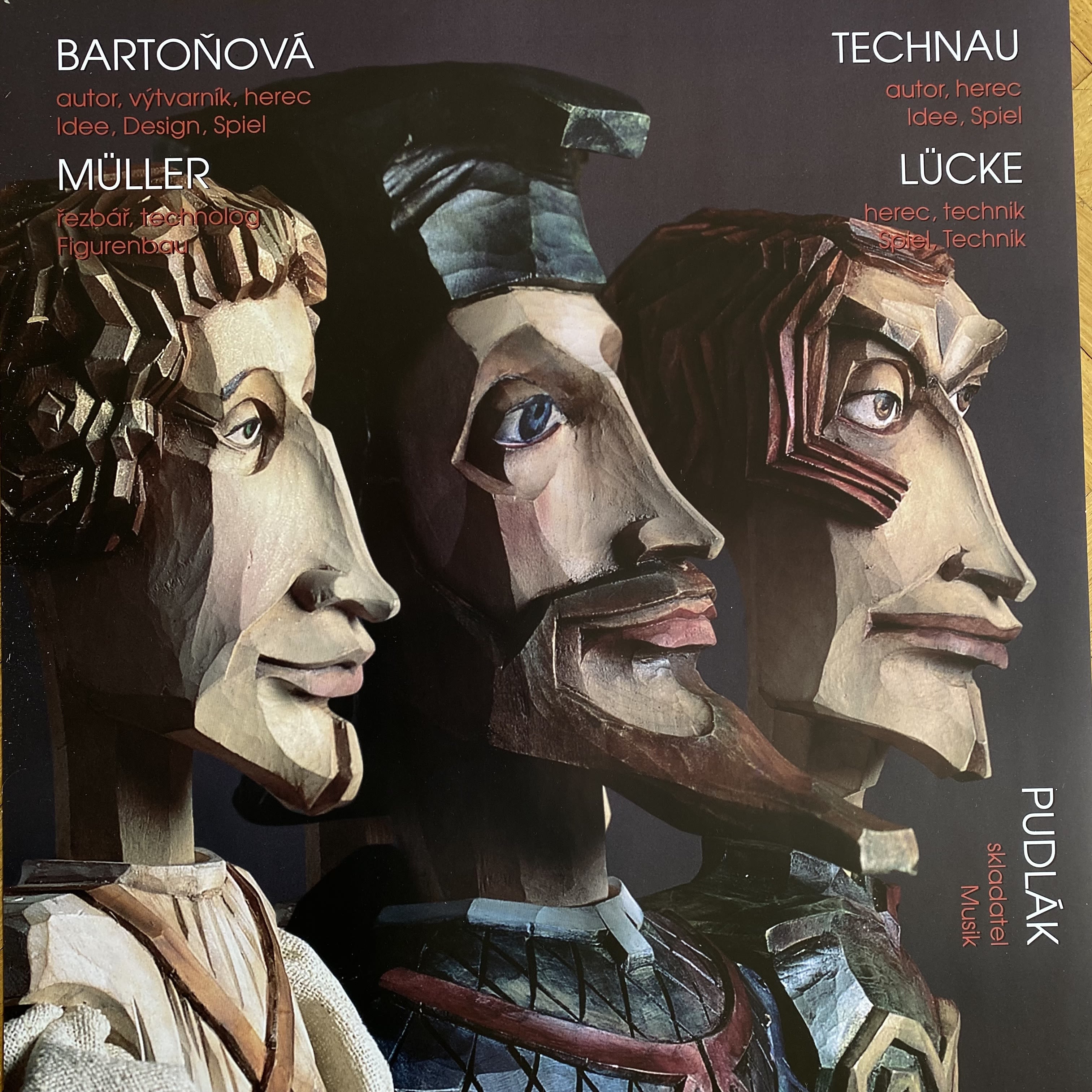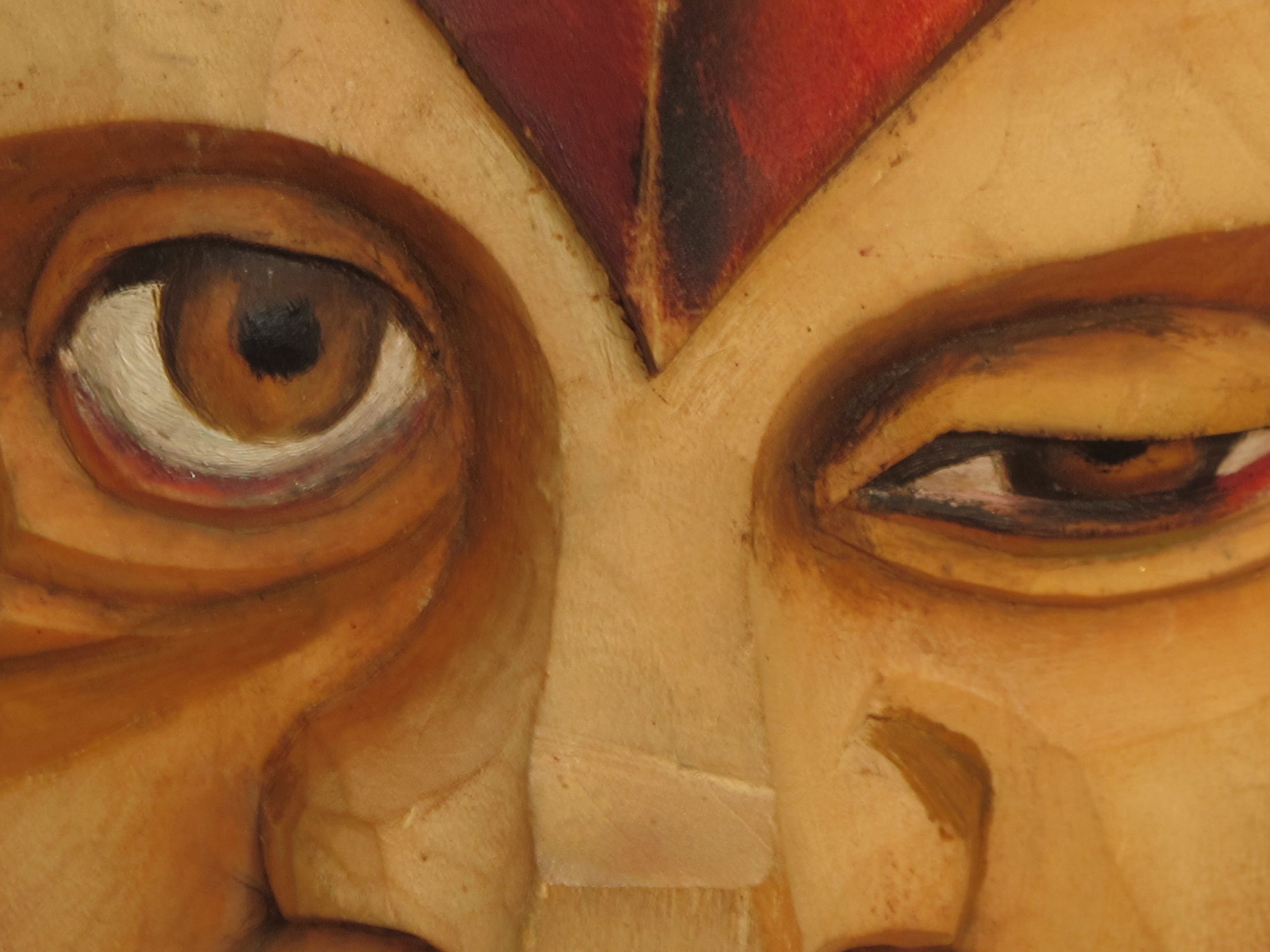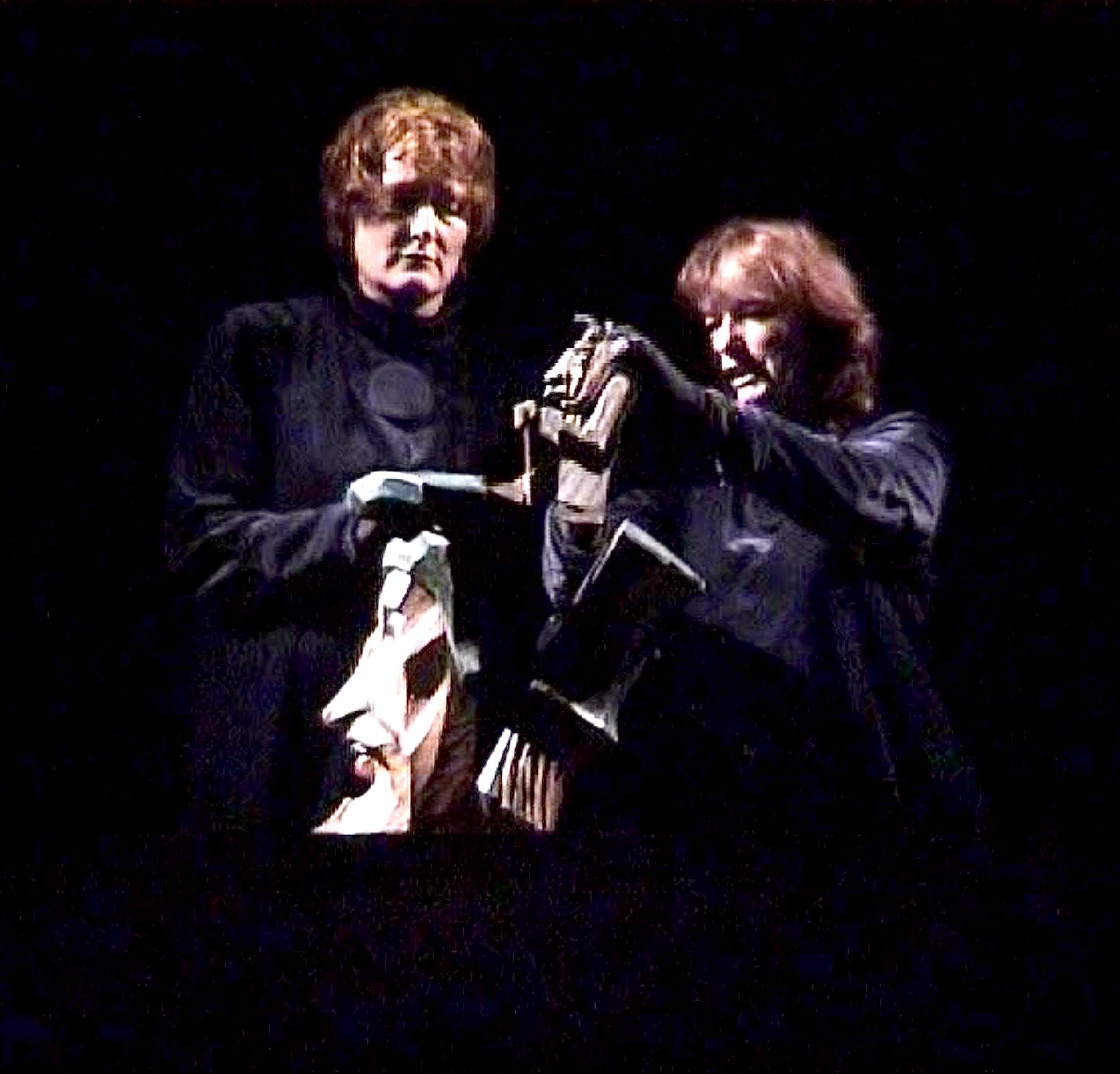 1997
Princess on the pea for Kobalt Figurentheater v Berlíně, Německo
The classic story of the Princess on the pea is humorous - the narrators are a rooster and a hen from the royal court.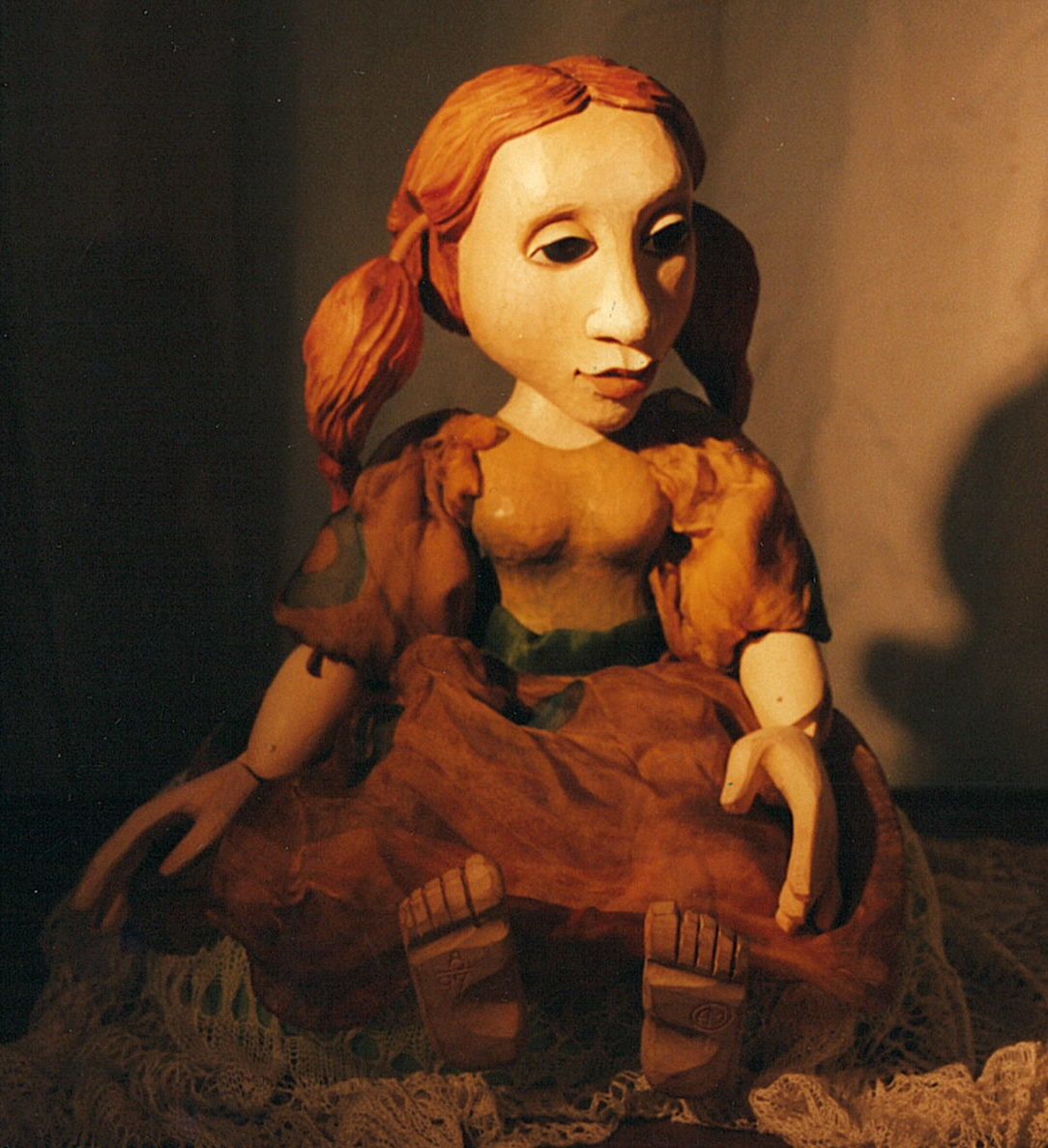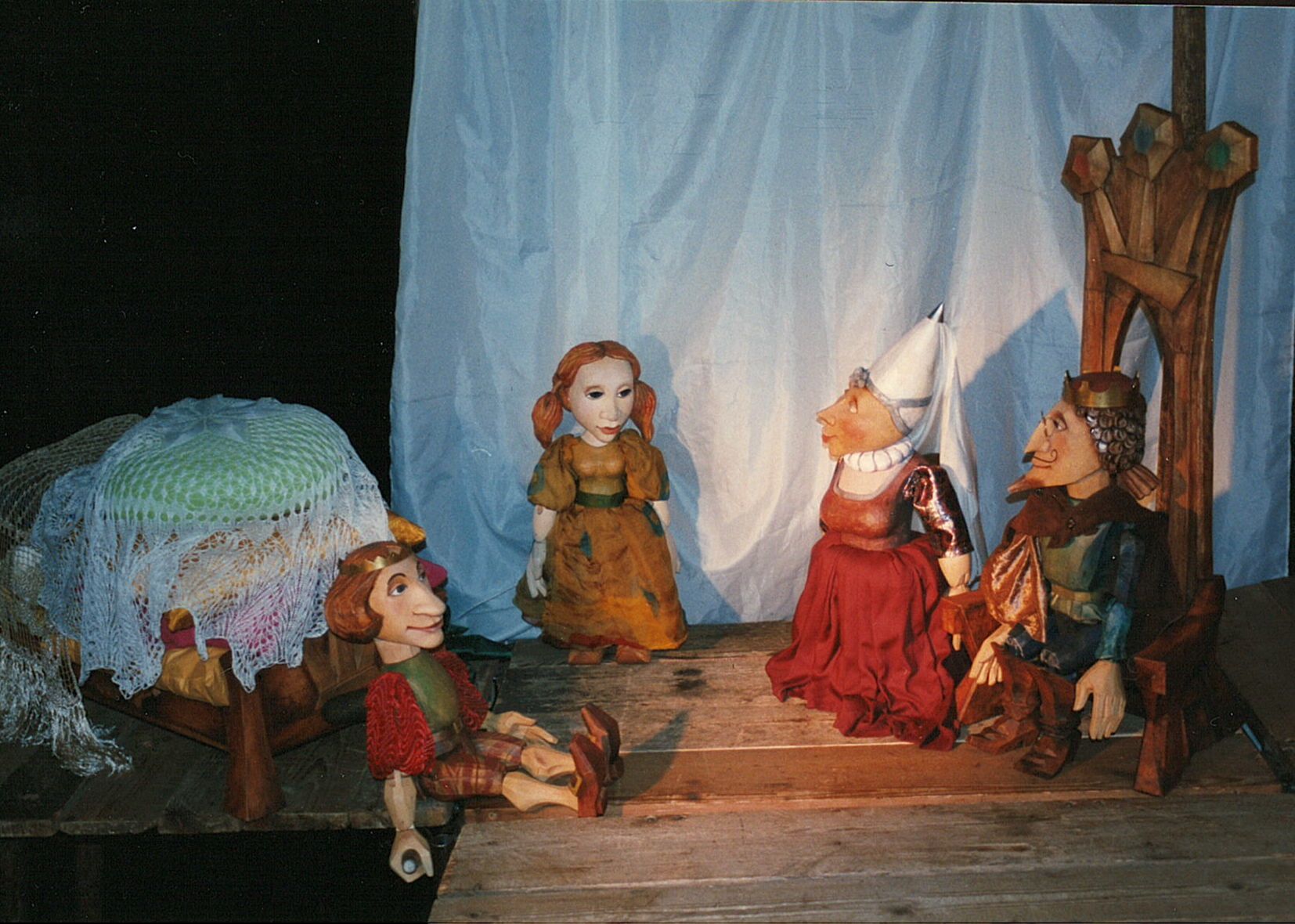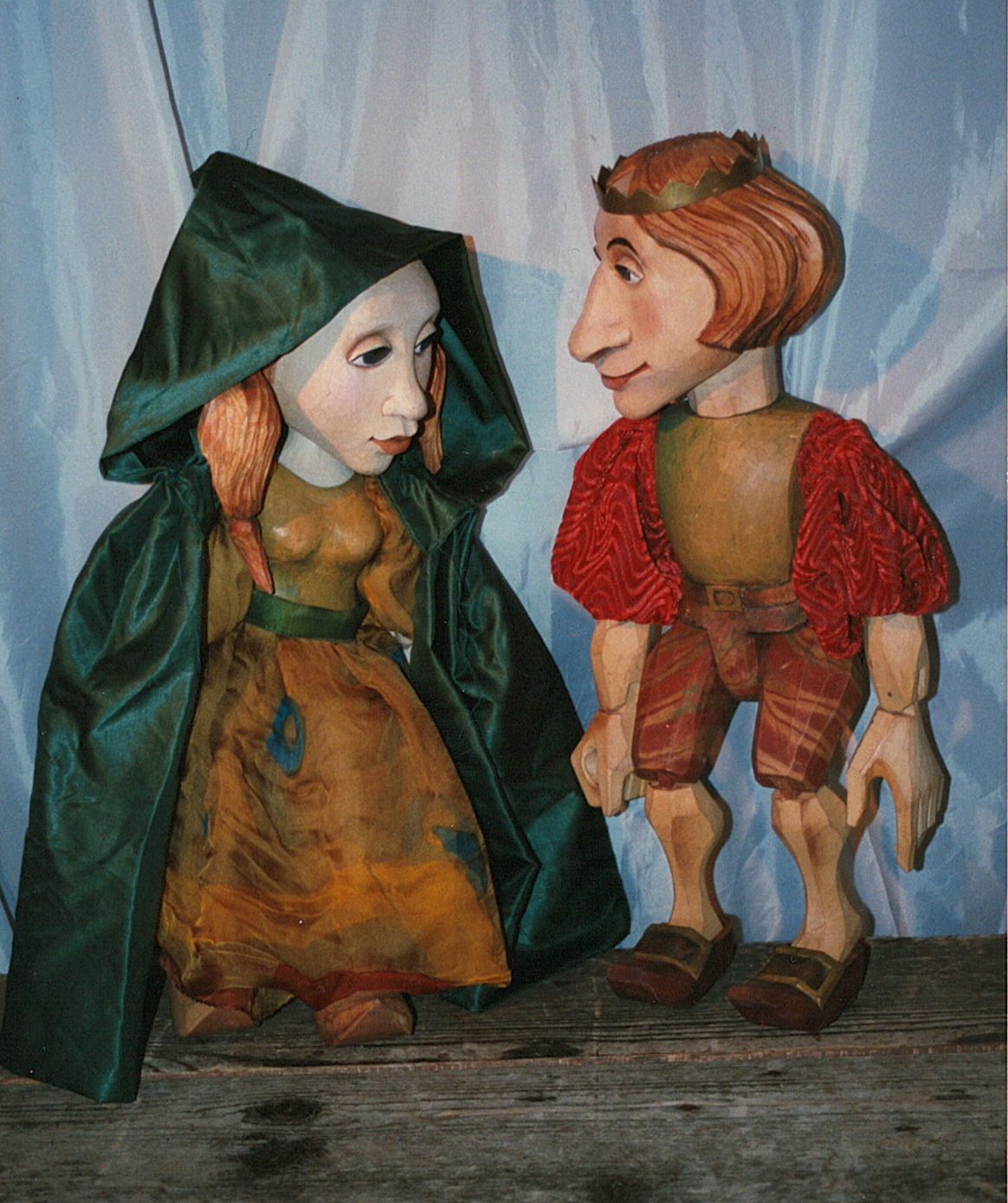 1997
King is Dead, Long Live the King!
Original wooden puppets metaphorically show the archetypes of human characters. When the royal throne empties, the struggle for the throne takes place, as always. It doesn't matter if the king, the ruler, left violently or just died. And we see parades of characters who want to come to power - a general, an artist, a magician, or an old witch.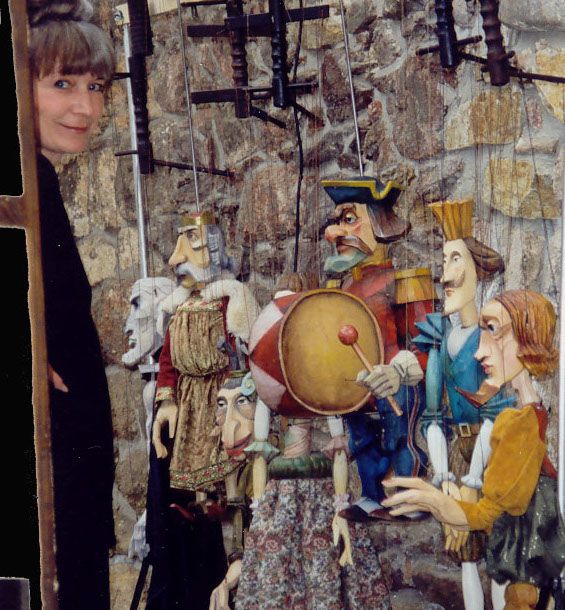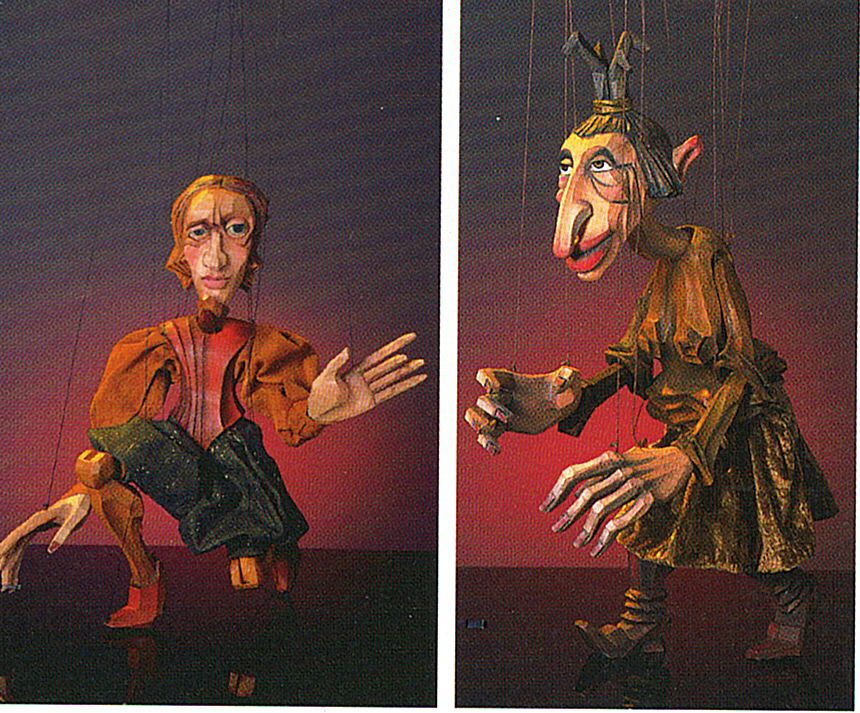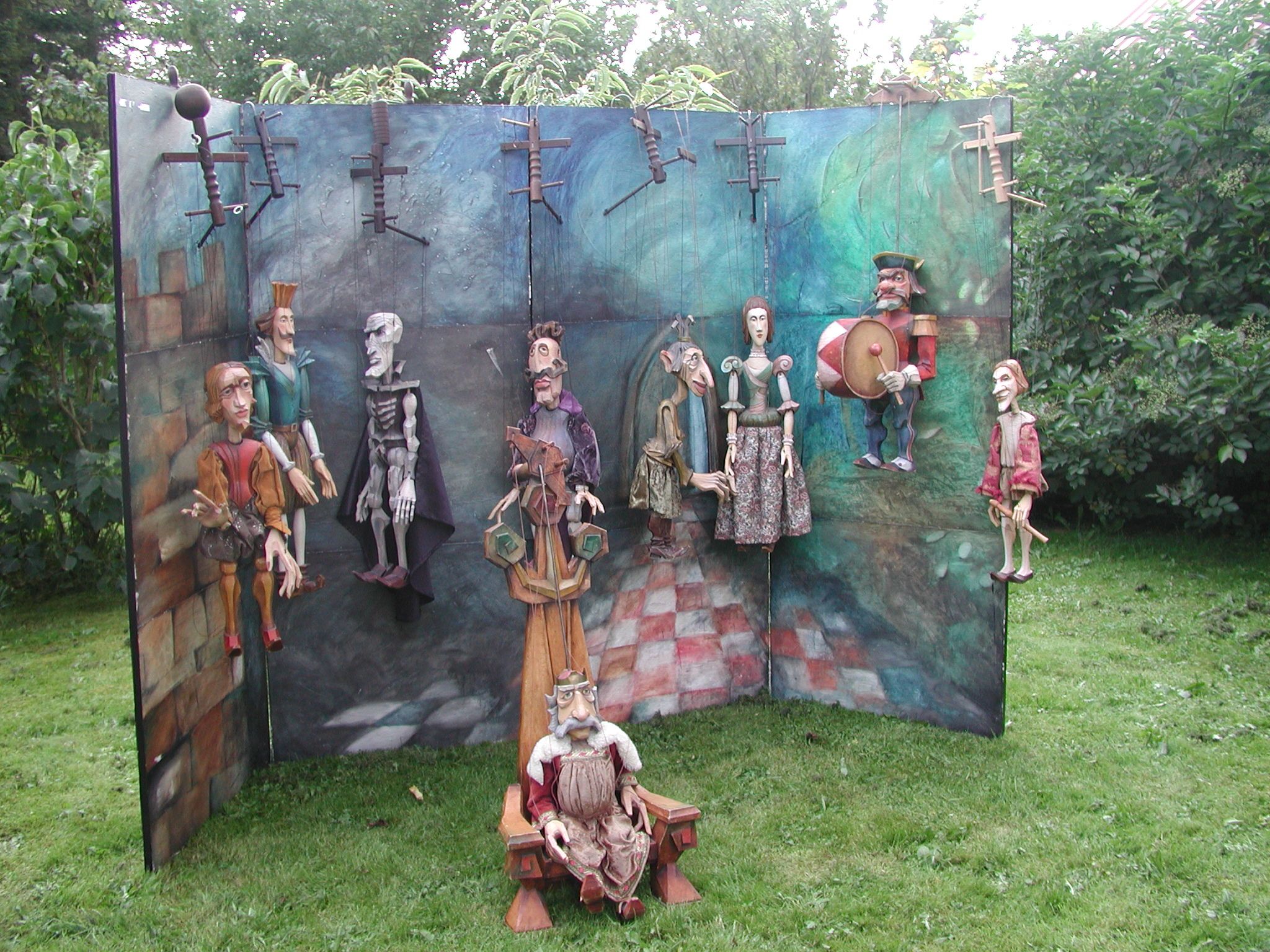 1996
Rigoletto
Puppets for Rigoletto, Kobalt Figurentheater, Germany Opera with wooden figures of Czech puppeteers (Author, design, painting, costume: Bartoňová, carving: Müller) Great directing and excellent mastery of huge puppets still play Silke Technau and Stephan Schlafke, excellent puppeteers. Dietmar Müller based on motifs by Giuseppe Verdi and Victor Hugo Rigolett's story is portrayed by large wooden figures: his wealthy love, his daughter's youth and departure, and the carefree brutality of Renaissance society. The famous arias and motifs of Giuseppe Verdi's opera were selected for the puppet theater from a 1953 recording of Milan's La Scala (with Maria Callas as Guild and Tito Gobbi as Rigoletto).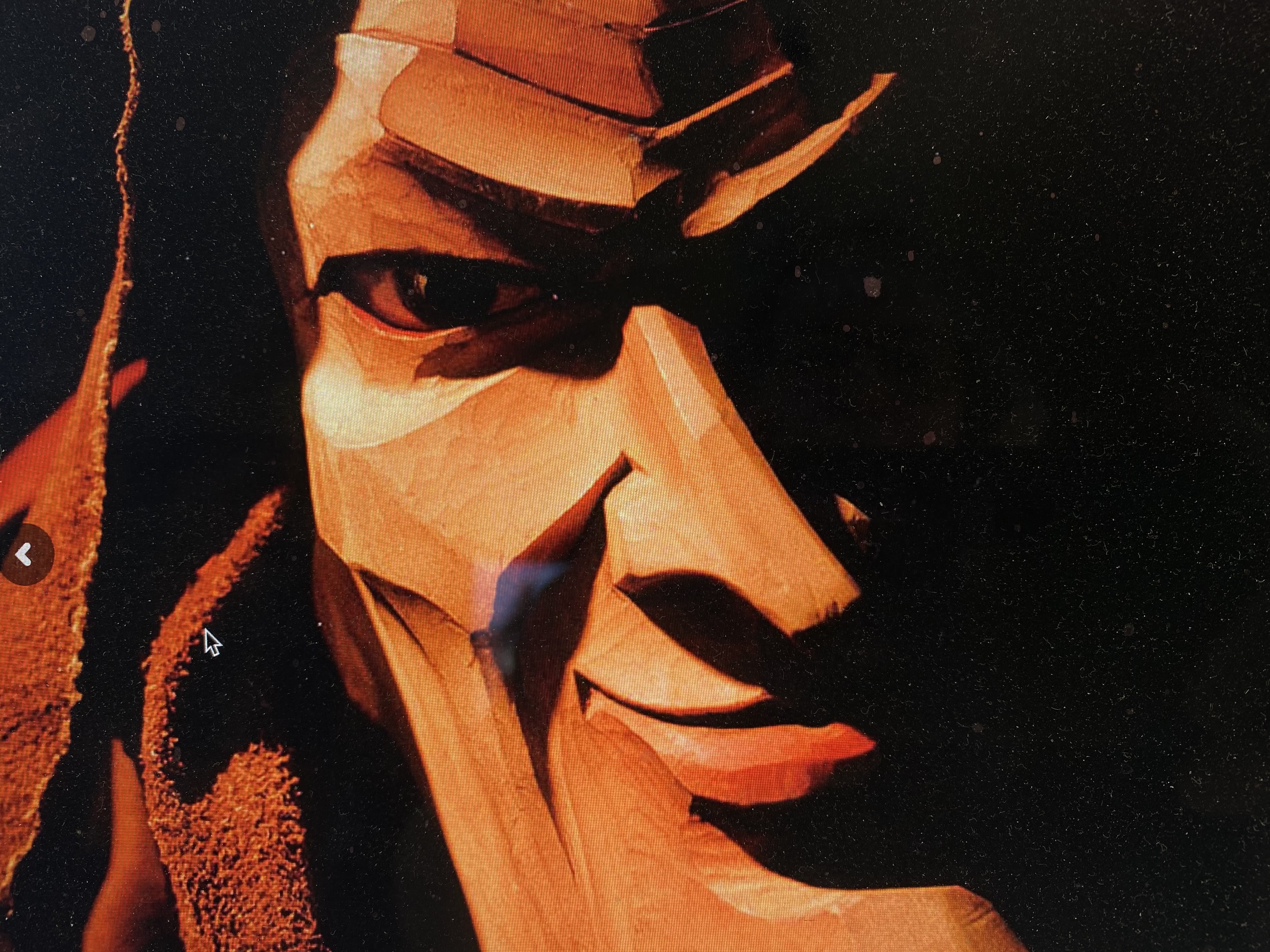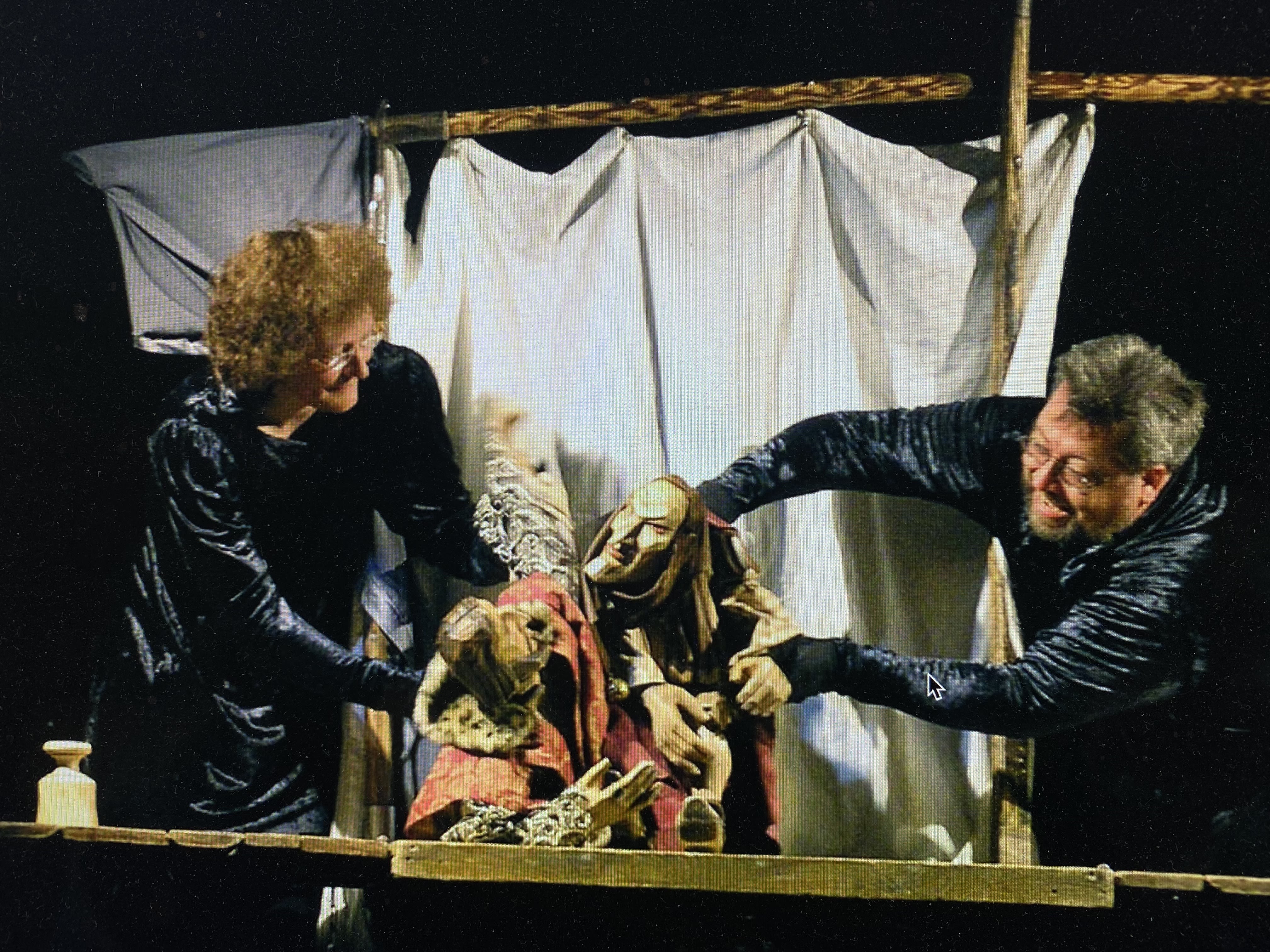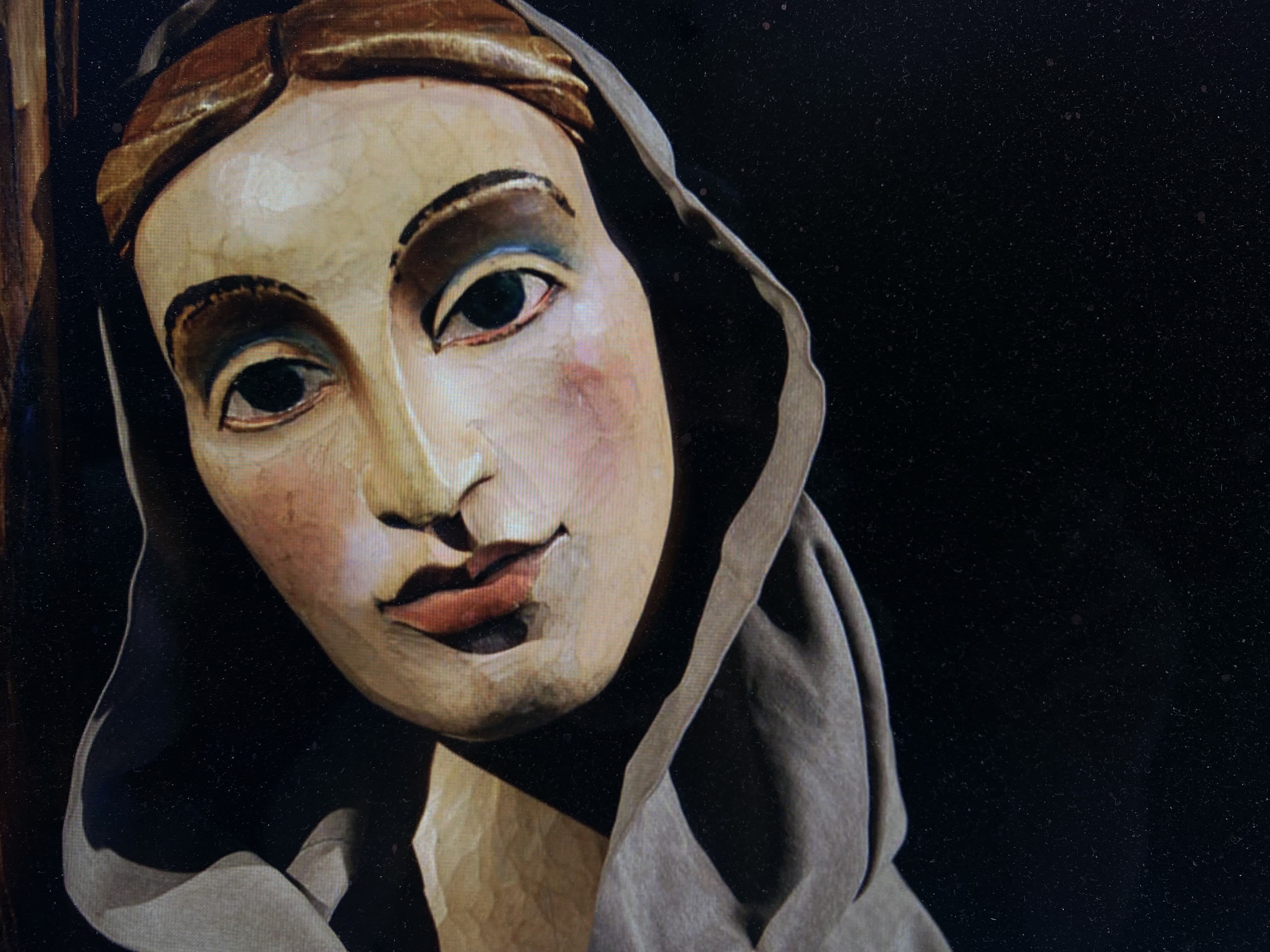 1995
DER BAUER VON HAM /Farmer Giles from Hamm, Talkien, Theater Salz und Pfeffer, Norimberg :
A puppet play based on the lesser-known short story from Talkien about a farmer and a dragon. Perfect puppetry by Wally Schmidt and Paul Schmidt attracted the attention of children and adults on both stage and open air. The large wooden puppets and the huge dragon helped duly.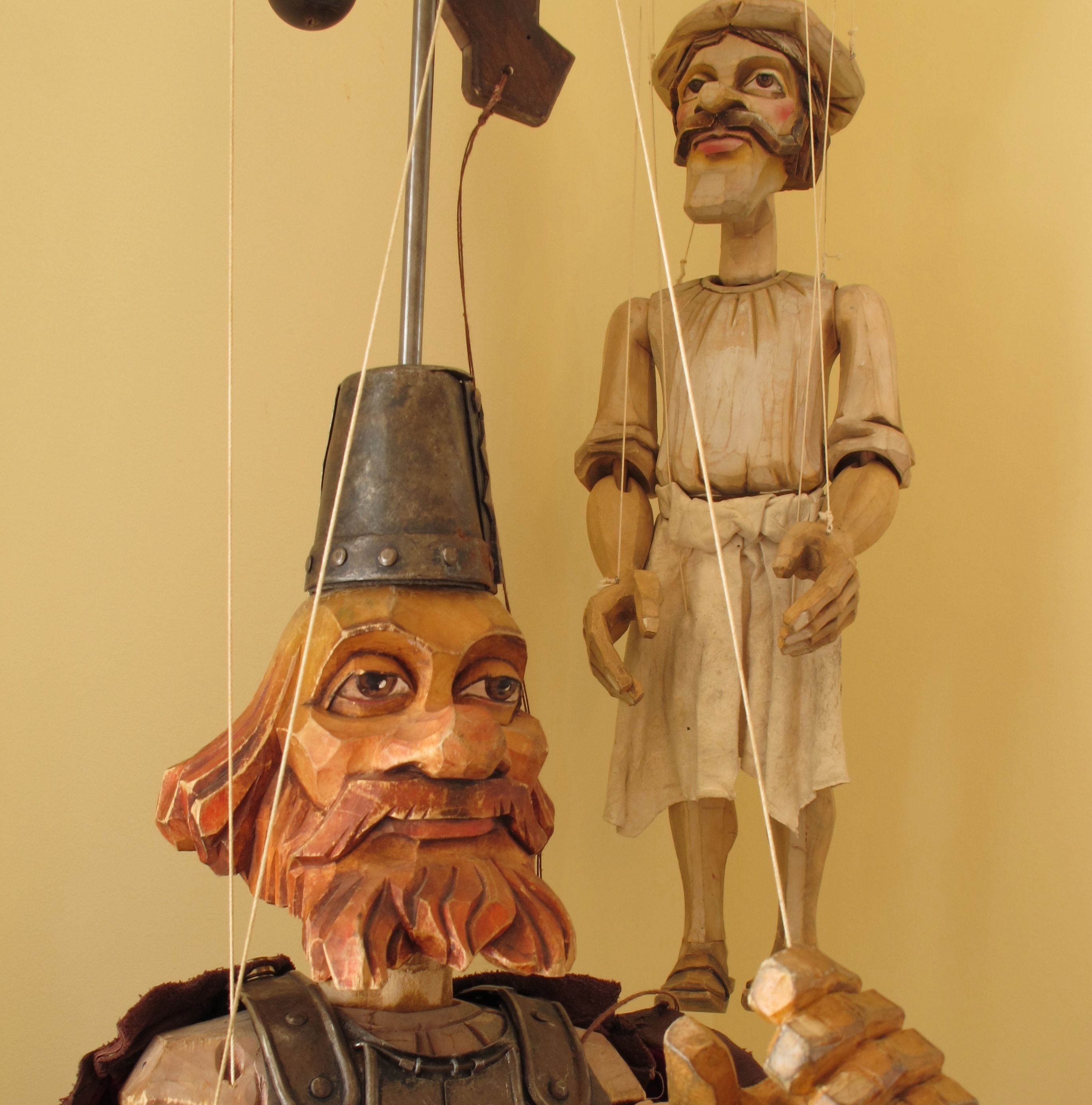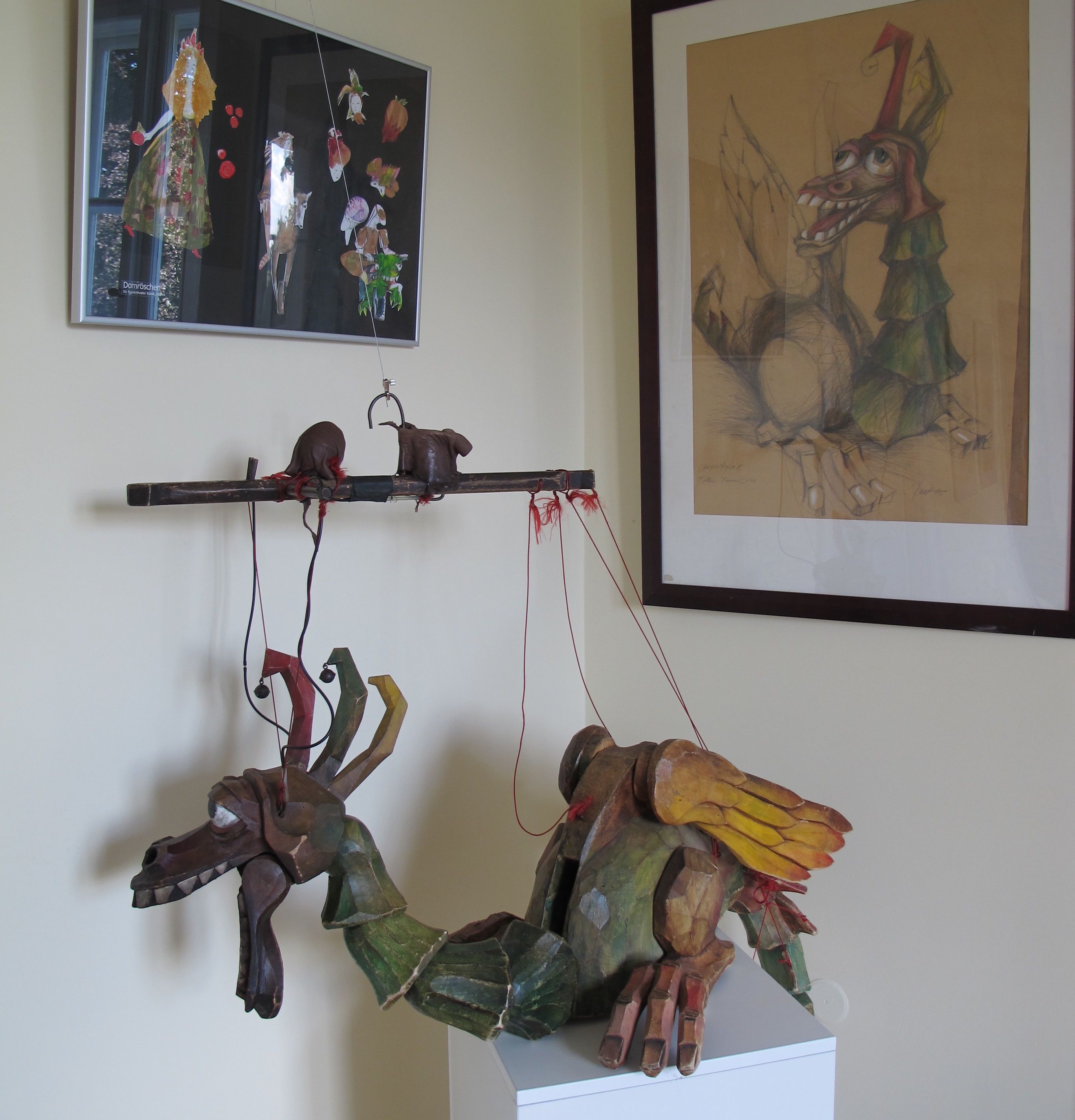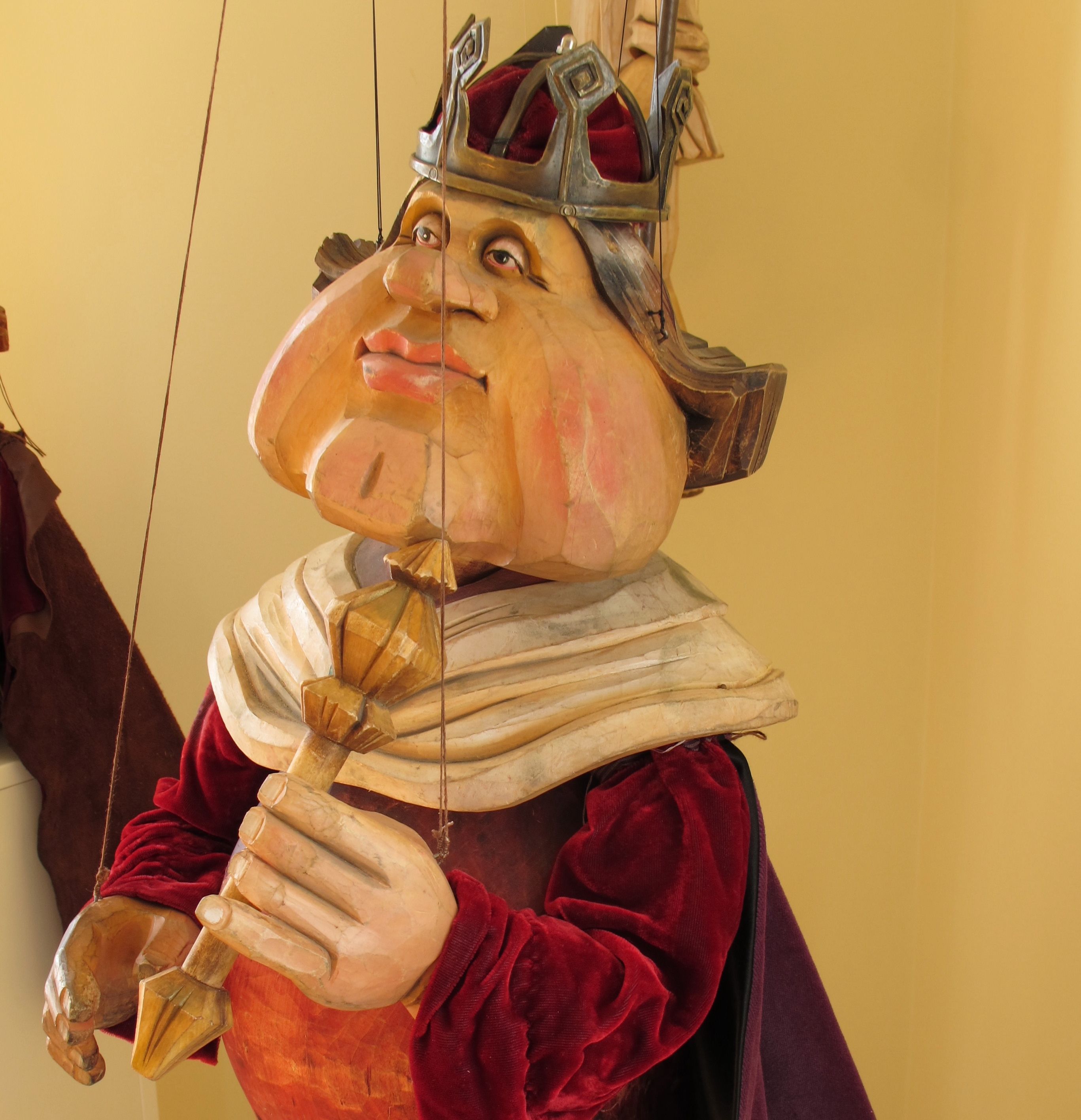 1994
Betlhem for group of puppeteers around Renate Watte
In a medieval church in the open-air museum in Lund, a group of amateurs, led by Renata Watte, came together and we created characters for them for the Christmas story The Road to Bethlehem. The story is still alive and every year the group meets in December to bring the puppets to life again in the hands of ever younger puppeteers.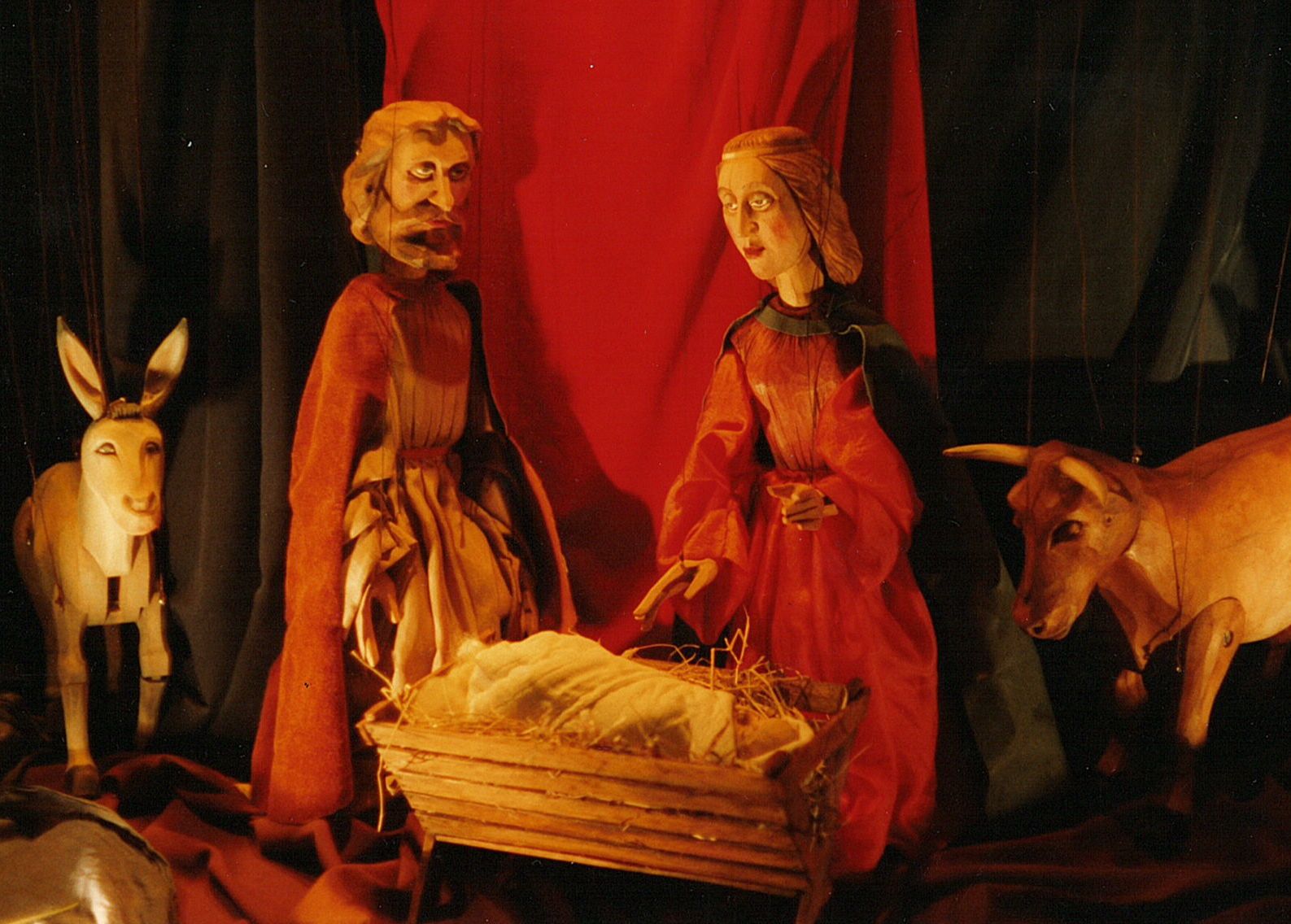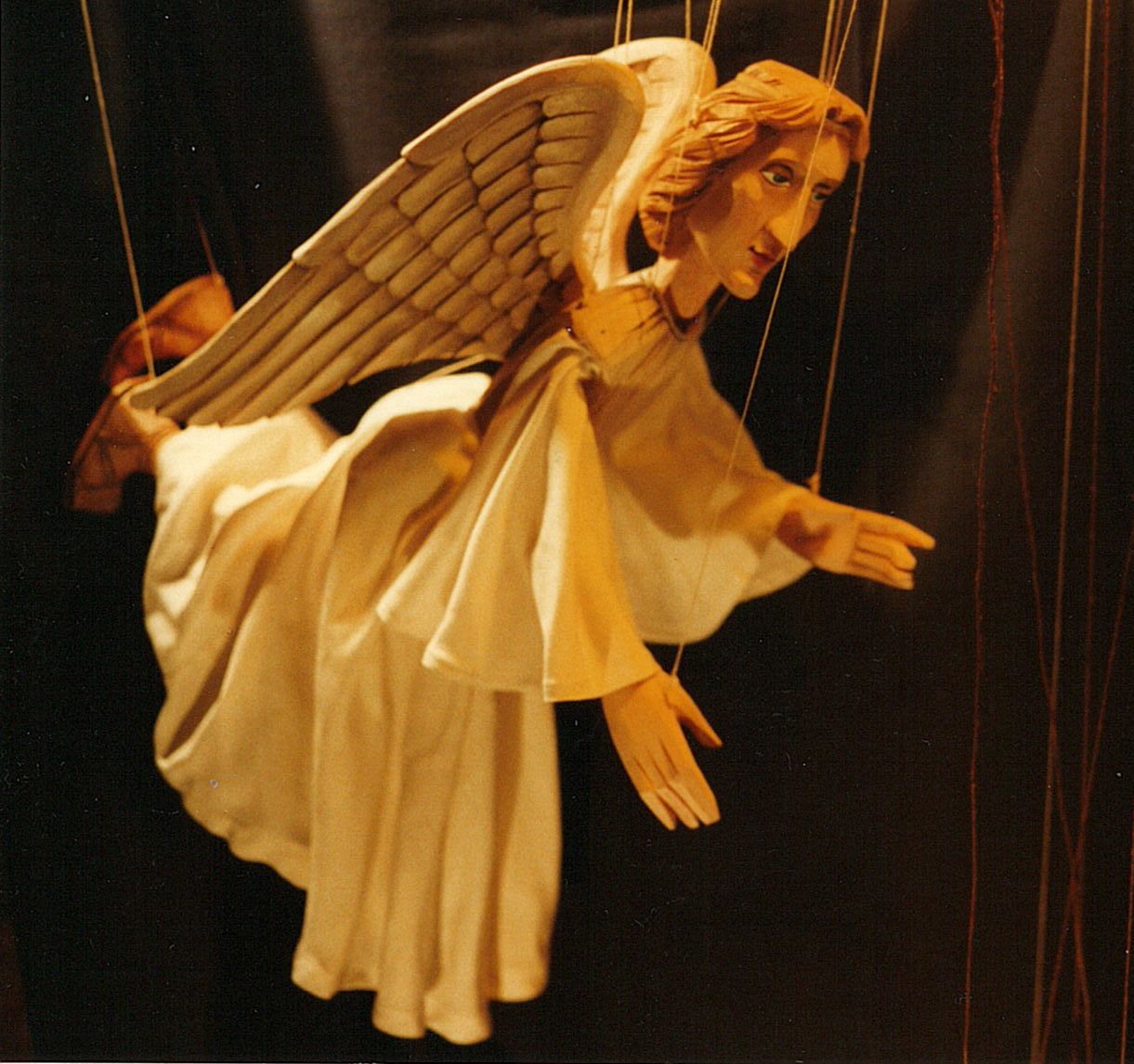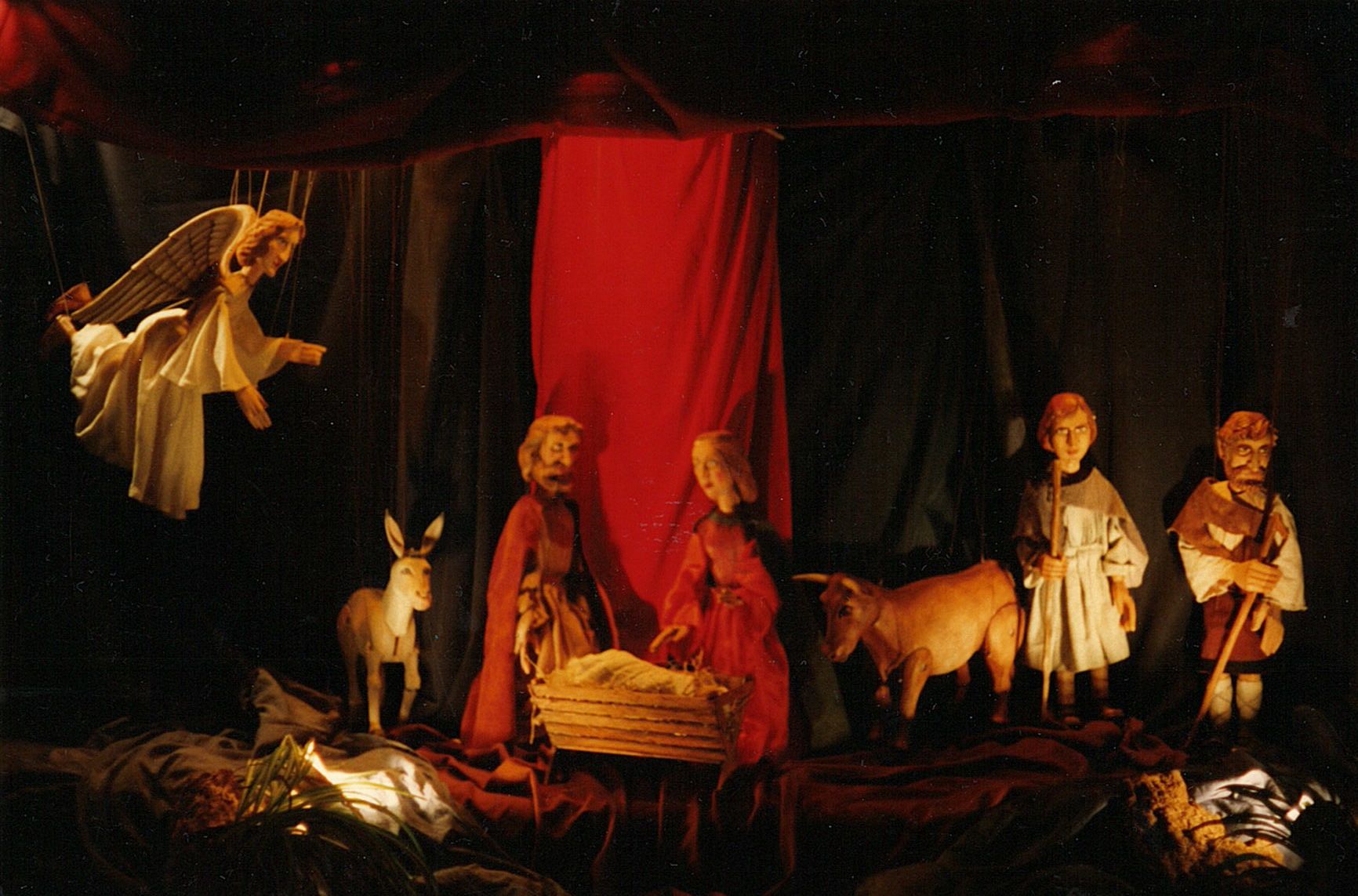 1994
Hilletje Jans for Salz und Pfeffer, Nürnberg, Germany.
A medieval play about the girl Hilletje Jana, who pretended to be a man. A drama with a surprisingly good ending. for the Salz und Pfeffer Theater. Starring: Wally Schmidt and Paul Schmidt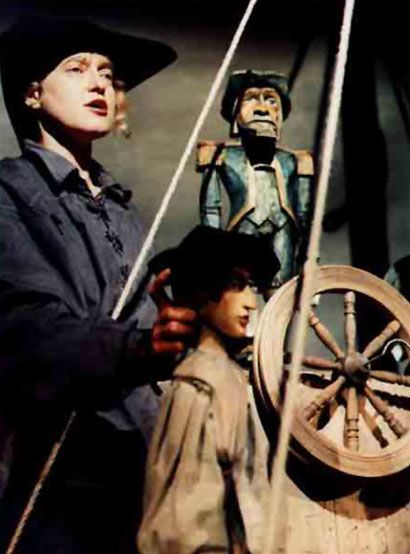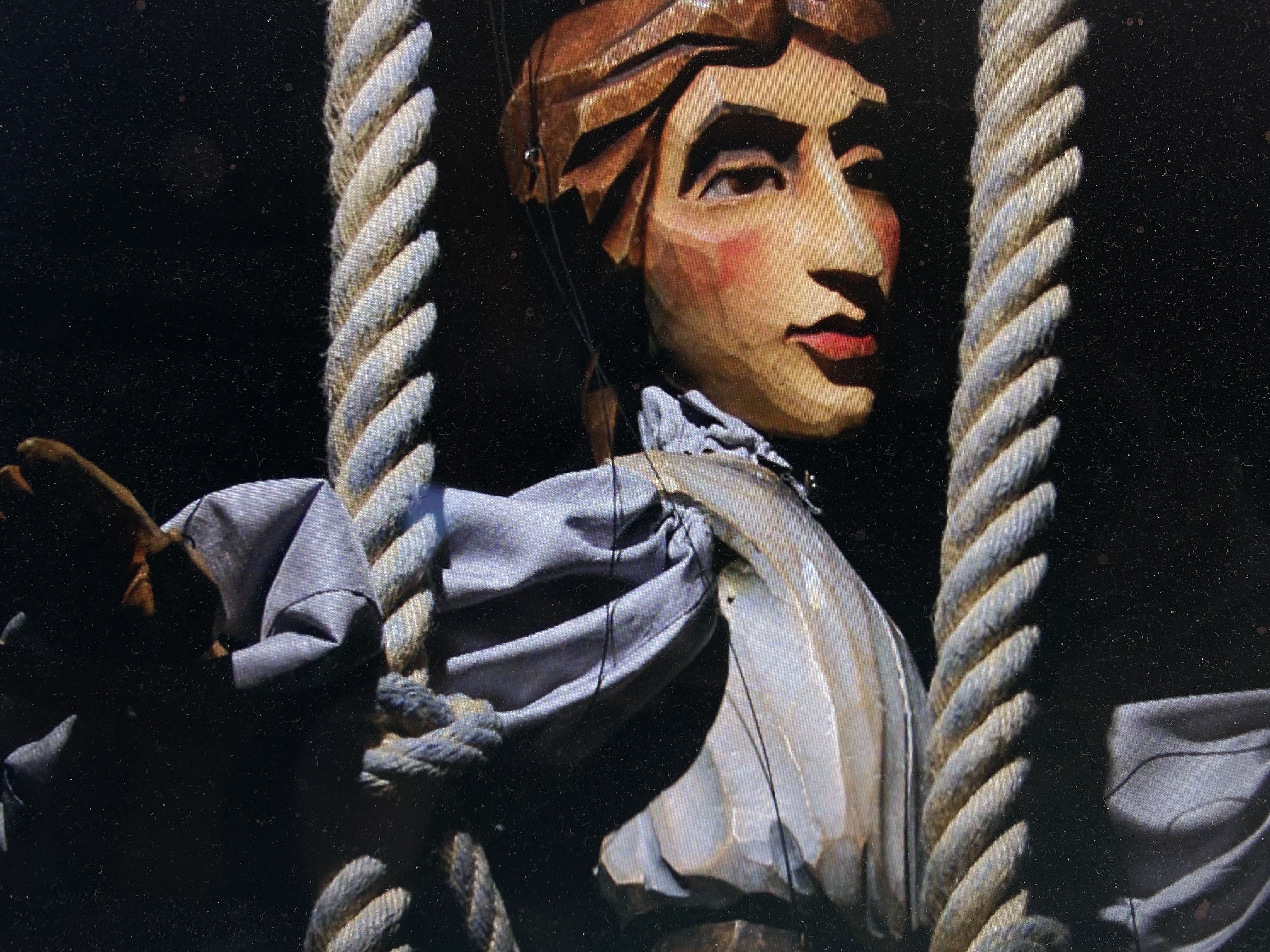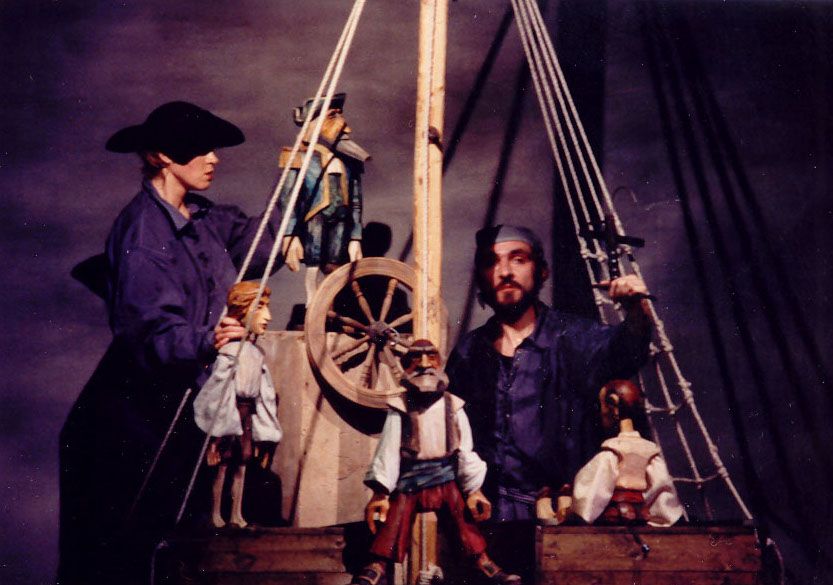 1993
Marionette a la planchette for theater Taptoe from gent, Belgium
Several wooden puppets inspired by old traditional medieval puppets, designed by Michaela Bartoňová.
Most important exhibitions
Tineola and Michaela Bartoňová have organized a large number of exhibitions throughout history, usually puppets, designs, paintings and, in recent years, digital creation. 2020 - Tasice Glassworks, Unwritten Stories: Paintings, Puppets, Digital Drawings 2018 - Gallery from Ruka, Křížovice. Paintings, watercolors, digital drawings, puppets 2018 - Pod kamenou žábou Gallery, Unwritten Stories, České Budějovice, 2017 - Radost Hravost, gallery of the New Chateau in Kostelec nad Orlicí, Cross-section of the work 2015 - Portheimka Gallery Humor and fantasy Puppets, Puppets and paintings 2013 - Phantasiegestalten aus Holz und Stoff, Mussbach, Germany 2011 - Vyšehrad Gallery, Metaphor in puppet and painting, Prague 2011 - Creation of a puppet, Kostelec nad Orlicí, Nový Zámek, Czech Republic 2009 - Between a puppet and a painting, Světlá nad Sázavou 2009 - Book Fair, Exhibition Michaela Bartoňová exhibition with workshop, Prague 2008 - CRUX Gallery, Michaela Bartoňová - Paintings, Brandýs nad Labem, 2008 - Vrtbovská Garden, ECHO Australia, Prague 1 2005 - Klostergalerie, Zehdenick, Germany 2004 - Gallery from Ruka, Křížovice, Czech Republic 2004 - Lund, Kramfors, Sweden 2004 - Catavento Studio, Bowral, Australia 1998 - Festival of Wonder, Silkeborg, Denmark 1997 - Academy of Arts, Damascus, Syria 1997 - Tafenhalle, Nuremberg, Kali, Germany 1994 - Antwerp, Roeselare, Belgium 1992 - Zlatý Koníček Gallery, Prague 1992 - Ghent, EF Center, Belgium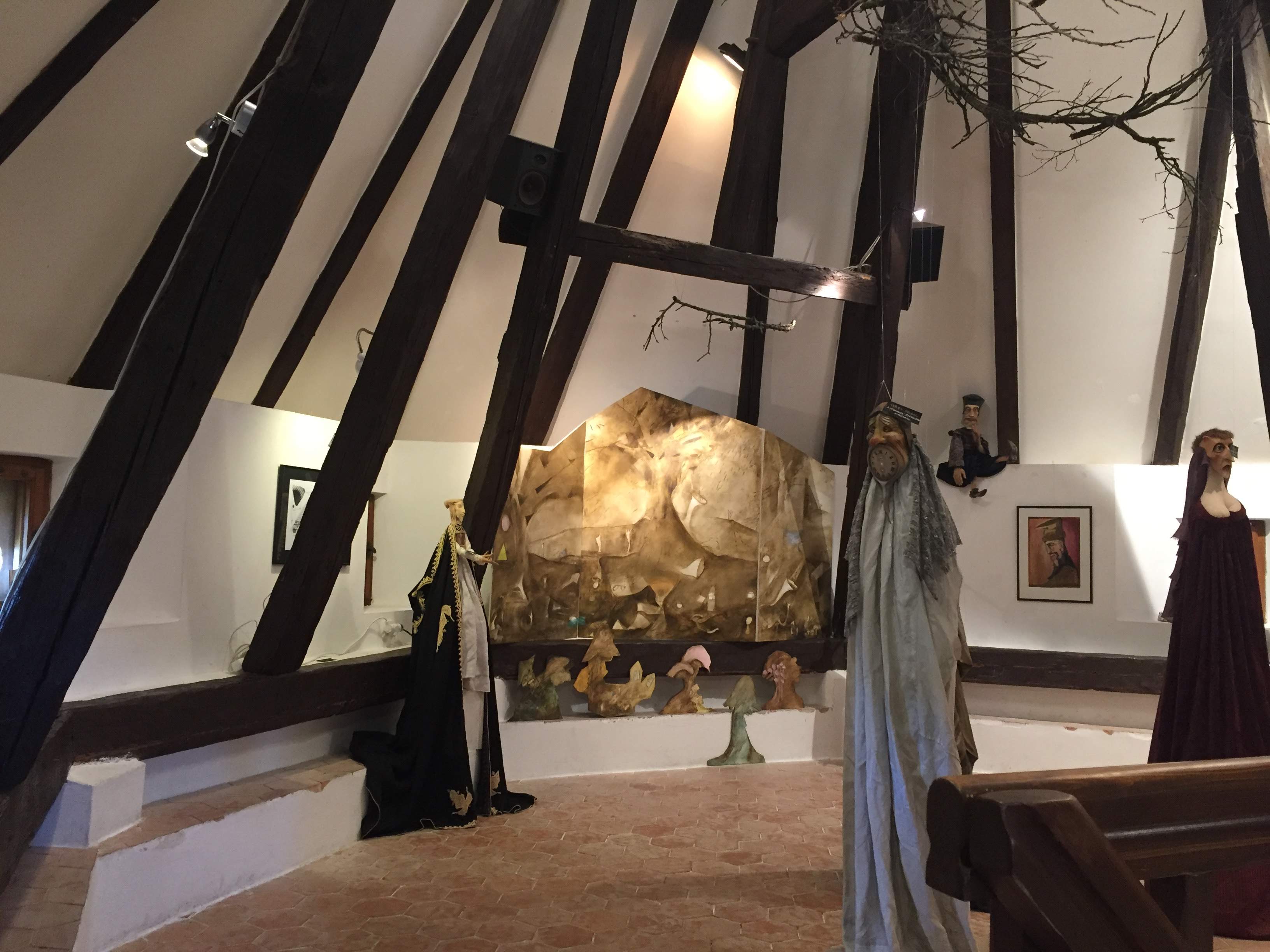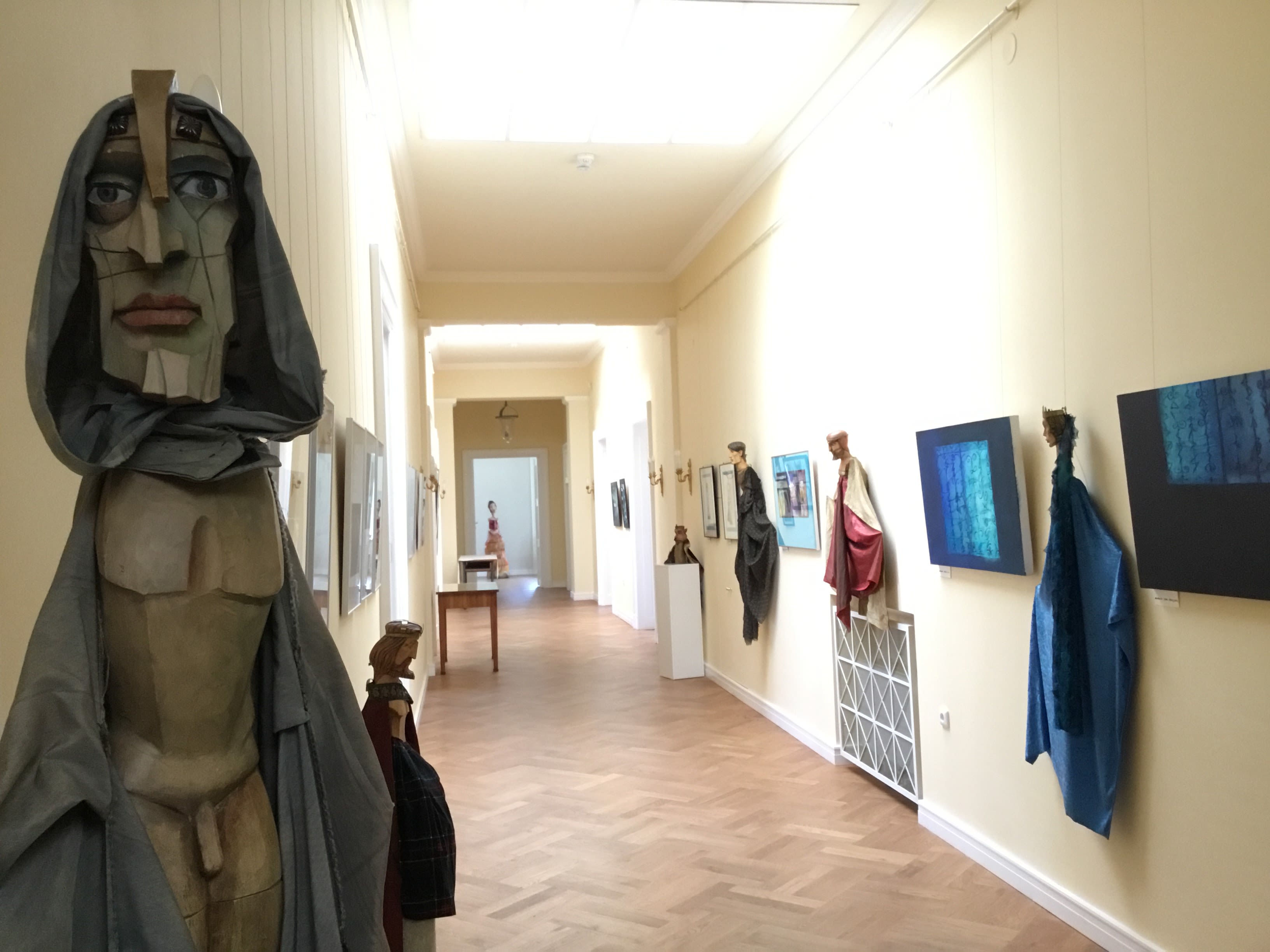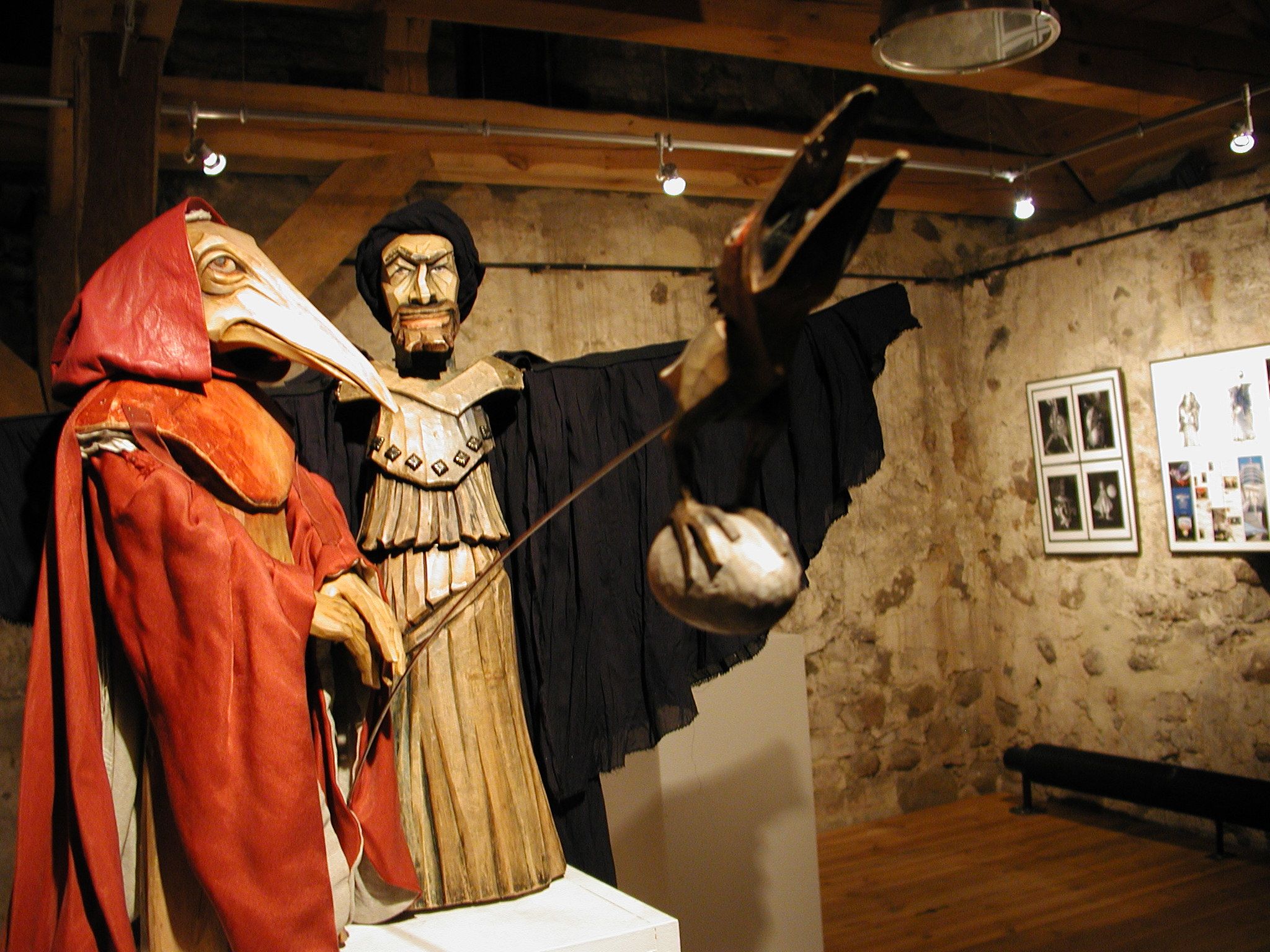 Contact Us
If you are interested in and enjoy non-traditional theatrical forms: visual, non-verbal, poetic, digital, playful or serious with live drawing on stage, please contact us at:
tineola@tineola.cz